We use affiliate links. If you buy something through the links on this page, we may earn a commission at no cost to you. Learn more.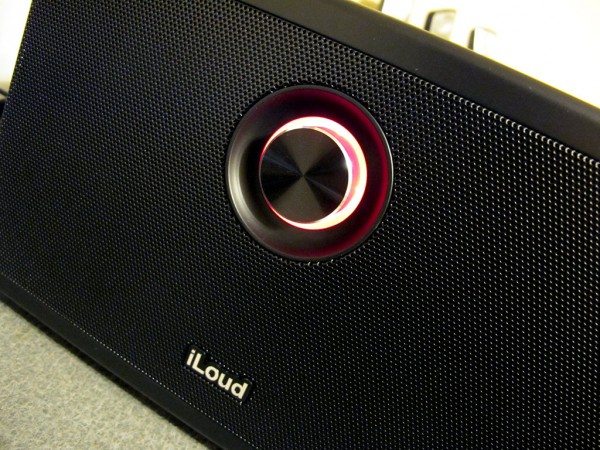 When you've reviewed as many Bluetooth speakers as I have, it takes something special for me to be interested in reviewing yet another one. When IK Multimedia asked me to review their iLoud Studio Quality Portable Speaker I agreed because I liked the physical volume knob on the front of the unit. But the ability to use the speaker as a pseudo guitar amp is the feature that really made me say yes to their review offer since this is the first portable stereo speakers designed for musicians. Later I came to understand that the iLoud doesn't work exactly like a guitar amp… but more about that later.
Note: Images can be clicked to view a larger size.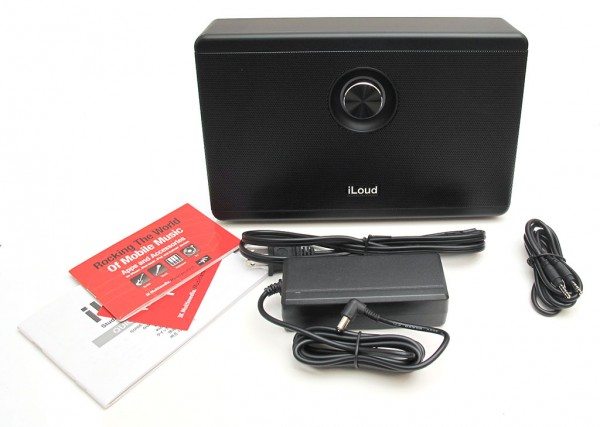 Package contents
iLoud speaker
AC adapter
1/8in TRRS cable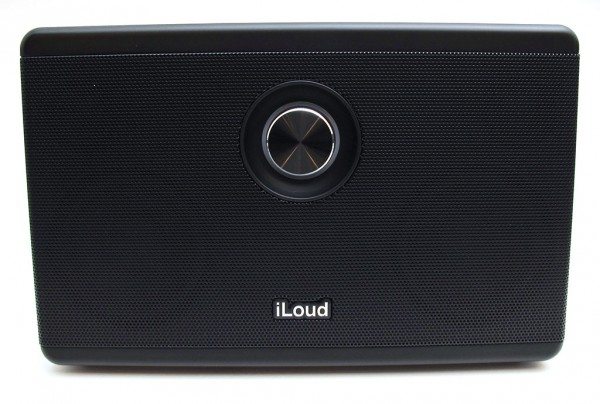 Physical design
The iLoud is a nice size that is neither too large or too small. It has a 6.3 x 9.84 xy 2.36 inch footprint and weighs 2.9 pounds. The rectangular shape and black case allow it fit into almost any type of room decor. The front surface of the speaker has a black metal grill, with a physical volume knob and the iLoud logo at the bottom. I like the metal grill much better than a cloth grill because lint and dust are easier to clean off of metal than cloth.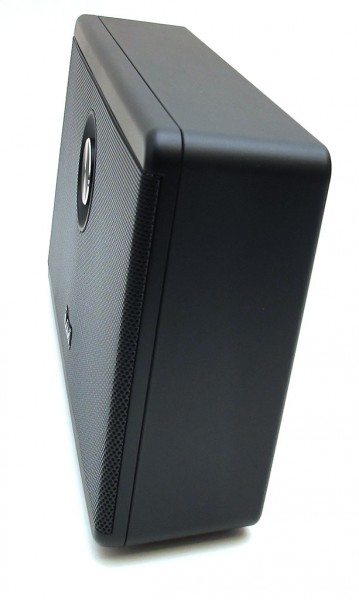 The rest of the case is made of hard black plastic.  A handle would have been a nice addition to the design since the speaker is portable and meant to be carried around.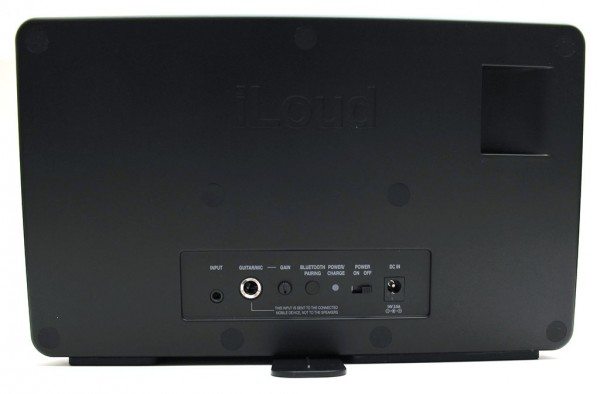 On the back you'll find the bass port on the top side edge and a panel of switches and connection ports. You'll also notice the flip out stand at the bottom. This stand and the rubber pads on the base keep the speaker in place and  prevent it from sliding around.

The connection panel has a 1/8 inch audio input jack, 1/4 in jack for a guitar, keyboard or microphone, gain adjustment knob, Bluetooth pairing button, power/charge status LED, power switch and a DC in port for the included AC adapter.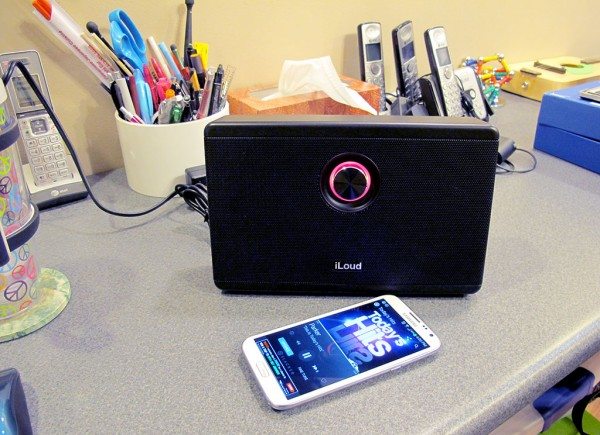 As I mentioned earlier, the first thing that interested me about the iLoud was the physical volume knob on the front. Most of the portable Bluetooth speakers that I've reviewed have small plastic buttons that are either awkwardly positioned on the back of the speaker, or they are too small for easy access. The volume knob on the iLoud is large, easy to turn and has a cool red LED ring around it that lets you know the speaker is powered on. The LED will also flash every eight seconds to indicate that the battery is dying.  
Battery life
The iLoud can be used with the AC adapter or you can use it without the cord because it has a rechargeable battery. I haven't had the chance to do any thorough battery life tests as it is still running from my first full charge, which by the way, only takes 2 hrs. I can tell you that I've played music though the iLoud with an iPod classic connected to the 1/8in input for close to 7 hours so far. And I've also used it with a mini guitar connected to the built in 1/4in iRig jack for at least 1 hour or so. Battery life is rated at three hours of playing at maximum volume, or up to 10 hours of playing at more moderate levels.
Sound quality
So let's talk sound. Streaming music via Bluetooth through the iLoud is not very impressive. Music sounds good, but not awesome. With an iPod classic connected via the 1/8in input jack, the sound quality is better. I can't say it blows me away, but I have no real complaints either. I played instrumental music, rock, smooth jazz and electronic music and all styles sounded good through the speaker. Songs like Sail by Awolnation and Lorde's Royals have a strong bass line, which stood out when listening through the iLoud speaker. Simpler songs like Say Something by A Great Big World with vocals and piano sounded clear and crisp. Depending on the music, it almost sounded a little too crisp to my ears. I think the iLoud lacks a bit of warmth. But guess what? That shouldn't be a surprise because the iLoud is a speaker that was designed to sound like a studio monitor. Studio monitors are designed to not enhance sound, and strive for flat-response of all frequencies.
The iLoud really does live up to its name though. With 40 W of power, this little speaker has a BIG voice. Cranking up the volume will make the windows rattle and your ears bleed. Seriously…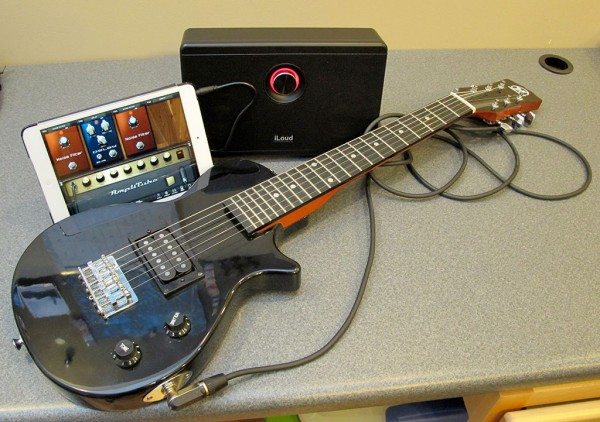 Built-in iRig circuit
The iLoud has been designed for musicians and features a built-in iRig digital instrument interface circuit that you can use to plug in a microphone, keyboard or guitar. I originally thought that the iLoud would perform just like a standard amplifier, but unfortunately, it requires more than just plugging your guitar into the back of the iLoud. Although you do use a standard 1/4 inch instrument cable to connect a guitar (mic or keyboard) to the iLoud's 1/4 inch jack on the back of the speaker, you also have to connect an iOS device to the input jack using the included 1/8in TRRS cable. In addition, the iOS device has to be running an app like AmpliTube which is an effects processor and recording studio.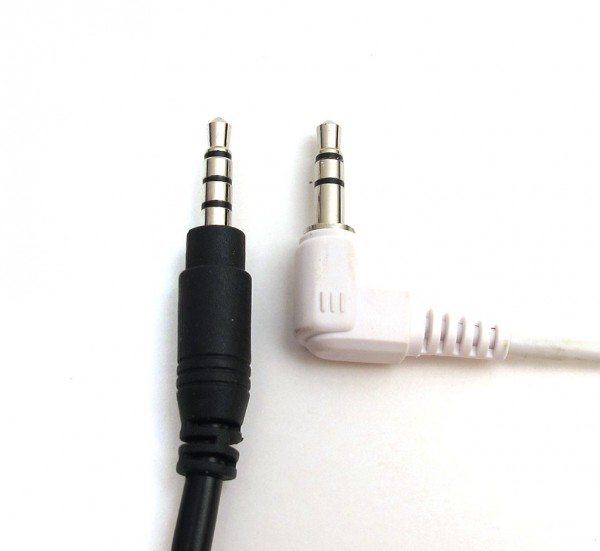 Note that you can't just use a regular run of the mill 3.5mm patch cable when you want to use the iRig circuit.  As standard cable will work fine if you just want to play music from your laptop or phone through the iLoud, but you will have to use a TRRS cable to use the iRig circuit. What's the difference between the two cables besides the fact that the TRRS has three stripes instead of only two like the other cable?
TRRS connectors are the 3.5mm audio-style connectors that you see on some phones, MP3 players and development boards. TRRS stands for "Tip, Ring, Ring, Sleeve," which reflects the fact that, unlike a standard stereo connector, this actually has three conductors and a ground. Some devices use the extra conductor for a microphone (like hands-free headsets) or to carry a video signal (like in some MP3/MP4 players).
The setup for using the iLoud as an amp is a little clunky if you ask me. I don't like that I am required to connect two cables and an extra device to the iLoud to use it like an amp. But it is what it is and it is handy to have around if you are a musician that likes to be portable. One other down side to be aware of is that the iRig circuit currently only supports iOS devices. Android musicians are left out.
Bottom line
Portable Bluetooth speakers in this form factor are pretty common and can be found for quite a bit less than the $300 price tag of the iLoud. That said, none of those cheaper speakers will feature an iRig circuit like the iLoud or crazy head splitting volume in such a small package. If you're a musician that needs to carry around a portable studio, you'll appreciate the IK Multimedia iLoud Studio Quality Portable Speaker and all its features. But if you're just an average Joe who wants to listen to music streamed from your phone, your best bet is to look elsewhere.
Product Information
Price:
$299.99
Manufacturer:
IK Multimedia
Pros:

Rechargeable speaker
1/4in and 1/8in inputs
Good audio
Portable

Cons:

Instruments connected to the 1/4in input have to be routed thru an iOS device/app
Pricey
Power switch on the back of speaker
iRig jack does not support Android