We use affiliate links. If you buy something through the links on this page, we may earn a commission at no cost to you. Learn more.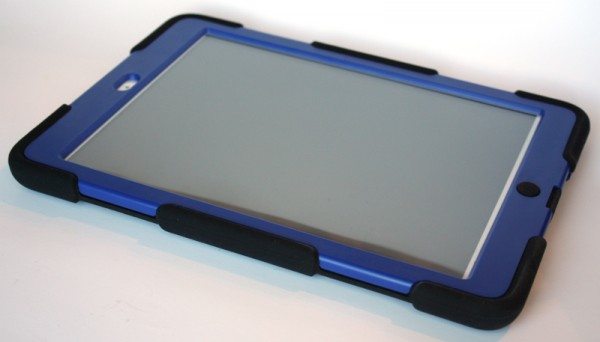 So perhaps you've got, or are thinking about getting, an iPad Air. They are quite light, but also easy to drop, and if you have children or are prone to dropping your iPad frequently, you may find a need for a heavier-duty case. Griffin has come out with their Survivor line of cases for the iPad Air, and they claim to protect against "dirt, sand, rain, shock, vibration, and a host of other environmental factors." Seems like it would be solid case, yes? Let's find out.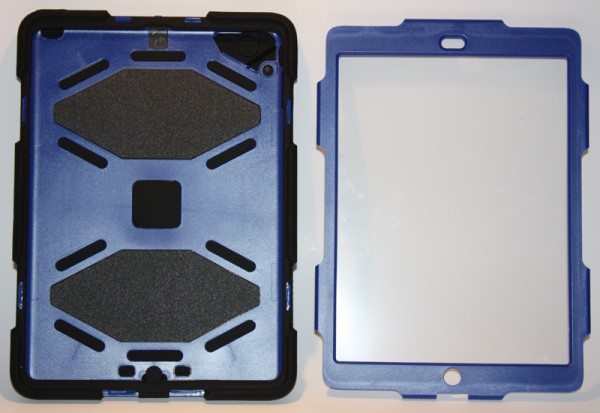 The Griffin Survivor case comes in 3 pieces: the front cover with a polycarbonate screen protector built in, the back cover, and the silicone outer layer (shown in black above) which acts as a buffer against vibrations and also is used to seal the ports. Also included is a small stand that can snap onto the side of the case once it's on the iPad Air.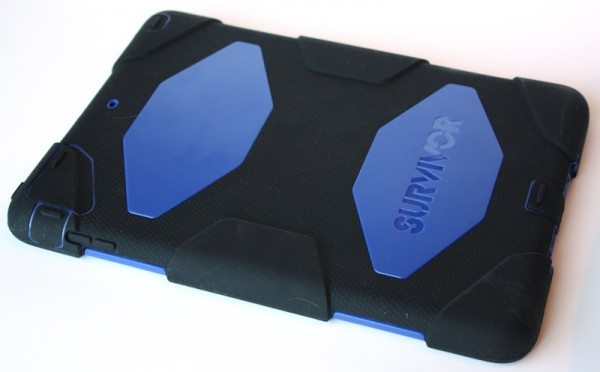 My first impressions of the case was both good and bad. The bad was that it seemed quite bulky, which proved to be correct.  The good was that it felt sturdy in my hands, but was very lightweight. Since one of the reasons I bought the iPad Air was for its weight, this impressed me.

Each corner and the middle of the sides of the case are covered in silicone, which attracted dust like a magnet. Of course, if you have kids, that's not going to be a problem since they'll find other ways to get it dirty, but it's worth noting that dust, fur, and lint all stick very well to the silicone parts of the case.

Each port has a flap or hinge of silicone to keep the elements out. These worked quite well, and despite my worries that they would flop around after several uses, each port flap stays down easily and doesn't come out until I want it to.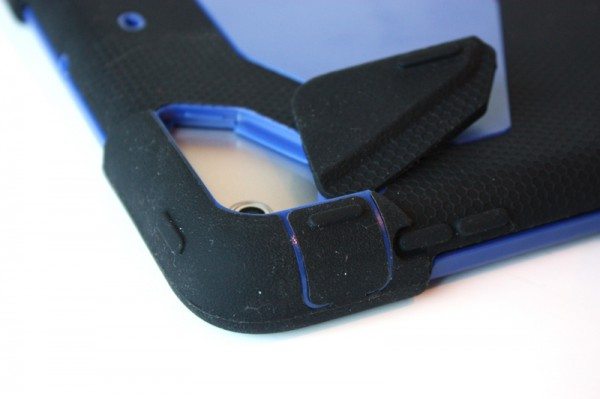 The above picture is an excellent example of two things.  It shows that lint sticks well (I took this picture less than one hour after I opened the package), and it shows how the hinge and flaps work. The hinge twists the silicone piece out of the way so you can take pictures with the rear camera. Using the little handle, you can pull out the flap, and when you are done, just press it back down and it lays flat like the above picture shows.

I loved that the Survivor case has big openings for all the ports. I didn't have to worry about headphone plugs, because the openings were plenty large enough to accommodate all of the headphones I own.  The opening for the charging cable plug is large, too.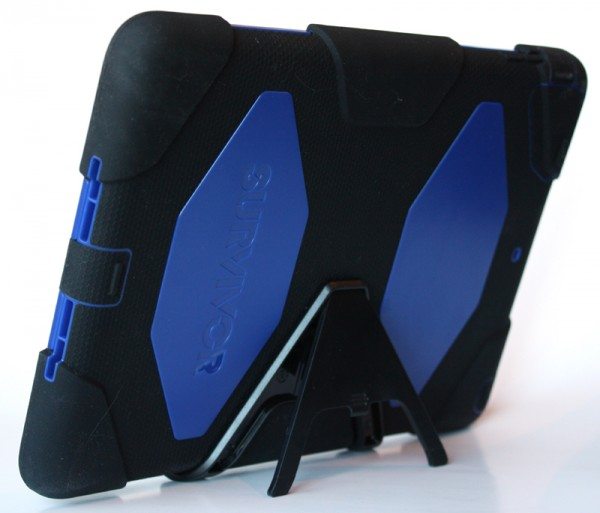 The stand that comes with the case is really handy. It only works with the iPad in a horizontal position, but its angle makes it an excellent stand for viewing videos. It's a nice little bonus to add in to the case.
Now, down to the nitty gritty. Does it really protect as much as they claim on their website? While I have no sand or snow to test it on, I did toss it around the house and tried using it as ruggedly as I could, to mimic a child playing or it being thrown around in a backpack. I would trust my iPad to a young child if it was in this case without hesitation. It would take quite a bit to damage the iPad once it's within the case. I'd also trust it when out camping, because it is rugged enough to throw in a backpack. I was pleasantly surprised at how well I could use the touchscreen with the cover on. I'd never used a case that has a full-screen protector built in, but I found everywhere except the edges of the screen protector was about as normal as using a stand alone screen protector. The edges of the screen protector come up a bit from the iPad, so where the corners are especially, it takes a firmer press for it to register your touch.
Overall, I thought this was quite a protective, lightweight case. I think the most ideal situation for this case is for a family with small children, since the price is less than some of its competitors, comes in a variety of colors, and it will provide protection against drops and spills. I could also see it being used for an avid outdoorsmen who may bring it out in the rain or toss it in the grass. For an average user, it may be overkill to have a bulky case like this for everyday use. I used this case for a good three weeks before removing it, but it's not the best case for someone who sits on the couch and uses their iPad (like me) due to its bulky form.
Updates 03/22/16
This is a solid, nice, and very protective case. Unfortunately, unless you have a good reason to need a rugged case, it is overkill. I can imagine if I have a kid, that I would want this to protect it from grubby hands and frequent drops. For daily use, however, it's too bulky and takes the 'Air' out of the iPad Air. Since reviewing it, I have yet to find a situation where I have needed to put it back on, and it's sat in the closet ever since.
Product Information
Price:
$79.99
Manufacturer:
Griffin
Requirements:
Pros:

- Very protective
- Lightweight

Cons: