We use affiliate links. If you buy something through the links on this page, we may earn a commission at no cost to you. Learn more.


Earlier this week it was announced that LogMeIn, a popular software application that allows remote control of computers, would no longer be free. I've been using the free version of this software off and on for several years, so I was a little bummed with the news. I regularly need access to my home computer during the day when I'm at work, so I went looking for an alternative. It didn't take me long to find TeamViewer, which I've been testing for the past couple days.

Note: Images can be clicked to view a larger size.
TeamViewer is free for individual non-commercial use and is available for Windows, Mac, Linux, iOS and Android. I installed it on my 13″ Macbook Pro, Lenovo laptop at work, Samsung Galaxy Note 2 and an iPad mini.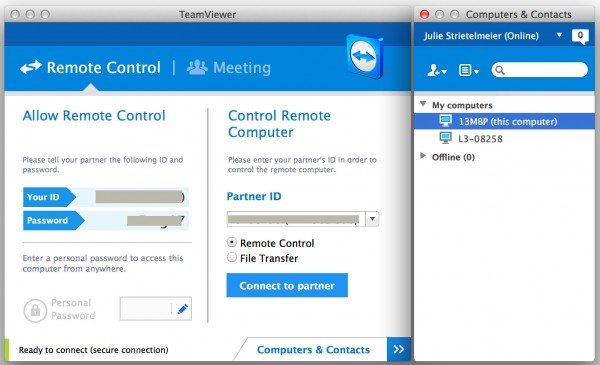 Installation on all platforms was painless. The only thing to be aware of is that you have to leave the TeamViewer application running, in order to be able to remote into that machine. Also, it's not possible to remote into an iOS or Android device. But, you can remote into a Mac or PC from iOS or Android using the free TeamViewer apps.
The TeamViewer user interface on a Mac or PC looks like the window you see above.  I've covered up the machine IDs which are used to identify a machine so you can control it. This is the info you would give to someone you want to allow to remote into your machine. Or you can create an "address book" like you see on the right side. These are my two computers. My Macbook Pro and my work laptop which remains on my desk at my day job.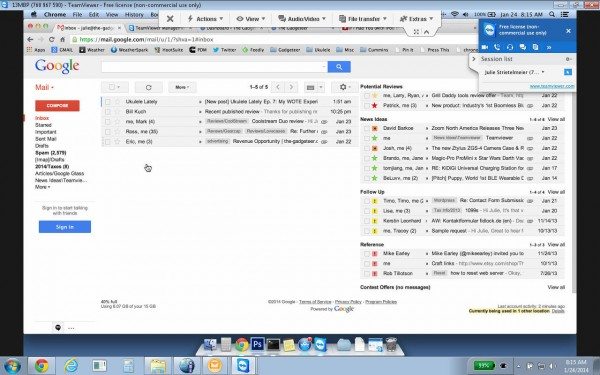 If I'm at work and need to remote into my Macbook Pro, I'll launch TeamViewer and double click my Macbook in the address book and it will connect and allow me to control it. I'm able to use the mouse and keyboard just like I was sitting in front of it. Of course, the Macbook Pro needs to be turned on, connected to the internet and have the TeamViewer application running, in order to be able to remote into it.
In the image above, I'm remoted into my Macbook Pro from a Windows PC laptop.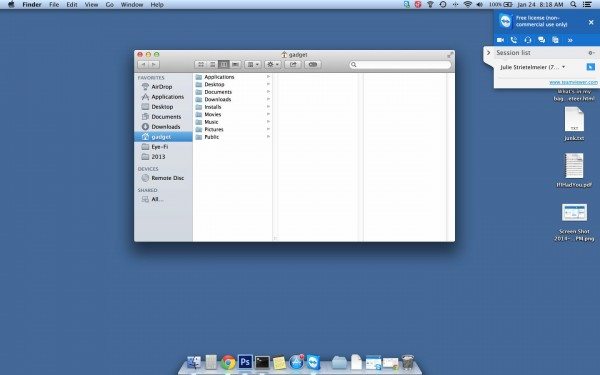 On the Macbook Pro side of the connection, there will be a popup window letting you know someone is connected. When a local machine is controlling another machine, both sides can control the mouse and keyboard. It doesn't lock out the person on the remote end from being able to use the computer, but it you won't be able to see the remote person moving the mouse on the local machine. You also won't hear sounds being made on the remote machine through the local machine.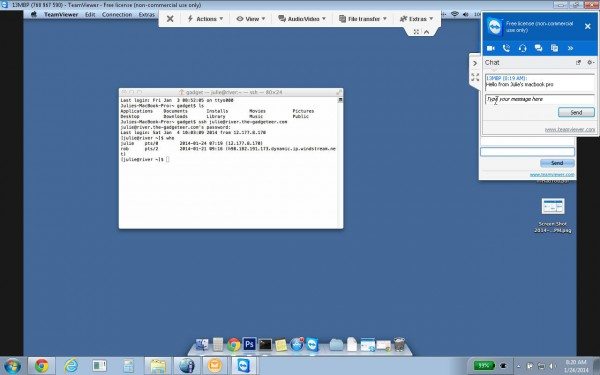 Using TeamViewer, you can help troubleshoot problems with someone who might not be very computer savvy.
You can bring up a chat window, to type back and forth to the person on the other end. You can also start a VOIP call, video call, and even record the session so that you can play it back later.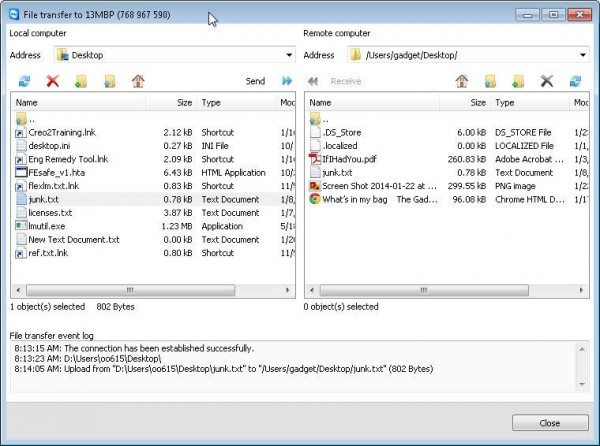 Another handy feature is the ability to copy files back and forth between machines using a drag and drop file explorer.
TeamViewer is an easy to use piece of software that works really well. You're not going to play graphics intensive games or watch video through a remote connection, but it's great for doing a quick task, copying a file or trying to help someone fix a software problem.
I found that TeamViewer worked best when using a computer to remote into another computer. Using a smartphone or tablet like the Samsung Galaxy Note 2 or iPad mini (screenshots above) can be done, but it's slow and the screen is small, making it a little tedious to use.
If you need an alternative to LogMeIn, definitely check out TeamViewer. It's easy to use, powerful and best of all, FREE.