We use affiliate links. If you buy something through the links on this page, we may earn a commission at no cost to you. Learn more.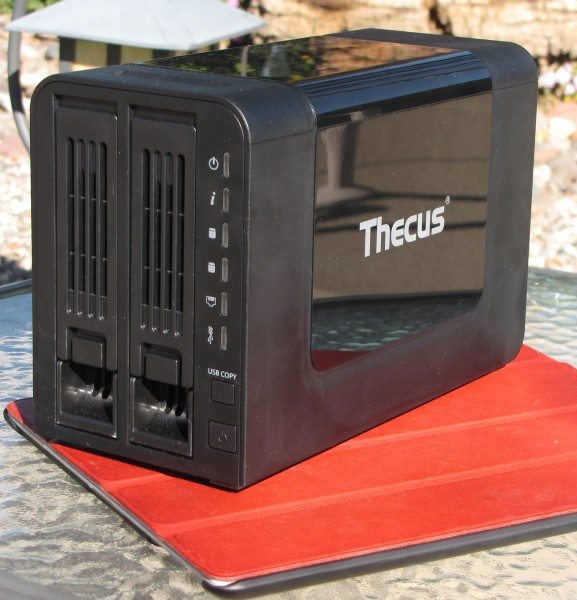 The "cloud", a mystical place where we can store and access information from almost anywhere with almost any type of device. The thing is, I have a few issues with the cloud or at least the commercial free service offered by several outlets. My first issue is the security and availability of the data I put out in the cloud, I mean what if the service provider goes out of business or has a major security breach. That's why I limit the type of information I put out in the cloud. The second issue is space, a lot of the cloud service providers give you some free space but what if you need more? For individuals this solution may work but what about small or home based businesses? The Thecus N2310 NAS server is designed to provide a solution to those types of storage and accessibility needs.
Note: Images can be clicked to view a larger size.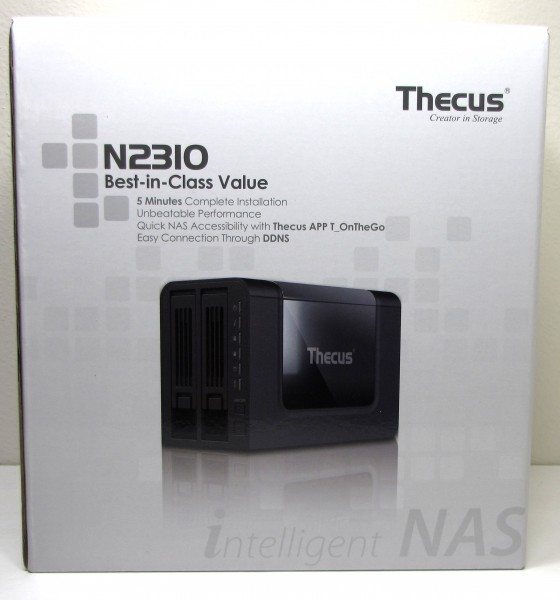 To be honest, most everyday computer users would not benefit from a product like this, they just don't have the need to store or access the amount and type of data that this product is perfect for. But if you are like me, and store a lot of videos and photos, or if you run a small home business and need access to your work product on the go and need a secure place to store it the Thecus N2310 NAS server (hence forth referred to as the N2310) should be more than enough to handle the job. Before I go too far here, if you are not a computer techie you may not know or understand what an NAS device is. The simple answer is that an NAS is a network access storage device connected to a network. A more complicated and complete answer can be found here. Here are some of the N2310 features listed from the Thecus website:
RAID support (0, 1, and JBOD)
Web-based file access
Built-in FTP server
BitTorrent client
Plex Media support
Mobile control and media streaming via T-OnTheGo™ (for Android and iOS)
Easy Connection Through DDNS
5 minute complete installation
Self-RAID creation
Energy Efficient: 5W
The full technical specs can be seen on the Thecus N2310 webpage under the "Specs" tab.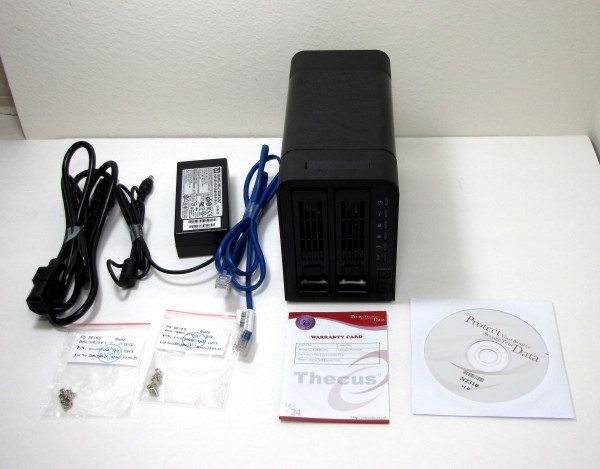 The N2310 comes with following:
Accessory bag
Ethernet cable
Power cord
Power adapter
QIG (Quick Installation Guide)
Warranty card
All in one DVD
I must note that the N2310 does not come with any hard drives so if you do not have any you will need to purchase some (1 TB internal hard drives can be found for around $60 from several online retailers).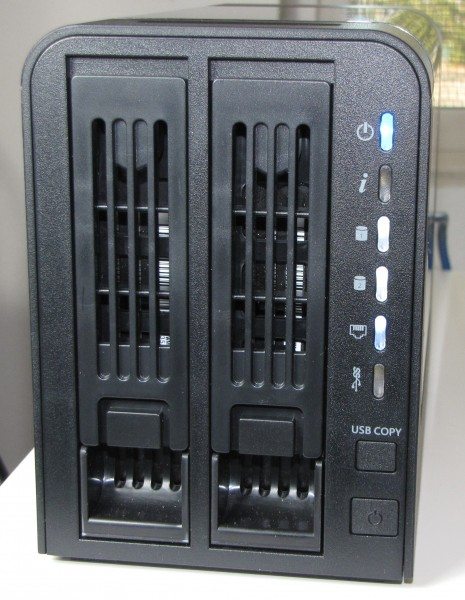 So, I have a confession to make. Although I do test and use the products I submit reviews for, I do on occasion enlist my other half to help with his opinions and expertise. I especially get his feedback on high-tech computer issues especially when it comes to set up and configuration, and for this review he was invaluable. You see, unlike cloud services or other services of that kind when setting up a NAS it helps to have some knowledge and understanding of the process. And while I do posses both, I am not always confident in them and that's where he fits in. His years of knowledge and technical skills made the setup and review of the N2310 a lot easier. I say all of that to say this, setting up a system like this no matter how well it is designed, is not a simple plug and play situation. Now on to the basic setups.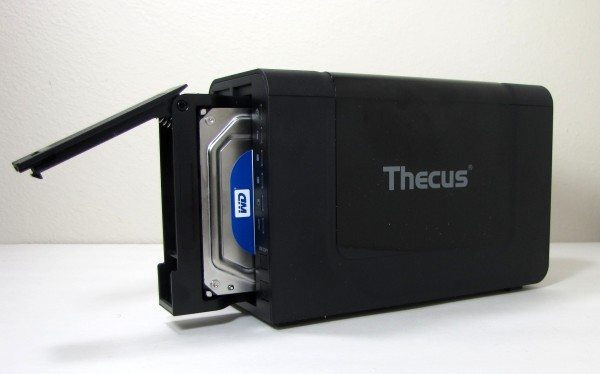 To me the hardware setup was the easy part, as I stated above you will have to supply your own hard drives for this N2310. You install the hard drives by pulling out the drive tray, inserting your hard drive into it, secure with the screws and then pushing it back into the N2310. After installing the hard drives the rest is just a matter of plugging in the supplied cables; power and LAN then powering the N2310 on.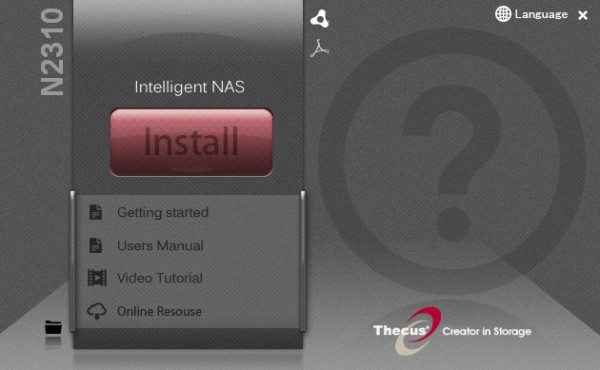 Software setup for the N2310 was not overly difficult with the included CD. I will say that even though there is a quick setup guide, I would use the CD guide even if you are very familiar with NAS setups as it may answer some questions you come across before you get too far down the road. The basic set up was to determine what configuration you are going to run the N2310 in (RAID 0 or 1). The setup software guides you through this and you can follow along with the user manual supplied on the included CD. After the base configuration and setup you are ready to set the N2310 for user access (create user accounts).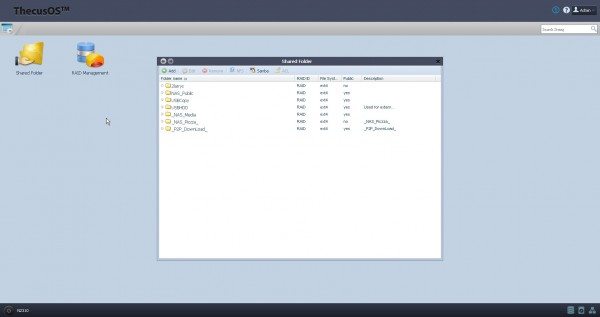 There are several ways to connect to your N2310 from a remote computer inside your network. The most common way to do so (and in my opinion simplest) is to set it up as mapped network drive. Another way we experimented with and got to work with some trials and tribulations was using Dropbox as a conduit to the N2310. This method is similar to mapping a network drive but if you are used to using dropbox or a program similar it may be a valid method. Connecting remotely takes a little more effort but Thecus has helped with that by setting up a DNS entry for your NAS allowing you securely access it from anywhere.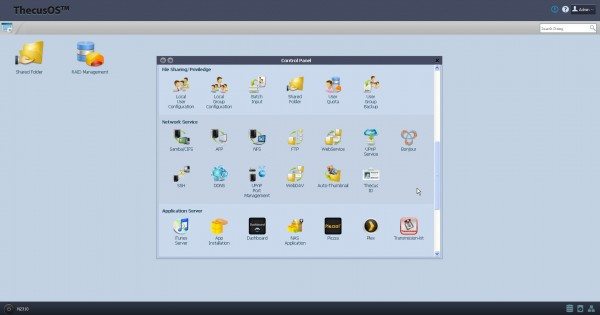 Now that the N2310 is set up and configured you will have to decide how you are going to use the NAS. Here's the good news bad news situation; the good news is that Thecus has a whole library of add-on software to help configure their products for what ever you want to use it for (mail server, file server, backup device), the bad news is that the N2310 having a new operating system and architecture, none of the current software downloads from their website are compatible with the N2310. But don't despair, Thecus knows this and has included some compatible software programs, and I have also received new software packages from Thecus via updates. Knowing this going into this review did not dissuade my enthusiasm for this product, as anyone who likes to be on the cutting edge of technology or new products knows that it will take time for these products to reach their full potential.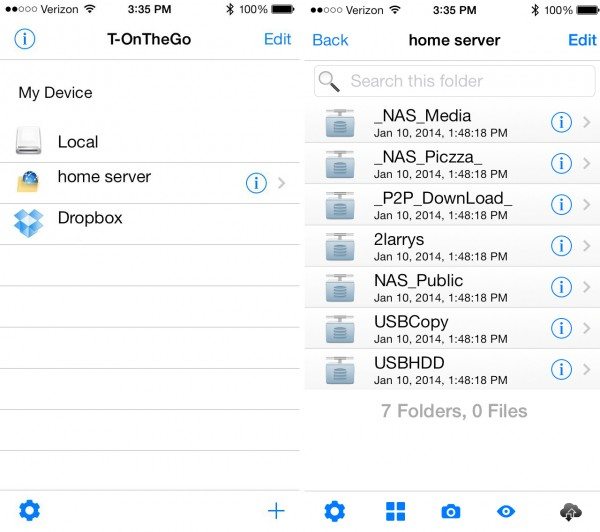 I know the question on everyone's mind now, how am I using the Thecus N2310 NAS server? Let me tell you, right now in our infancy of use we are using the N2310 as a basic file sharing and storage device. Having access to our documents on the go is a life saver when you travel as much as we do. As we get more accustomed to the N2310 and as software options become available for the new OS we will be using it to store more media such as photos, music and movies. That brings me to another nice feature, the mobile apps for Thecus products. Thecus has an array of official mobile apps that are compatible with its severs in general and the N2310 specifically. The one we have been using is T-OnTheGo, this allows us to view and update our files on the N2310. Thecus has done a nice job on their website with QR codes to directly link you to the iOS or Android version of this program.
So what's my bottom line on the Thecus N2310 server? If you are a home user or small business in need of an affordable redundant capable NAS server the N2310 should be on your list of options. While the setup may be a little more than you average user would want to take on , it is doable with a little understanding and research. The ability to run as RAID 0 or 1 and the fact that you can hot swap drives is a great feature. Experienced NAS users and installers should have no problem with setup and configuration and the initial software offering for running the N2310 are nice. Being an early adopter of a new product line can have its disadvantages with lack of long term use data and third party software packages but it seems that Thecus has an eye to the future with its smart device connectivity software and continued compatibility growth to their existing software library. The Thecus N2310 NAS server can be found at various retailers and at various prices the cheapest I have seen was around $152 online.
Update 01/30/15
This review had me a little worried as I was not sure I would be technically capable enough to do it. With help from my other half, we got it up and running and realized that it was not that difficult to set up and use. The Thecus N2310 NAS Server is still in high use in my household and we have had no hiccups or issues since setting it up. I will say the documentation has improved some so you should not be afraid to try this unit out.
Update 12/15/16
This system is still the heart of my home storage. It allows me to access all my notes and info while on the road and it has been running like a champ since I set it up. Simple to set up and simple to use.
Product Information
Price:
Various, Approximately $150
Manufacturer:
Thecus
Retailer:
Various Retailers
Requirements:
Pros:

Price
Fairly easy set up
Versatility

Cons:

New device, operating system and architecture with limited documentation.