We use affiliate links. If you buy something through the links on this page, we may earn a commission at no cost to you. Learn more.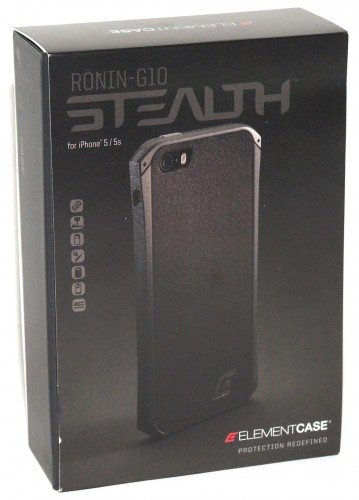 Element Case creates some very nicely engineered smartphone cases. I reviewed their Sector 5 iPhone case about a year ago and still consider it one of the most innovative, tech-geek stylish bumper cases I have ever seen. Their new Ronin G10 Stealth bumper case for the iPhone 5/5s looks just as cool, but in a meaner, bad-boy/Dark Knight kind of way. Luckily the folks at Element Case sent me one of these special edition cases to review.
Note: Images can be clicked to view a larger size.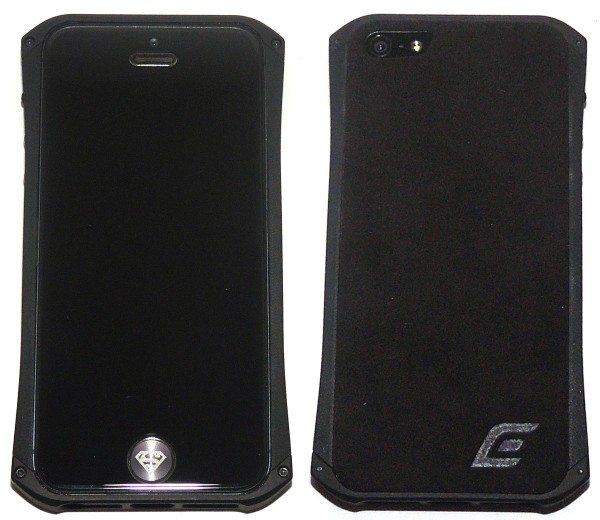 The new Ronin G10 Stealth is a special build and offered exclusively to Element Case's online customers. According to EC, they created the Stealth "because they designed it. It seems everyday we have loyal fans who request an all black Ronin", so they obviously listened and for a limited time will be selling the Stealth via their website only.
Package Contents: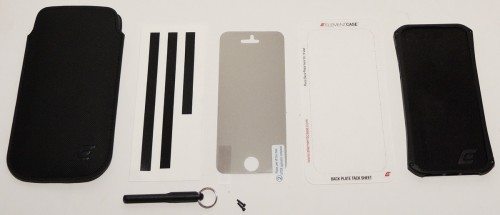 CNC-machined black anodized aluminum caps
CNC-machined G10 composite rails & power button
Black hardware, logo, volume buttons
Black Ultrasuede back plate
Speed wrench (plus two extra bolts)
Stealth Privacy Screen protector
Rash guards
Microfiber cloth/installation card
Element Case stickers
Zipper Case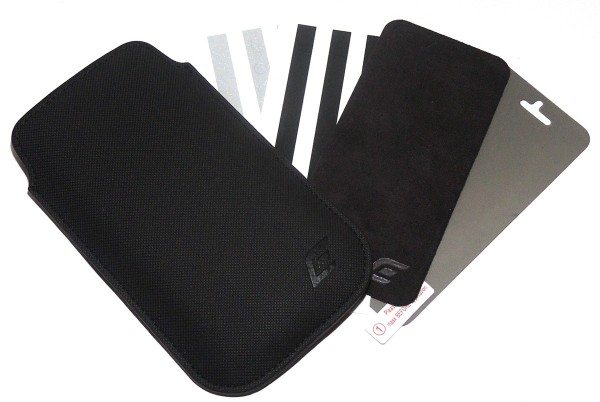 Element Case also includes an "Action" slipper case, black Ultrasuede back plate and front privacy screen protector in addition to their silver and black Rash Guard IIs.

The Ronin series is constructed of 4 CNC-machined pieces held together with stainless steel bolts. This form creates a strong, durable, lightweight bumper case design. The interior of the Ronin bumper case is lined with thin rubber pads to keep the case from scratching your iPhone and to add a little extra cushion if dropped. Element Case includes a tool for inserting and removing the stainless steel bolts. Before installing the Sector 5 on your iPhone, Element Case advises putting on the Rash Guard II (included) to further protect the edging of the iPhone.

The limited-run Ronin G10 Stealth is named after its CNC-machined black mil-spec G10 side rails. The Ronin metal hardware and logo are blacked out as well, completing the Stealth with a 100% black-ops look. The right side is a solid piece and does not provide access to the sim card slot.

The left side has black push-through volume buttons and mute switch. The button area is a bit recessed, making it easier to manipulate the buttons and switch.
The top and bottom rails are CNC-machined from T6061 aerospace-grade aluminum and finished in a non-glare, black matte finish. The top of the Ronin Stealth G10 has a rubber push-through power button.

The bottom of the case has cutouts for the Lightning connector, speakers, mic, and audio plug. Like a majority of this type of bumper case, straight plugs work well, but the 90 degree, L-shaped plugs cannot be inserted in far enough to touch the connection points.

I love the look the G10 Stealth brings to my black iPhone 5. Its all blacked-out and matted color scheme makes the already dark iPhone look even meaner. This bumper case keeps the iPhone lean as well, adding very little weight or bulk.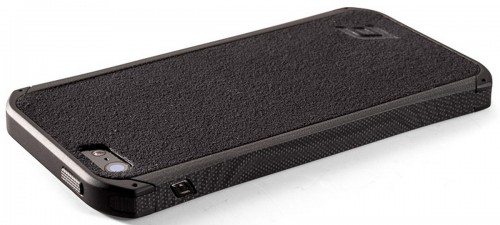 The G10 sides are knurled and feel very nice to hold. The Stealth's textured, curved sides add gripability to the relatively slick and droppable iPhone.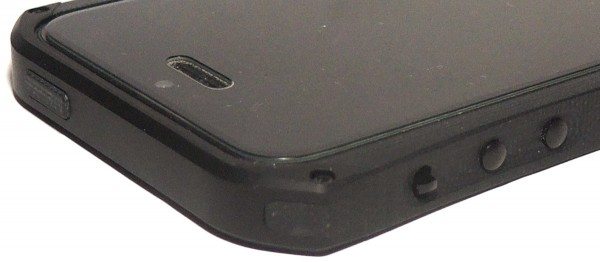 The pieces that make up the G10 are perfectly fitted to each other. I have tried other high-end bumper cases that have not lined up precisely, but that is definitely not the case with the Stealth. The case is a millimeter or two taller on the front and back of the case, adding a bit of protection when you set the case down flat on a surface. As you can see, my tempered glass screen protector works well with the raised lip the Ronin provides. Element Case does include both a privacy screen and Ultrasuede back to further protect your smartphone.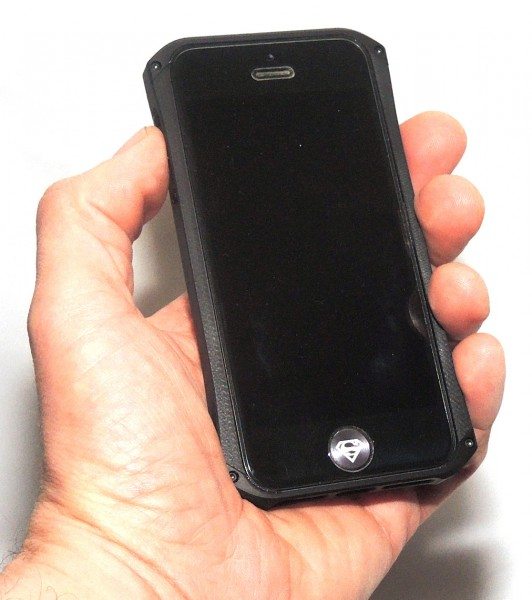 I really like the look and feel of the limited-edition Ronin G10 Stealth from Element Case. Its precision construction, excellent material quality, and Special Ops look are second to none. And of course it provides solid protection and better gripability to the slick and droppable iPhone 5/5S. The Ronin G10 Stealth is one of the best iPhone 5/5s cases I have ever used, but it does come with a significant price tag of nearly $200. Sure, you can buy a silicone iPhone bumper case for three bucks these days. But the Ronin G10 Stealth is lightyears cooler, better protection, and adds a definite badass vibe to your phone. I know some of you are rolling your eyes at the cost, and if so the G10 Stealth probably is not for you, but if you are tempted (and can afford it), I suggest seriously considering going for it.

Product Information
Price:
$189.95
Manufacturer:
Element Case
Requirements:
Pros:

Perfectly fitted for the iPhone 5/5S
Great all black, matted Special Ops look
Provides excellent protection with little signal loss
Adds little bulk or weight
Comes with front and back protectors

Cons:

Expensive
No sim card access