We use affiliate links. If you buy something through the links on this page, we may earn a commission at no cost to you. Learn more.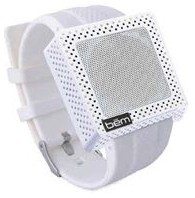 Bem  Wireless is a consumer electronics new company that was started in 2012 and has several audio / speaker related products on the market. This week at CES in Las Vegas, they introduced a new speaker that is so small that you wear it like a watch. It's called the speaker band and features Bluetooth connectivity that will allow you to use the speaker band as a speaker phone for your smartphone. You can leave your phone in your pocket or purse and answer calls with the speaker band. 
"We've struck the perfect balance of form and function with the speaker band. Technology is a new way to accessorize, and everyone from fashionistas to businessmen will enjoy this product," says Bryan Katzel, Product Development Manager for bem. "No need to fumble around in your purse or briefcase for your smartphone anymore—just manage your calls and music with speaker band."
The speaker band has six hours of talk time and will also allow you to control audio streaming from your smartphone by offering a multifunction buttons for play, pause, answer, skip and reverse. The wrist worn device also has a caller ID function so you always know who is on the other end of the line.
The speaker band will be available at the end of January 2014 and will come in black, white, blue, red, gray and green, with a retail price of $49.99. Keep an eye on the Bem Wireless site for more details about this product.