We use affiliate links. If you buy something through the links on this page, we may earn a commission at no cost to you. Learn more.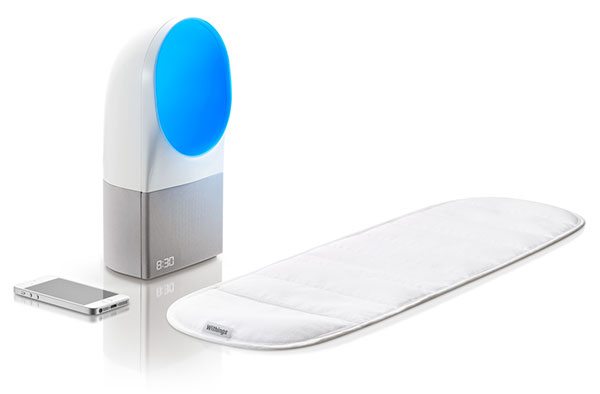 I've been impressed by Withings fitness gadgets for years now. Ever since I first tried their wireless bathroom scale, I was hooked. Their Pulse activity tracker is my favorite pedometer due to ease of use and extra featurs like a heart rate monitor. Withings continues to offer health and fitness gear that provides more features for your money. Today they have unveiled a new sleep tracking device called Aura. What I love about the Aura is that you don't have to wear an uncomfortable tracker module on your wrist like most sleep trackers on the market. Instead the Aura uses a pad that goes under your mattress. A second part to the Aura is placed on your night stand. Both devices work together to track body movements, breathing cycles, heart rate, noise pollution, room temperature and light levels. It doesn't stop there though. The Aura doesn't just tell you about your sleep patterns. It actually improves them by using light and sound programs that will adapt to your personal body clock and positively impact your sleeping conditions. They relax you while falling asleep, and stimulate you upon waking up.
Withings Aura will be available this Spring at Withings.com for $299.