We use affiliate links. If you buy something through the links on this page, we may earn a commission at no cost to you. Learn more.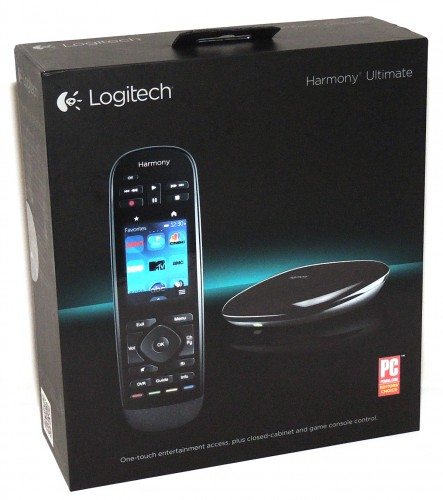 Last year Julie reviewed the Logitech Harmony Touch universal remote control that she continues to use to this day. I have used numerous Harmony remotes over the years, and from what I read in Julie's write up, the Touch appeared to be the best yet; its size, form and screen interface are more polished and functional than ever before. Well, that has changed with Logitech's release of the Harmony Ultimate, which combines the Touch remote and Ultimate Hub into a single integrated media control solution. Note: Images can be clicked to view a larger size.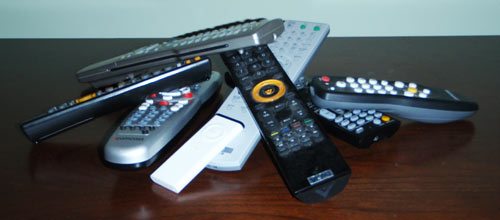 When configured correctly, a universal remote is definitely more efficient and effective than having a half dozen individual ones rattling around your family or media room that typically only one person knows the gyrations necessary to bring the family TV to life. Universal remotes have certainly evolved over the past ten years – from being able to learn from other remotes, to being able to program them via computer, then to have their software profile your components and how you use them, to finally where they are today as a truly smart device. Logitech's Harmony Ultimate is not only a smart remote, but also a media control system taking the most advanced remote I have ever used to the next level.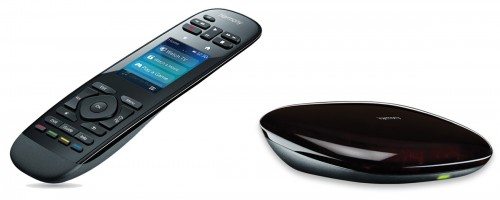 For the most part, the Harmony Ultimate is essentially the Harmony Touch remote bundled with the Ultimate Hub. Julie's review of the Harmony Touch does an excellent job detailing the features and functions of Logitech's high-end remote control. Here, I will be touching on what I like best about the Touch versus diving into the finer details Julie has already covered. Although, I did discover after talking with Julie, her early generation Harmony Touch does not have either backlit buttons or vibration feedback when you press the screen's virtual buttons. Best I can tell, both are features Logitech added to the Touch in 2013. I will mainly be discussing the Harmony Ultimate from a holistic standpoint.
Package Contents:
Remote control
Harmony Hub
2 IR mini blasters
Charging station
USB cable
2 AC adapters
User documentation
Specifications:
iOS:

iPad, iPhone, or iPod touch with iOS 5.0 or later
Logitech Harmony App (free download from iTunes App Store)

Android:

Wi-Fi-enabled smartphone with Android 2.3 or later
Logitech Harmony App (free download from Google Play)

Windows-based PC for setup:

Windows XP, Vista, 7 or 8
USB port

Mac for setup:

Mac OS X 10.4.8 or later
USB port

Broadband Internet Connection 802.11 b/g/n wireless home network

Supports WPA Personal, WPA2-AES and 64/128 bit WEP encryption)
Setup: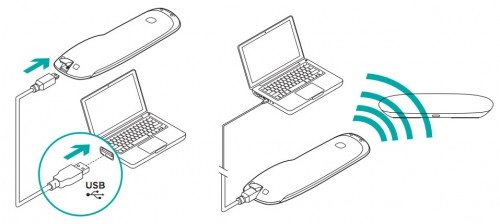 Along with their hardware, Logitech has done a very good job improving their setup process as well. The most challenging piece in setting up the Harmon Ultimate is gathering the make and model of your various components. Once you have that information, the myharmony.com web interface leads you through the setup process. The process profiles how your components are interconnected and what ways you use your media center (aka watch a DVD, play XBox/PlayStation, listen to music, etc).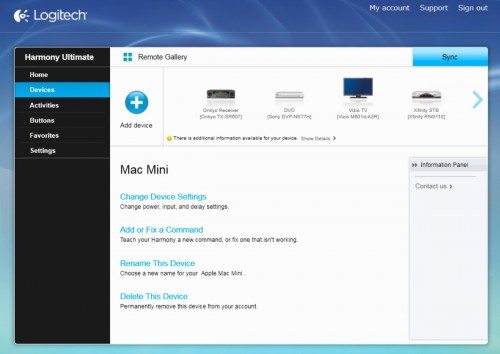 myharmony.com then prompts you to connect your remote using the provided USB cable, where you can follow the relatively easy instructions to finish setting up your remote. During your remote setup, you will be prompted to enter your WiFi password to connect your the Ultimate system to your home network. The remote then reaches out to the Ultimate Hub to convey all the operational and connectivity data to it.
Harmony Touch Remote:

Compared to Logitech's past flagship Harmony remotes, the Touch is smaller and lighter, giving a more comfortable feel to it.

The new screen interface and virtual buttons enable fewer actual buttons on the remote itself. Being able to tweak the various screens allows the user to optimize their experience.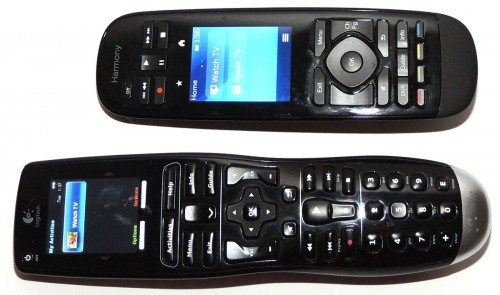 The 2.4″ touch screen is much improved over past remotes in responsiveness, vibrance, and high-res. As I mentioned above, in addition to the backlit hard-keys, the remote has an interesting/great positive feedback feature that gently vibrates to let you know when a screen button is pressed.  Very Samsung Galaxy of them… I think the direction (form factor and operability) Logitech has taken their remotes is great. The Harmony 900/One were big and the 1000/1100 were just huge. The new smaller body style and fewer physical buttons will comfortably fit in more people's hands.
Harmony Hub: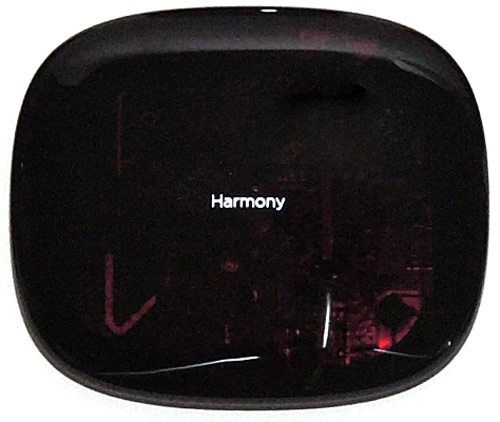 The Harmony Hub turns radio frequency (RF) signals from the remote control or WiFi from your smart-device app and rebroadcasts those instructions into IR and Bluetooth commands your home theater or gaming devices can understand. The Hub is what makes the Harmony Ultimate…."ultimate" in my mind. I can control my media system from anywhere in my house via the Touch remote control, or better yet, via my smartphone or tablet.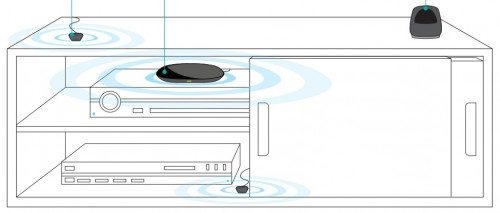 The Hub and included IR mini blasters need to be placed close to your components so they can do their job. I was surprised that the Hub is able to communicate with everything within my cabinet thru multiple shelves. But I did have to position a IR mini blaster on the outside of my media cabinet so the TV would work properly.

The Ultimate Hub is powered by a microUSB cable and has the capacity to connect two of the IR mini blasters.
Smartphone/Tablet App: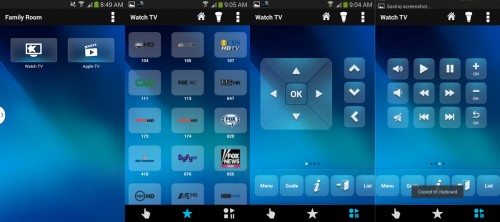 The Harmony Ultimate Hub is basically a networked device that emits IR signals from the  instructions received not only from the Touch, but your family's smartphones or tablets as well. The Logitech Harmony smartphone app transforms your smart device into a nicely polished remote control that works very well. Both the iOS and Android apps have a nice, clean look to them, logically laid out for great functionality. Either can be configured/arranged/tweaked as you like. Virtual buttons can be removed or moved around based on your personal preference, including mixing functions and controls from various devices on a single screen. In addition, you can select your favorite channels and summon them by clicking on the network's icon. And of course, your traditional button controls are there for every device action you might need.
Functionality: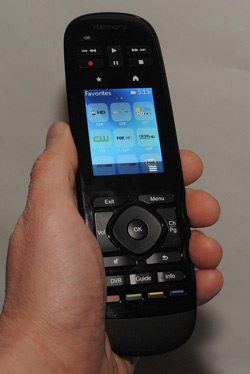 There are several people in our home (due to fear for life and limb, I cannot use any names…) that have issues/problems operating past Logitech universal remotes that have controlled our media room. They were not able to get all the devices on or off at the same time. And most of you know that getting all the components back in sync is a hassle. Typically the individual feels that the remote is the failure point, but in reality, the operator was just too impatient to point the remote at the TV long enough to cycle through each component's IR instructions. That said, the Harmony Ultimate completely eliminates this issue, which is truly a saving grace. All you have to do is press any button or function and the (never moving, always pointing in the correct direction) Harmony Hub rolls through the needed commands, rarely if ever, messing up the Zen of your media experience.
In many ways, with the Ultimate Hub, the physical remote is not really even needed anymore. Most people have either a smartphone or tablet these days. When paired with the Hub, both enable you to control your media room or various AV components throughout your house. I love being able to turn off the TV with my Note 3 from the other side of the house when the Gadgeteer Kid needs to stop watching one of his shows and get something accomplished. 😉
Conclusion:
Logitech has always been one of the leaders in the world of universal remote controls, but in this case they have outdone themselves with the Harmony Ultimate. It is definitely the Cadillac of media control systems. That said, at $349 the Harmony Ultimate is relatively expensive (though I remember paying more than that for the Harmony 1100). If the Ultimate is a bit too rich for your blood, you can have nearly the same experience with either the Harmony Smart Control or just the Ultimate Hub. However, if media room Zen is your primary goal or dream, I would recommend going for it all and splurging on the Harmony Ultimate.
Product Information
Price:
$349.95
Manufacturer:
Logitech
Pros:

- Great build quality
- Smaller form factor
- Excellent setup process via web app
- Very customizable
- Easy to use
- High resolution touch screen with vibration feedback
- Smart-device control app
- Can be controlled anywhere within the house
- Rechargeable battery

Cons: