We use affiliate links. If you buy something through the links on this page, we may earn a commission at no cost to you. Learn more.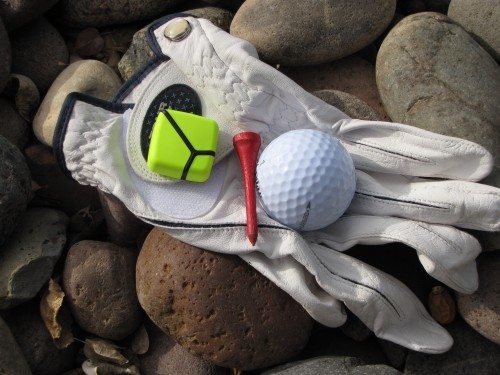 Jack Nicklaus, Tiger Woods, Arnold Palmer, three great golfers I will never be like. Let's face it, three golfers most of us will never be like. What makes these golfers or most professional golfers so much better than the rest of us? Why are they on the tour and we are not? I mean besides the long hours of practice, natural talent and commitment to do whatever it takes to be a professional, but what else do they have? They have consistency in their swings. And while we can get that through lessons from a teaching pro, lessons are expensive and a lot of times not convenient to when we can play or practice. Luckily for us someone has come up not only with a tool, but software to allow us everyday duffers to learn to swing like the pros. The Zepp sensor for golf by Zepp Labs is that magical device.
Note: Images can be clicked to view a larger size.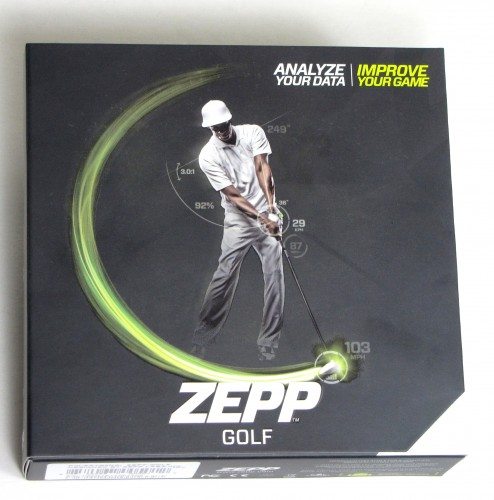 So, what exactly is the Zepp sensor? In the most basic of terms it is a dual accelerometer, three axis gyroscopic sensor, a device that tracks movement and speed. This technology is very common today not only in fitness products, but even in most of todays smartphones and tablet devices. What makes the Zepp sensor special is not necessarily the sensor technology, but the software used with the sensor. The Zepp sensor comes in three varieties; baseball, tennis and golf. I am testing out the golf version.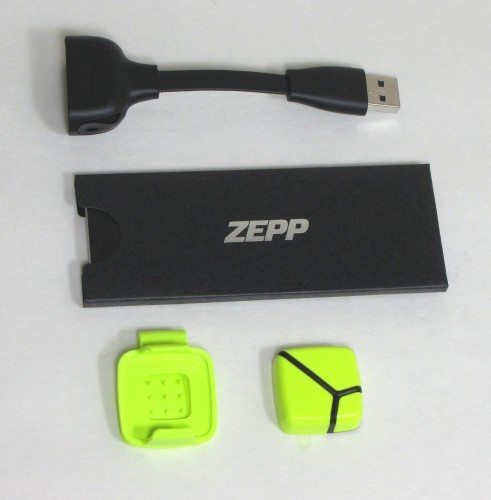 As I mentioned above I will be testing the Zepp sensor using the golf setup, but this same sensor can be used for tennis or baseball if you purchase the specific mounts for the sport and download the software for the sport. The folks at Zepp Labs did send me a mount for both a tennis racket and baseball bat, you can find out more information on those items and software on the Zepp site.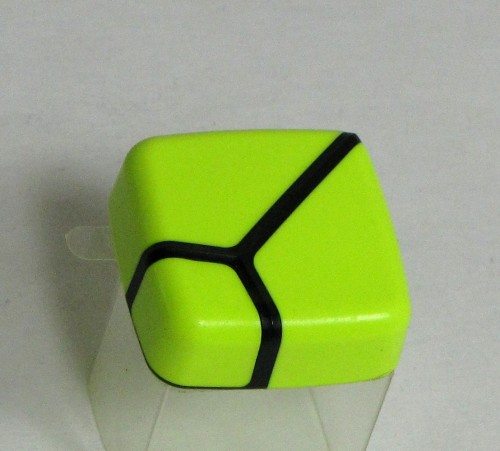 The Zepp sensor for golf has the following technical specs and feature as listed on their website.
Size & Weight Sensor:
Height: 1.1in / 28mm
Width: 1.1in / 28mm
Depth: 0.4in / 11mm
Weight: 0.2oz / 6g
Size & Weight Mount:
Height: 1.7in / 43mm
Width: 1.3in / 33mm
Depth: 1.3in / 33mm
Weight: 0.5oz / 13g
Sensors:
Dual accelerometers
3-Axis gyroscope
Memory:
Flash Storage (holds up to 2,000 swings)
Battery
Built-in rechargeable Lithium Ion battery
2.5 hour full charge cycle (50% charge after 30 minutes)
Up to 8 hours continuous swing recording (varies by use)
Connectivity:
Bluetooth 2.1
Saves swings wirelessly to your iPhone, iPad, iPod Touch or Android device.
Compatibility:
iPhone, iPad, iPod Touch with iOS 5.0+
See iOS compatibility chart
Android Smartphones & Tablets OS 4.0+
See Android compatibility chart
Languages:
English, Chinese (Simplified), Chinese (Traditional), French, German, Italian, Japanese, Korean, and Spanish.
Supports both imperial and metric units of measurement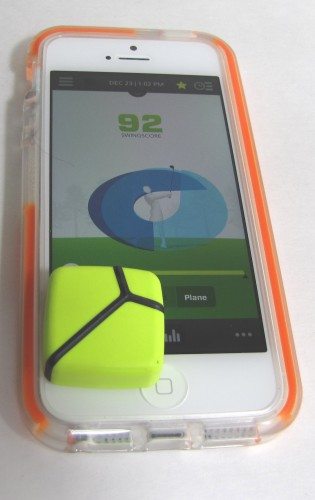 Now for some bad news for all you non iOS and Android users reading this, the Zepp sensor software is designed for iOS and Android only. This means that at the moment if you do not have a smartphone or tablet running these operating systems you will not be able to benefit from this device. On a personal note, I really wish Zepp Labs had made a desktop version of this software. I think from a teaching or coaching perspective being able to download and store the information to a computer would have been a real bonus. All that being said, having instant access to the information via a smart device is a great feature. Zepp Labs has a compatibility and recommendation list on their website in you are wondering if your device will work. I will be using my iPhone 5 with iOS version 7.04.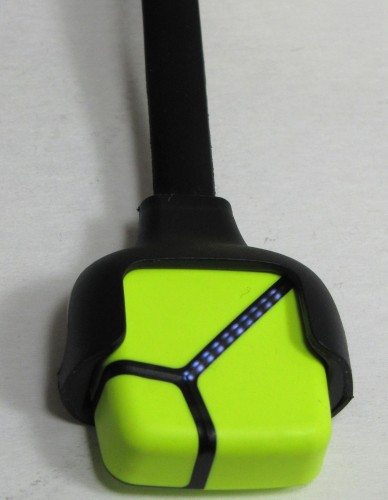 After downloading and installing the Zepp Golf app to my iPhone and after charging the Zepp sensor I proceeded to pair it to my iPhone. Charging the sensor was relatively easy, it comes with a well thought out charging holder that allows you to slip the sensor into it and plug the charger into a USB port. The Zepp sensor has 10 LEDs that show how far along your battery is charged. When all 10 LEDS are lit, your Zepp sensor is fully charged. The LEDs have other functions as noted on the Zepp Labs website. Pairing the sensor with my iPhone was simple and straight forward as described on the Zepp website and in the downloadable PDF file. Speaking of instructions, the Zepp sensor does not come with an instruction manual. Although, I am seeing more and more companies doing this, and while the downloadable PDF was fine I personally think they need a more detailed user manual. I will touch a little more on this later.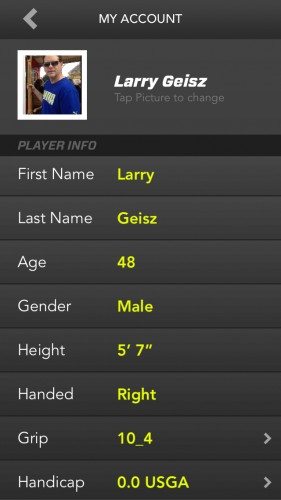 Charged? Check. Synched? Check. Ready to go hit some golf balls? Not so fast. Before you can go hit and smash some little white golfballs you will need to enter some data into the app on your smart phone. This basic data (name, age, height, gender and a few others) will help the software determine some basics about you and use that data for its calculations. After the basic data is set up along with a user account you will be able to set up your golf club information. While the software does have a nice database of current club sets, it did not have my older Ping i5s or my Ping Tour wedge. This is understandable, but I wish there was a feature to import your club info if it was not already in the database. After setting up my club information my next duty was to set up my swing goals. The software has several presets (amateur, senior, professional starred and custom) that provide recommended goals for each preset type. The goals are as follows:
Tempo
Backswing position (in degrees)
Club plane comparison (percentage)
Hand plane comparison (percentage)
Club head speed (for each club type)
All of these settings have an information (i) icon so you can find out how each goal is defined.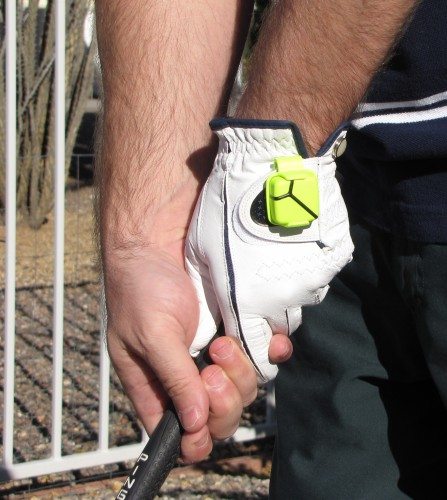 Besides downloading, installing and configuring the Zepp golf app on your device, you need to attach the Zepp sensor to your golf glove. To do this you slip the included sensor holder over the back strap of your golf glove and then slip the sensor into the holder.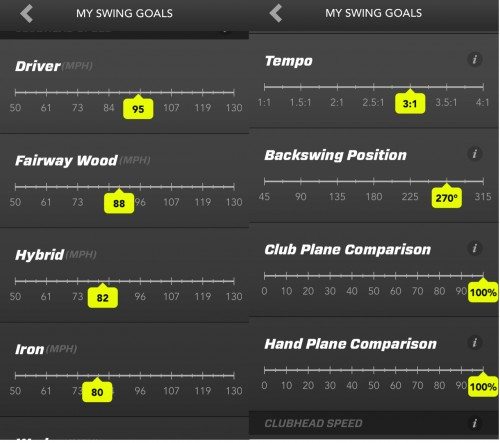 All paired up and ready to go, I headed out to my local driving range to give the Zepp golf sensor a try. Basically, to use the app after you have set it up, you launch the app, make sure your sensor is connected to your device (there is a little yellow Zepp sensor icon in the upper left of the app), select the club you will be using and swing away sort of. This is where the instruction manual and or startup guide is lacking. In the instructions it says to press the sensors button 10 seconds before the swing you want to record, but I noticed that the sensor was recording all of my swings without hitting the sensor button (there is an audible tone every time a swing is recorded) so through trial and error I came to find out that when you push the button on the sensor it marks the swing on the app so you know it was one that you actually want to use for comparison. Now don't get me wrong, recording all of the swings is a good tool for comparison, if you are a golfer you know how many times you make a perfect practice swing only to make a bad actual hit and now you have proof of it.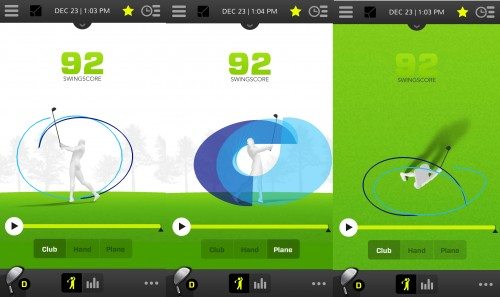 After my session at the driving range I headed back to the house to see what I had learned. As I mentioned earlier in this review, the software for this type of product can make or break it. The golf software included with the Zepp sensor is pretty impressive in my opinion. Not only does the program give you a written break down of your swing, but it also provides a visual replay of the backswing, club plane and hand plane statistics. While that may not be groundbreaking in itself, the ability to watch the swing from different view angles is fantastic. You can actually change your shot viewing angle 360 degrees by rotating the simulated model of you, this means you can view the swing from the front, back, sides or anywhere in between to analyze your shot. The ability to have a top down view of the swing is a major plus. I cannot say enough about the animation software for the Zepp sensor, it really blew me away.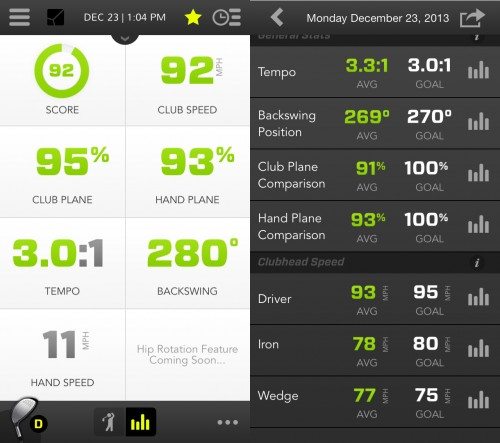 The reporting and analyzing software side of the app is very thorough and well thought out, it consist of "lab reports", "My Statistics" and "My History". I especially like the "Lab Reports" section that allows you see and track your progress over several sessions. All the reports will allow you to compare and track your progress allowing you to improve your game.
So what's my bottom line here? To me the Zepp sensor is a great tool to help anyone interested in improving their golf game. The software package blew me away, the sensor was easy to use and set up and using the sensor was relatively easy. Now for my complaints. The user manual probably needs to be a little more thorough. I know we live in the digital and technical age, but I had so many questions going into using the sensor and finding answers to the questions was not a straight forward situation. The personal issue or my wish list would be the ability to download the information to my computer, this would be especially helpful for teaching situations. The other issue for me would be the ability to import older golf club models into the program. If you play golf at any level and want to improve this is one of the few products that I have tried over the years that is easy enough to use on the course and in practice to make me want to continue to use it. At $149.99 from the Zepp website, I can think of worst ways to spend your dollars trying to improve your game.