We use affiliate links. If you buy something through the links on this page, we may earn a commission at no cost to you. Learn more.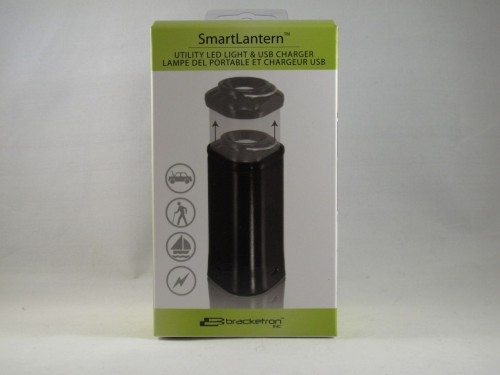 If  you've ever been in a situation where one of your mobile devices has run out of power and there is no outlet around, you'd probably appreciate having a battery backup.  Bracketron's solution is their Smart Lantern, which not only supplies the power, but also lights your way in the dark.  Here's something you may want to throw in your kit bag or glove box.   With the  move to USB as the preferred connector for power, it's become easier to purchase one portable power supply for different portable devices.  In the past, I've had an external supply for my iPod, but it had an integrated 30 pin connector, making it useless for my non-Apple cell phone.  With the Smart Lantern, I can power most of the techie stuff I carry with  me.
Features:
High-capacity 7800 mAh rechargeable back-up battery offers 48 hours of flashlight or lantern illumination or up to five full charges to your mobile device
High-impact fireproof housing and portable design to go with you anywhere
2.1A USB port fully charges most mobile phones within 2-3 hours and can hold a charge for up to one year
USB to microUSB charging cable included
LED Lumens: 64
One (1) Year Limited Warranty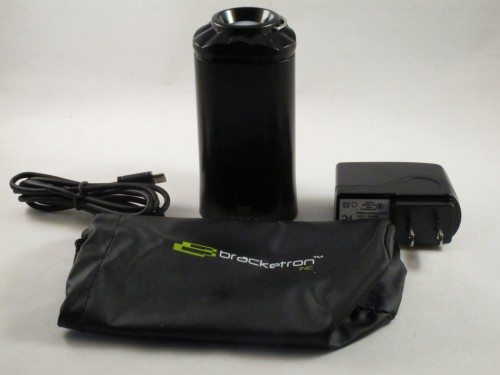 What you get is the Lantern/Battery, microUSB/USB charging cable, and 1.0 amp AC to USB converter.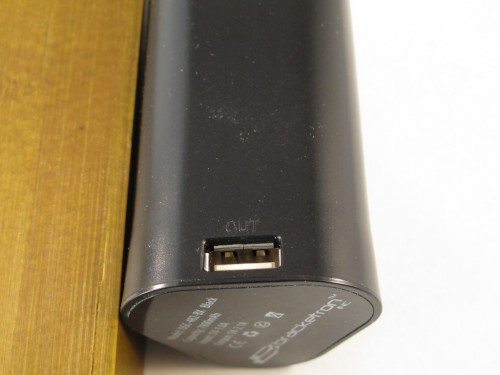 There are 2 connectors on the bottom edge of the Lantern.  This one is for the USB power out.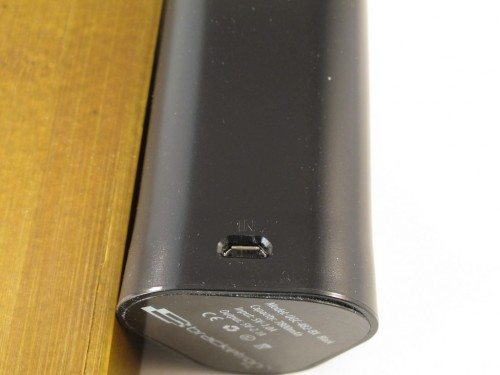 And here's the input connector for the charger cable.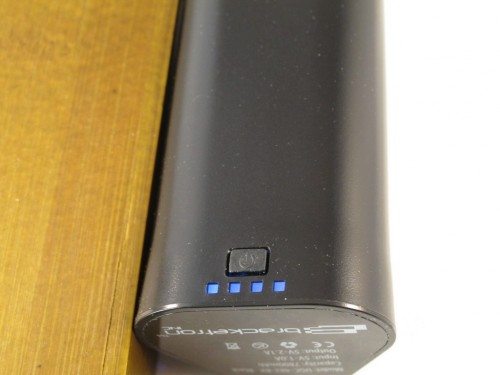 The 4 LEDs indicate the relative charge remaining and are each representative of 25%.  The button switch above the LEDs is held for 3 seconds to turn on and off the light.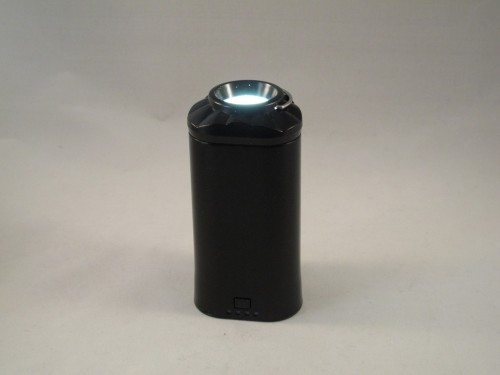 The Lantern can be used as a flashlight that provides 64 lumens.  It's not enough to read a book by, but I found it sufficient to find my way around a darkened house.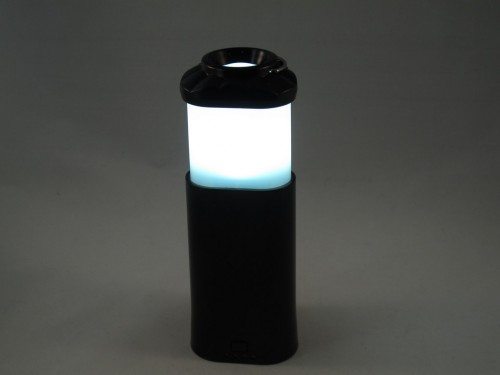 By pulling on the top of the case, the device becomes a lantern with enough illumination to find your way around.  This would be great for hanging in a tent.
OK, honestly I haven't been in a tent in years and don't plan on sleeping in one anytime soon.  The utility of the Lantern part of the device really doesn't excite me.  I have several LED lamps lying around the house or in the cars that cost a lot less than $79.  However, the power supply part of the Lantern is interesting.
When I'm on the road, I always have an AC to USB power adapter with me and also have AC and USB power in the car.  The only time I can't recharge is when taking a hike in the woods.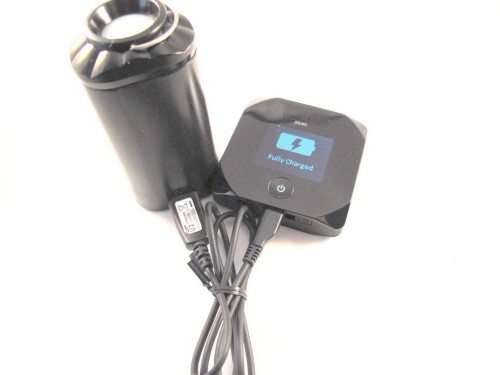 Here's how I use the Bracketron device.  I have a FreedomPop hot spot which claims up to 4 hours of usability with the built-in battery.  Four hours might be the case if it's not being used and in standby mode.  I've never been able to get more than 2 hours use, so with the addition of the Smart Lantern, I can easily operate for over 4 hours.  I've also been able to recharge my iPad mini twice from a 30% charge to full on one charge from the Smart Lantern.
The Bracketron Smart Lantern lived up to its specifications and is a well-built product, but I question the cost.  Admittedly, the $79.95 is a list price and perhaps in the future it can be had for less.  I've seen other battery supplies with twice the capacity for half the price.  As I write this there is a 16,800 mAh battery available on an overstock website for $39.99.  It does weigh more and it has no LED lamp, but for the $40 difference ,I can buy several LED flashlights and I'll  put up with a little additional weight.
Product Information
Price:
$79.95
Manufacturer:
Bracketron
Retailer:
Bracketron
Requirements:

Device requiring USB charging

Pros:

Small and compact
Quality construction

Cons:

Very pricey compared to other battery power supplies