We use affiliate links. If you buy something through the links on this page, we may earn a commission at no cost to you. Learn more.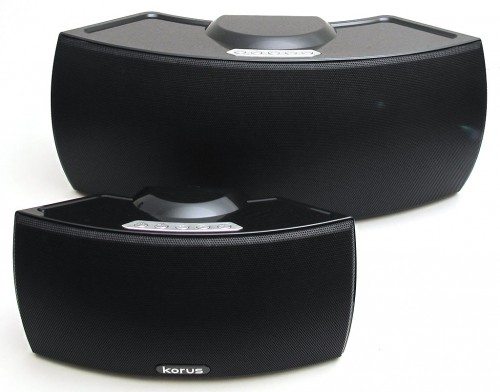 We sure do review a lot of audio related gadgets here on The Gadgeteer. Bill Henderson or as I call him, Mr. Headphones, almost exclusively reviews headphones, earphones and speakers. This year I've done my fair share of portable Bluetooth speaker reviews as well, but one category that hasn't received a lot of our attention are the mid to large sized speakers like the Korus V600 Premium Wireless Speaker. That's why I didn't hesitate to say yes when they offered to send me the V600 and the smaller V400. Let's see if these non-Bluetooth and non-Airplay speakers are worthy of a standing ovation or if they fall a little flat.
Note: Images can be clicked to view a larger size.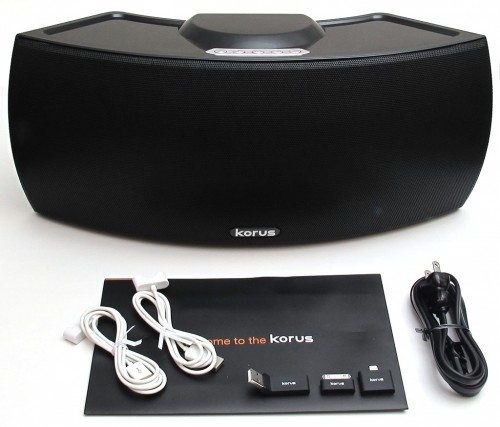 Package Contents
Each speaker is sold separately, but is also available in a bundle which includes the following items:
Speaker (V600 or V400)
AC power cord
3 batons: USB baton for PCs and Macs, 30pin iOS baton and Lightning connector baton
2 USB charging cables
Instructions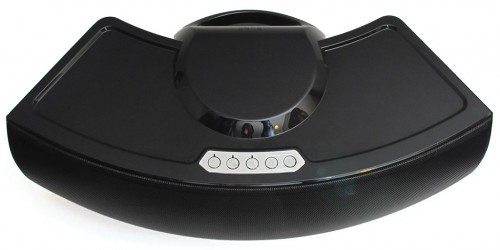 Design
The V600 is the larger of the two Korus speakers and is the one shown throughout this review. I'll point out any differences between the V600 and the smaller V400 as I go along.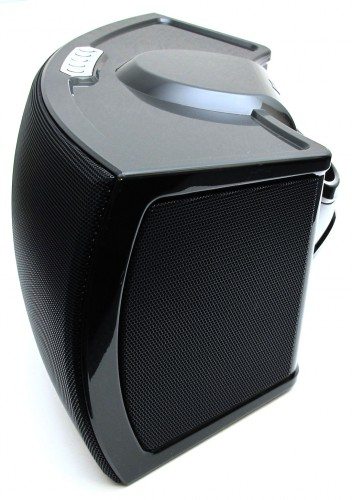 The speakers have an attractive curved metal grill on the front and sides. The speaker case is made of shiny black plastic with no gaudy trim, logos, etc. These speakers should easily fit into any decor from the living room or bedroom, to the board room.
They are very well made and have an obvious high quality look and feel that will make you feel like you are getting your money's worth when you buy one (or two).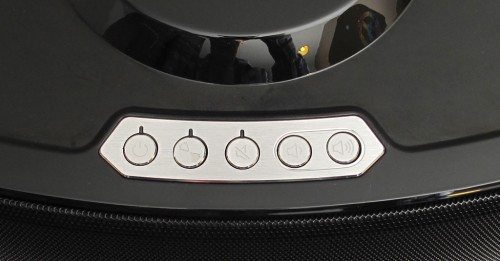 There is a panel of five buttons located on the top of the speaker that control power, syncing and volume. The buttons are metal and have good tactile feedback. The power, sync and mute button also have status LEDs. When powered on, the power button has a white indicator LED above it. The sync button indicator lights up in either white, amber or red depending on the mode. The mute button indicator is off when the speaker is playing, and blinks white when muted.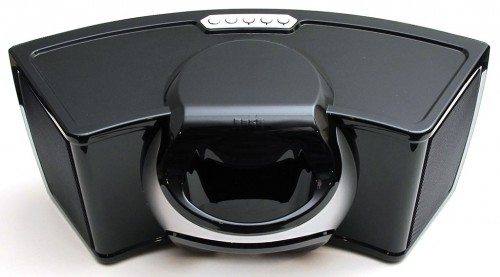 If you turn the V600 around to the back, you'll immediately notice the large handle. The handle is pretty much just there for decoration though. It's not like you're going to use to carry the speaker from place to place because you probably won't change locations all that often given its size and weight: 17in x 9in x 7in (44cm x 23cm x 18cm), 11 lbs (5 kg).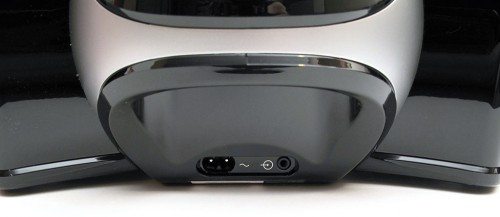 Below the handle you will find the only two physical connections for the speaker. There is an AC power port for the included cord and a 3.5mm audio line-in jack.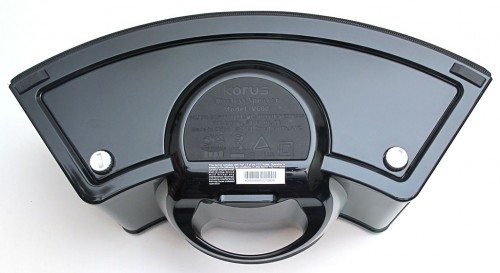 Flip the speaker over and you'll find a large rubber pad and feet that will keep the Korus from moving around while it's pumping out heavy bass lines.
On the V600, you'll also find two metal thumb screws that secure a battery compartment.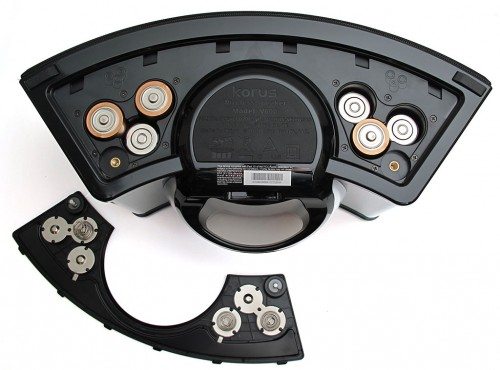 I wouldn't normally guess that a speaker of this size would offer a battery feature, but the Korus V600 does. It can run for up to 90hrs on a set of 6 D sized cells (not included). That's a crazy long time and allows this speaker to entertain outdoors when you're away from an electrical outlet.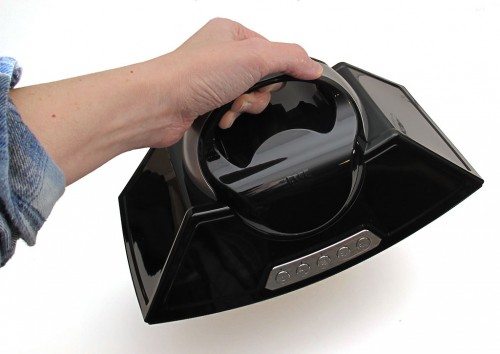 This is where we find the main difference (other than size) between the V600 and smaller V400 speaker. I was really surprised to discover that that smaller and much more portable V400 lacks a battery feature. It has to be tethered to a wall jack to use it.  This seems very odd to me, so I asked Korus what the thought was behind this lack of functionality.  Their answer was:
Research and design plan was that most consumers of this product line will purchase the v600, and then will add the v400 for the multi-room capabilities. Korus in this regard can add up to and auto sync (with nearly zero lag!) up to three additional speakers – so four total. This is something no other such speaker system can do at this quality sound level and price level. Since some users do want the portability/battery option that was added to the v600 to provide that flexibility.
My personal opinion is that a $349.99 speaker which is relatively small and has a built in carry handle, is alluding to portability and should have a battery option…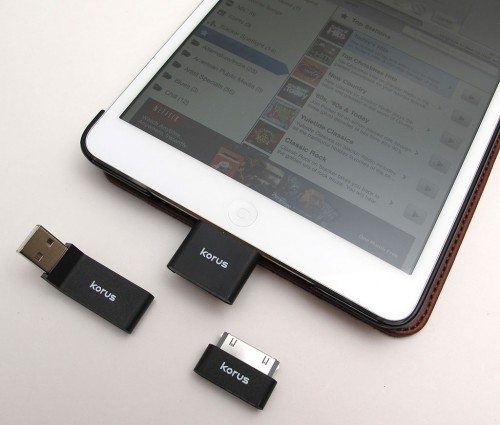 Setup and sound
The Korus speakers do not use Bluetooth, NFC or Airplay to wirelessly stream audio from a connected device. Korus uses SKAA® wireless audio technology which requires small plug-in transmitters which they call batons. The V600 and V400 speaker bundles come with a USB baton for PCs and Macs, a 30pin baton for older iOS devices and a Lightning connector baton for newer iOS devices. The batons can also be purchased individually for $49.99 each. The bundles also come with 2 USB charging cables that attach to the batons so that you can charge your iOS device while you're playing music.
Batons make setup a breeze. You don't have to worry about Bluetooth pairing, passcodes, WiFi setup or anything like that. Just plug one of the batons into a compatible device, start playing music on it and that music immediately starts playing through the Korus speaker. However, the important words in that last sentence are "compatible device". I ran into a problem with my very first audio test when I plugged the 30pin baton into my 160GB iPod classic and the music playing on the iPod didn't come out of the V600. I checked connections, pressed buttons, nothing. Puzzled, I went to the Korus website and that's where I learned that the iPod classic is not a compatible device. I was very disappointed. I was able to connect the iPod to the Korus using a 3.5 mm cable connected to the audio line-in on the speaker and the headphone jack of the iPod, but connecting that way doesn't allow for syncing with up to 4 other Korus speakers.
I was able to use the Lightning baton with my iPad mini and the USB baton with my Macbook Pro with no problems at all. Audio quality between the iPad mini and the Korus V600 is seriously impressive. The Korus V600 is the best sounding speaker I've reviewed to date. Like your tunes with thumpy bass lines? You'll love this speaker. Pop, country, rock, instrumentals, whatever I threw at it, it sounded full, rich and awesome. Much better than even my recent favorite, the Cambridge Audio Minx Air 200.
The V400 sounds very good too. But having tested the V600 first, the V400 didn't impress me nearly as much. Don't get me wrong, the V400 sounds really nice and easily fills a small room with sound. But wow, the V600 blows me away with how good it sounds. It's a hard act to follow.
Funny story… I had the V600 setup downstairs in the basement and was listening to some Jake Shimabukuro ukulele instrumentals while working on this review. After a few songs, Jeanne yelled down the stairs "when did you learn those songs?". I had to tell her it wasn't me playing and she couldn't believe it wasn't a live instrument. The audio pumping out of the V600 is that clear. I have zero complaints when it comes to the audio quality of the V600.   I just wish I could use the 30pin baton with my iPod classic. It would also be nice if there was a micro USB baton so I could play music through more than just iOS devices and my laptop. A remote control would be nice as well.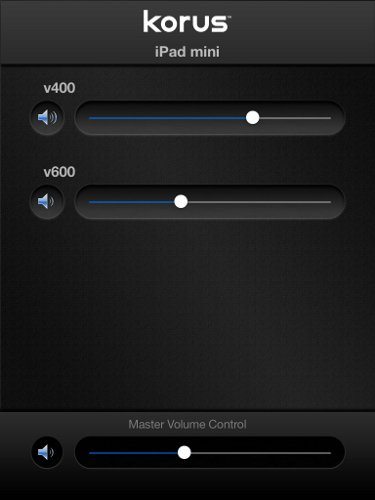 One of the interesting features of the Korus speakers is the ability to sync up to 4 speakers so that they are all playing the same music with no lag.  There's also a free Korus iOS app that can be used to adjust volume levels on the speakers remotely.
I tested the music syncing feature between the V600 and V400, with the V600 in the basement and the V400 on the main floor and it worked very well streaming music from Pandora, and Slacker radio apps on my iPad mini. I was able to walk around the house with the iPad and didn't experience any drop outs.
To buy or not to buy, that is the question
If you own an iOS device that is compatible with the Korus V600 and V400 speakers or your music is stored on your PC or Mac, the answer is a resounding yes. You'll definitely be impressed with the audio quality and ease of use of these speakers. But if you wish to stream music from a non-iOS device, the Korus speakers won't be a good fit for you unless you can settle for connecting the device using the line-in jack. While this will work fine and the audio quality will still sound outstanding, you lose the speaker syncing features and ability to keep your device on the couch next you and the speaker across the room on the shelf. The Korus V600 and V400 are my new favorite speakers, but I sure wish I could use them with more devices. Maybe the next version of the Korus speakers will add support for the good old iPod classic, micro USB or Bluetooth. I'll keep my fingers crossed.
Product Information
Price:
$349.99 - V400, $449.99 - V600 Bundles
Manufacturer:
Korus
Requirements:

PC, Mac, iPhone 4S, iPhone 4, iPhone 3GS, iPad 3rd generation, iPad 2, iPad and iPod touch 4th and 3rd generations,
iPhone 5S, iPhone 5C, iPhone5, iPad Air, iPad 4th generation, iPad mini (Retina), iPad mini and iPod touch 5th generation

Pros:

Superb sound - especially the V600
Simple controls
V600 can run on 6 D cell batteries for 90hrs

Cons:

Batons only for PC, Mac and newer iOS devices. Not compatible with iPod classic
No remote control
Doesn't share 3.5mm line-in audio with other speakers
V400 doesn't run on batteries