We use affiliate links. If you buy something through the links on this page, we may earn a commission at no cost to you. Learn more.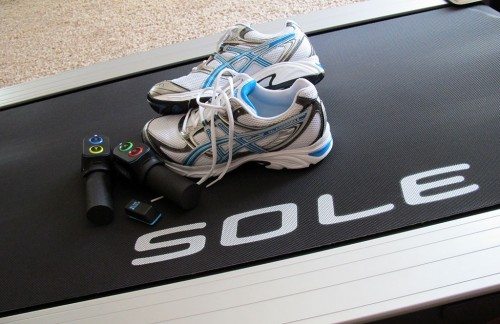 Getting fit and staying fit not only takes physical effort, but mental effort as well. Sometimes finding motivation to workout is harder than the actual workout itself. If you would rather play video games instead of walking on a treadmill, pedaling on a stationary bike or elliptical machine, the Goji Play from Blue Goji will get you moving and burning calories all while you are having fun playing games on your iPad, iPhone or iPod Touch.
Note: Images can be clicked to view a larger size.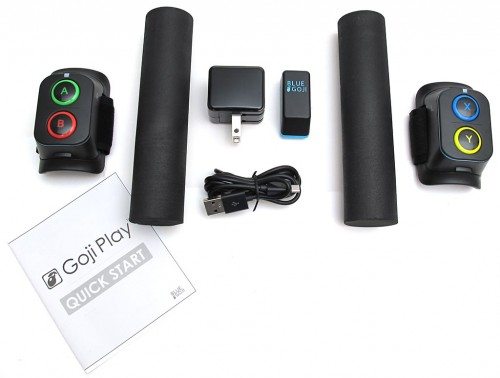 Package contents
2 wireless hand controllers
1 sensor
2 foam batons
micro USB charge cable
AC adapter
4 AAA batteries
Quick start guide
What is it?
The Goji Play is a simple to use workout / gaming system that combines a small Fitbit style clip-on activity sensor, two hand controllers and a variety of iOS games.
I knew this product was going to be fun because Kai Huang, the co-founder and CEO of Blue Goji is also the co-creator of Guitar Hero.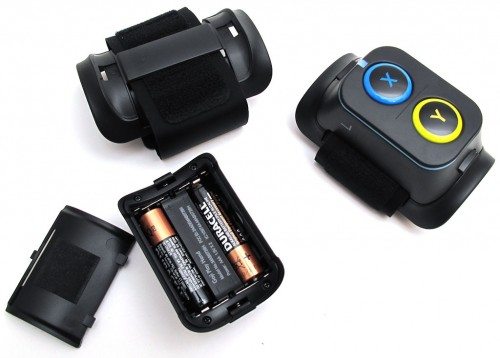 Setup and use
The two hand controllers are powered by AAA batteries which are included in the package and should provide around 40 hours of usage.
The controllers have elastic straps that are used to attach them to the handles of a treadmill, stationary bike, elliptical machine and other exercise equipment.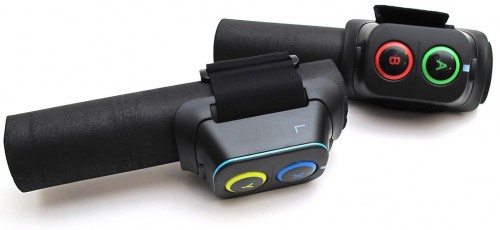 The controllers can also be attached to the included foam batons if you don't use the handles of your exercise machine. I don't hold on to the handles on my treadmill, so I used the foam batons during my testing.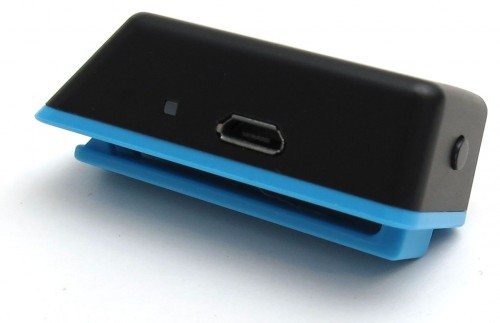 Setup is quick and easy. First you need to charge the activity sensor using the included micro USB cable and AC adapter. It only takes about 10 minutes to charge the internal battery, which should last for 6-8 hours of usage on a full charge.
After the sensor is fully charged, just press the button to turn it on. A small blue LED on the side will blink while the sensor is in use. The sensor can clip to your pocket or shoe.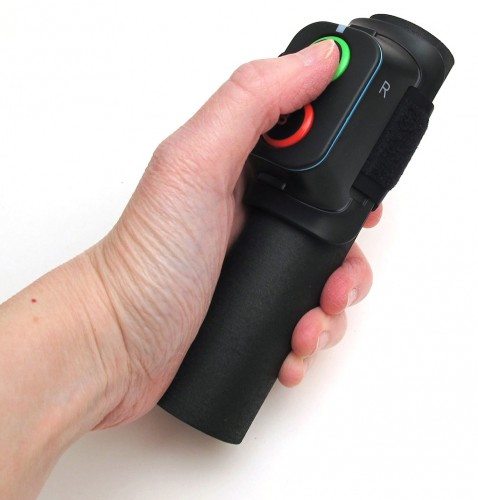 The controllers are activated when you press one of the buttons. When both the controllers and the activity sensor are turned on, they use Bluetooth 4.0 to communicate with the mobile device.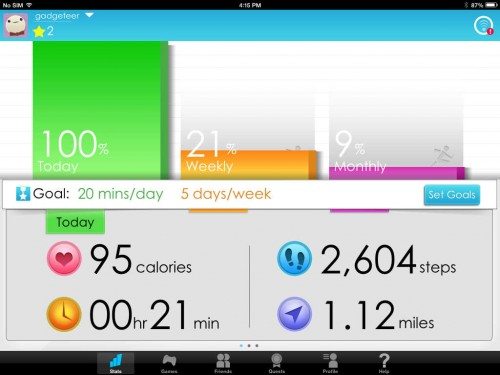 The Goji Play iOS app has a simple interface that displays the number of calories burned, total steps, miles and time spent exercising. Goals can be set in the app from 10 minutes up to 90 minutes per day.
Goji Play games
There are currently 11 Blue Goji games that have been made specifically to work with the Goji Play system either on your iPad, iPhone or iPod Touch running iOS 6.1 or later.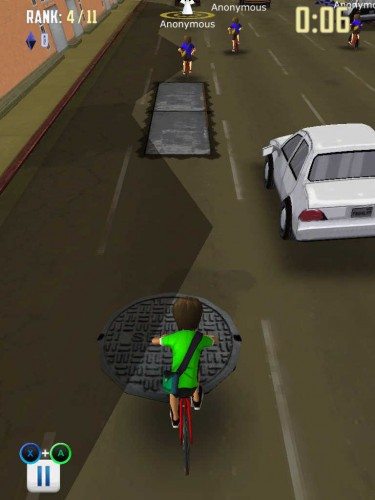 Most of the games are free, but there are a few that are .99 up to $1.99. All of the games are designed so that you need to move in order to play them. If you stop walking, your character in the game stops too.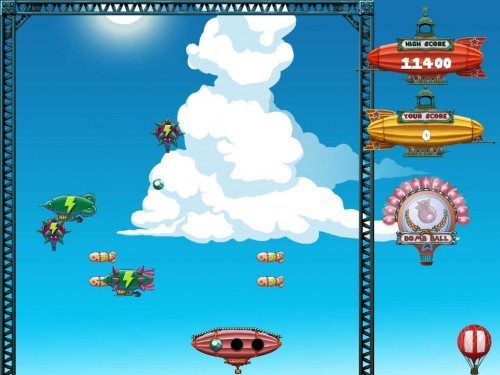 Playing the games takes a little getting used to because you are using your hands to press buttons while you're also walking, stepping or cycling. People who have coordination problems might have issues, so start slow until you get the hang of it.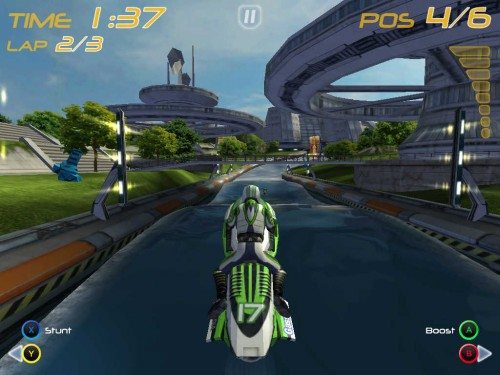 Some of the games are really basic and kind of boring like the slot machine game. But others are quite a lot of fun and have good graphics like the Riptide GP game shown above.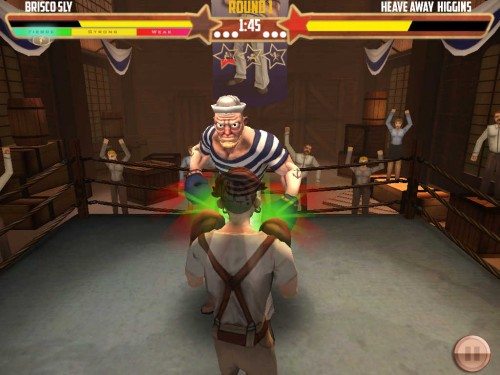 My favorite game so far is a boxing game called Fisticuffs. In this game, pressing the buttons on the hand controllers will let you land punches and dodge blows. In other games, the controllers are used to move or shoot. The buttons are easy to reach with your thumbs while holding the batons.
As you move, the activity sensor clipped to your pocket or shoe keeps track of your steps, which are shown in the Goji Play app along with the calories you've burned, time spent exercising and distance.
The best thing about the Goji Play is that it occupies my mind making a 30 minute workout feel like it's flown by in only 5 minutes. I think that both kids and adults can benefit from the Goji Play system. Anything that can get a person to move more is a good thing right?

Product Information
Price:
$99.99 (some games cost .99 - $1.99)
Manufacturer:
Blue Goji
Requirements:

iPad 3 and above, iPad Mini, iPod Touch 5th Generation, iPhone 4s and above
iOS 6.1 or above
Exercise equipment, such as stationary bikes, elliptical machines, treadmills, and stair-steppers

Pros:

Easy to use
Makes time pass quickly
Fun
Wireless

Cons:

No Android support
Controllers only work with Goji Play games