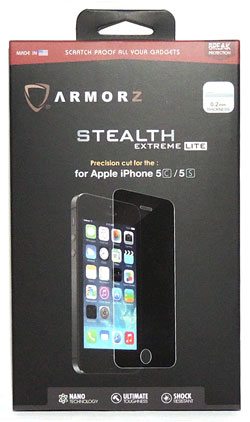 I do not own an iPhone 5S or even 5C for that matter – sadly, just a lowly iPhone 5 (I am holding out for an iPhone with larger screen). Fortunately the Gadgeteer Kid recently used his savings and upgraded from the iPhone 4 to the latest and greatest smartphone Apple has to offer. The Stealth Extreme Lite tempered glass screen protector from Armorz is precision cut for the iPhone 5 series. It is ultra thin so as to not interfere with the 5S's fingerprint sensor. The GK was more than willing to volunteer his iPhone for this review so I could test just that.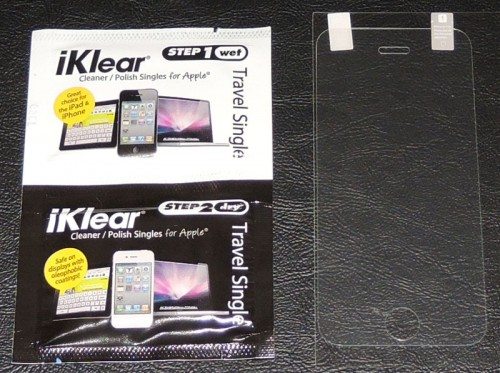 Along with the Stealth Extreme Lite, Armorz includes their iKlear cleaning Travel Single.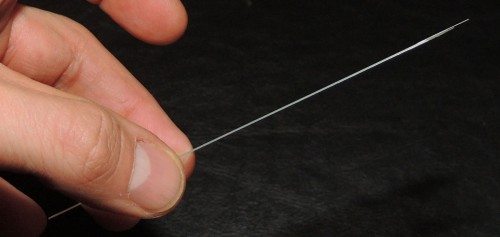 Armorz Stealth Extreme Lite Tempered Glass is 0.2mm thick and is treated with a high degree of chemical strengthening, exceeding the hardness of steel (8H). It is designed/engineered to "survive in tough environments" and is compatible with most cases on the market. My original Spigen glass protector was 0.5+ millimeters in thickness.  That definitely recessed the iPhone's home button to the point of needing to install a button sticker to make it more accessible – something you cannot do on the home button/sensorID on the 5S.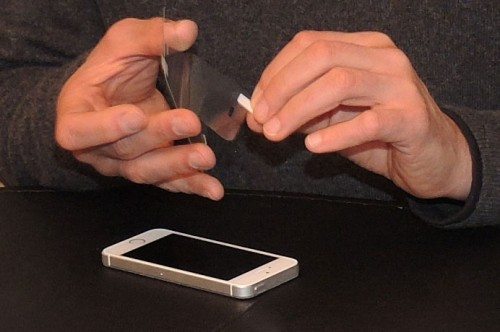 Once you have cleaned the front face of your iPhone, remove the plastic sheet protecting the silicone adhesive layer. I suggest doing this step quickly so that dust does not settle onto the screen or the under side of the protector.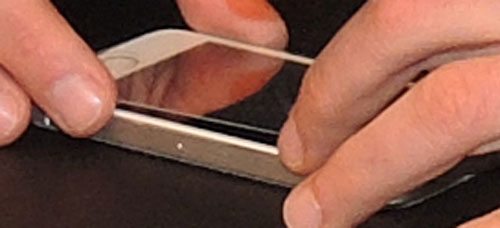 Like all the other glass screen protectors I have applied, installation/placement is easy, quick, and relatively stress-free. Though in the case of the Stealth Extreme Lite protector, it settled onto the surface of the iPhone's screen without any assistance from me. I would guess this is due to its extreme thinness. Being less rigid than thicker counterparts, it is more flexible, and once it began to adhere, the process of sucking together took just a few seconds.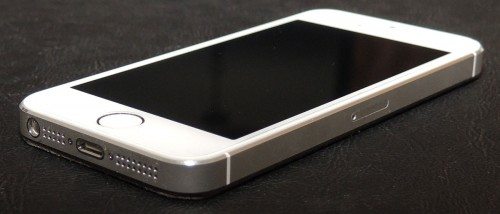 Compared to the relatively thick Spigen sheet of glass I have on my iPhone, you hardly notice the Armorz Lite is there. There is a slight lip around the home button but not so much that it interferes with the fingerprint sensor.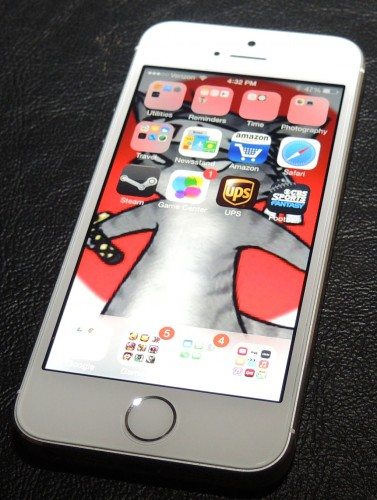 The Gadgeteer Kid loves the Armorz Stealth Extreme Lite tempered glass screen protector I installed on his iPhone 5S. He originally was using a Skinomi plastic film to protect his screen, but once I swapped it out with the glass protector the first words out of his mouth were "this is SOOO nice." He has thanked me for it at least a half dozen times.
At 0.2 millimeters, the Stealth Extreme Lite is the thinnest glass screen protector I have ever seen or used. It definitely seems like the technology continues to evolve; this glass screen protector is less than half as thick as others I looked at a year ago while providing the same feel, protection, and usability.
Support The Gadgeteer
:
We may earn a small affiliate commission from purchases made from buying through links on our site. As an Amazon Associate I earn from qualifying purchases. Learn more.
Product Information
Price:
$34.95
Manufacturer:
Armorz
Requirements:
Pros:

- Extremely thin (0.2mm thick)
- Easy stress-free installation
- Solid screen protection
- Chemical strengthening exceeding the hardness of steel
- Does not interfere with fingerprint reader/home button use
- Perfectly fitted for the iPhone 5 series
- Works with most cases
- Great "naked" feel
- Oleophobic coating reduces the appearance of fingerprints

Cons: