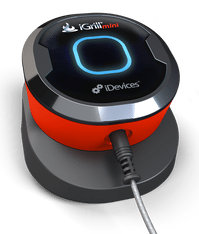 The iGrillmini from iDevices is a meat thermometer with an attached probe. Nothing new there right? But pair it with your iOS device and now you have a smart thermometer that you can remotely check the temp of the meat cooking outdoors on your grill. The iGrillmini conveniently mounts to your grill or smoker with a magnet. If you have a smoker or grill that isn't magnet-friendly, that's not a problem as the iGrillmini comes with an optional magnetic disk to stick onto your grill or smoker. When you are within range, the Smart LED illuminates to show cooking status. It runs for up to 150 hours on a user replaceable coin-cell battery and has a Bluetooth range of up to 150 feet. The iGrillmini includes a free iOS app for iPhone 4S, iPad 3 and newer devices. An Android iGrillmini app will be released in 2014. Priced at $39.99, the iGrillmini is currently available for pre-order with shipping ready for the holidays.
Support The Gadgeteer
:
We may earn a small affiliate commission from purchases made from buying through links on our site. As an Amazon Associate I earn from qualifying purchases. Learn more.