We use affiliate links. If you buy something through the links on this page, we may earn a commission at no cost to you. Learn more.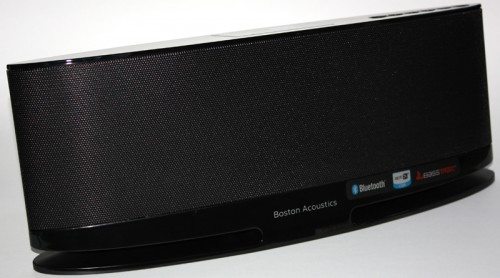 I have the luxury of living in a small condo, which means I have little room for a nice sound system. What that means is that I need a shelf-sized speaker that provides high-quality sound. It also has to be within my price range. The Boston Acoustics MC100 Blue seemed to offer that and more, so I thought I would give it a shot and see how well it can do in our small condo.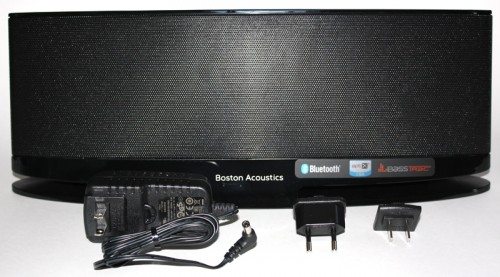 The MC100 comes with a remote, AC power adapter, and two extra adapters, one of which is definitely for use in another country. There is no mention of these in the instructions so I am unsure of what they are actually for, though one looks like a Europlug. A drawstring carry-bag is also included to keep the speaker dust-free while in storage.
Here are the basic specifications:
– Dimensions (H x W x D): 6″ x 15 3/4″ x 5 1/4" (152 x 400 x 134mm)
– Weight: 4.5 lb (2.04kg)
– Frequency Range: 70Hz – 20kHz
– Satellite Drivers: Dual-3 1/2" (89mm) full-range drivers
– Bluetooth/NFC compatible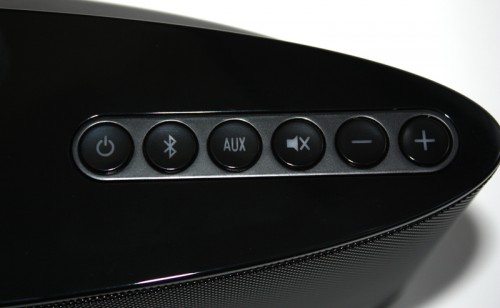 Since we only own iPhones, I was unable to test the NFC on the speaker. Setting up the Bluetooth was easy. You simply press the Bluetooth button, which starts flashing, and the speaker will make a little noise when it is ready to pair. Once connected, another sound will play and the Bluetooth button will stop flashing. Each time you connect to the MC100, it will play a sound to let you know your device is connected.
The other buttons on the MC100 are an AUX button for when you use a 3.5mm plug to connect your device, a mute button, and volume buttons. The power button can be deceiving, since it powers off the speaker, but when I started an app on my phone late, the sound from the app started playing through the speaker. After a few tests, I noticed that the speaker would turn on if it detected the sound from the phone, even though I had turned off the speaker. This only happened if I had not used another Bluetooth device after listening to music.
When the power is on, all of the buttons in use have blue icons; when the power is turned off, the power button turns orange and the others turn off. In the middle of the speaker itself is where the volume indicator lights are located. They light up blue when you are turning up the volume and then turn back off when you have picked the volume you want.

On the back of the speaker you'll find two holes for mounting it on the wall if you choose, along with the power port, service port (which looks like a mini-USB port), and a reset button. The location of the power port made it easy to put it up on a shelf and keep the wire hidden away.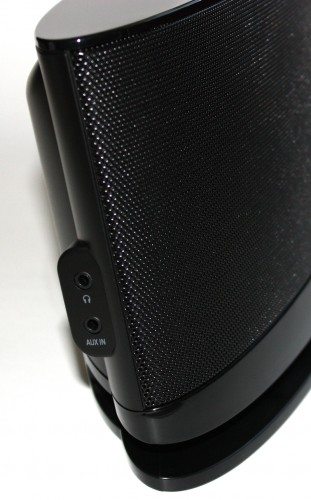 One side of the speaker has the AUX-in port and a headphone port. The headphone port is of little use to me, since if I am using my phone or portable CD player for music, I might as well just plug my headphones into the device I am using. That being said, at least they give you the option.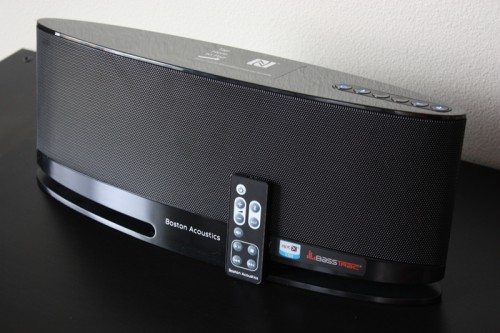 Now to what really counts: the sound! I am a bass junkie, so the Bass Trac appealed to me. When playing Christmas songs and the Les Miserables soundtrack, I was in awe. The high and medium range on this speaker sounds fantastic. I could hear parts of the songs that I had never known, especially with instrumentals. The lows, when playing songs such as these, were good – not the best, but good for its size. When it came to pop music, once again the high and medium ranges were great, but the bass is nearly non-existent. I was quite disappointed since I tested it first with instrumentals and the bass guitar and cello's sounded pretty good there, but that classic "boom boom" that you hear with pop music must be too low for this speaker. It also may not be able to fill a large room, since I am at about 80% volume in my small living room when I play my music.
So would I purchase the MC100 if I saw it in a store? I'm about at 50/50 due to the bass. Would my husband? In a heartbeat. I love the size of the speaker, the fact that it has a remote that does everything I need it to do, and how it is stylish enough to go with most of my living room decor. If they could just get a bit more bass into it, I would be content. If you are looking for a good shelf speaker for a medium-sized room or smaller, this may do well, as long as you aren't a bass junkie or have a large room to put it in.
Updates 03/22/16
This the first high quality speaker that I reviewed, and I am sure glad I did. Without the experience of a nice, compact speaker for the main floor of the house, I would never have realized how much it makes doing housework less of a chore. My sister moved in with me last year, and she commented how nice it was and uses it herself. After two years, it's going strong and still easily pairs to any device I ask it to.

Product Information
Price:
$149.00
Manufacturer:
Boston Acoustics
Pros:

- Easy to use
- Big enough to produce good sound, small enough to fit on a shelf
- Aesthetically pleasing
- Wonderful mid and high range sound

Cons:

- Bass is lacking
- Max volume could be higher