The Gadgeteer is supported by readers like you! If you buy something through links on our site, we may earn an affiliate commission at no cost to you. Thank you! Learn more.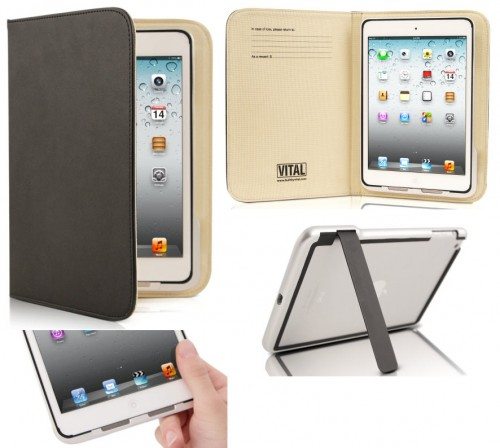 You can enjoy using this case with your current iPad mini while you're waiting for the newest generation to be released, then you should be able to switch it to your new device without a hitch.  Case 66 from Vital Design Group is unique in the world of iPad mini cases and covers.  It consists of an aerospace-grade aluminum bumper with a rubber shock-absorption compression layer to protect your mini.  The bumper has an incorporated kickstand that supports the mini in horizontal or vertical orientation and an ergonomic hand grip to make it easier to hold the mini.  You don't have to worry that the mini's wimpy sound will be further muffled by the bumper, because built-in scoops redirect the sound to the front.  Case 66 also includes a notebook case that integrates with the bumper to keep everything protected.
Vital is just launching, with Case 66 as their first product.  They aren't going the crowd-funding route, so you don't have to wait months to get this case.  Pre-order Case 66 now for $49.99, and Vital promises they'll be shipping within 2-3 weeks of initial purchase date.  They've already begun their initial production run.