We use affiliate links. If you buy something through the links on this page, we may earn a commission at no cost to you. Learn more.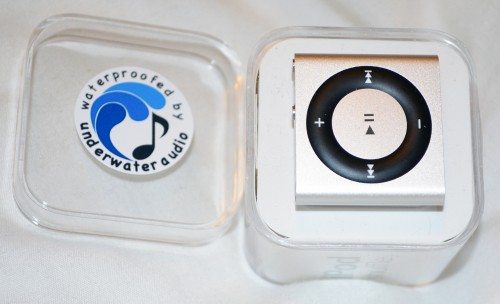 Many people like to listen to music as they workout, but the conditions can be dangerous for your audio device or even your headphones.  Body sweat or rain can fry your electronics, and you can't even think about swimming with most gear.  Underwater Audio sells an iPod shuffle that "will go with you from land to sea and everywhere in between. Designed for swimmers, water lovers, and runners in the rain, this sleek and lightweight music player has all the features of the latest 2 GB iPod shuffle, with the added bonus of being waterproof!  Underwater Audio uses a proprietary process that is unique to the industry to waterproof your iPod from the inside out, giving you a 100% watertight music player."  You don't need any special cases to protect the iPod shuffle.  You should be able to clip it on and go into the water.  So is it really waterproof?  Underwater Audio sent me their Waterproof iPod shuffle Swimbuds Headphones Bundle so we could find out.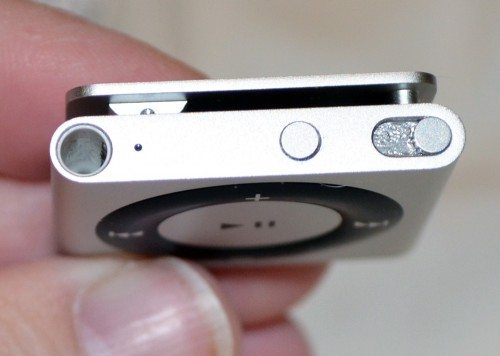 At first glance, the iPod shuffle from Underwater Audio looks like a regular 4th-gen shuffle that I could pick up at the local Apple store.  When you look closely, you'll see a plastic-y coating on the shuffle's power switch.  All the buttons and controls and functions of the iPod shuffle work, but I do feel that some of the buttons have a little less "play" when you push them than an untreated shuffle's controls would have.  I didn't have any trouble controlling the device with these buttons, though.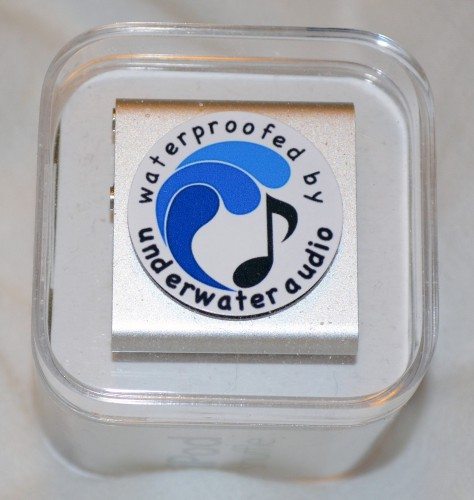 Just like the untreated models, the waterproofed shuffles from Underwater Audio are available in silver, slate, blue, pink, green, yellow, or purple.  You'll see I received the silver.  The shuffle arrived in the standard Apple packaging, with the standard Apple accessories – booklet, charge/sync cable, Apple earbuds, and even the tiny Apple sticker.  Only the "Waterproofed by Underwater Audio" sticker on the package indicated this wasn't a normal iPod shuffle.
The shuffle charged perfectly with the included cable, and I was able to add music from my iTune's library without a hitch.  The shuffle operated normally and worked fine with the included Apple earbuds.  This isn't a review of the shuffle itself, though – just the waterproofing.
You can use this waterproofed shuffle just as you'd use a normal one, with the Apple earbuds or with your own headphones.  It should be safe from sweat or from rain during a workout.  If you want to submerge the iPod shuffle while you swim or use it in a "splash zone", you'll need to use waterproof headphones.  Underwater Audio sells a selection of waterproof headphones.  You can purchase them individually, or you can get them bundled with the iPod shuffle.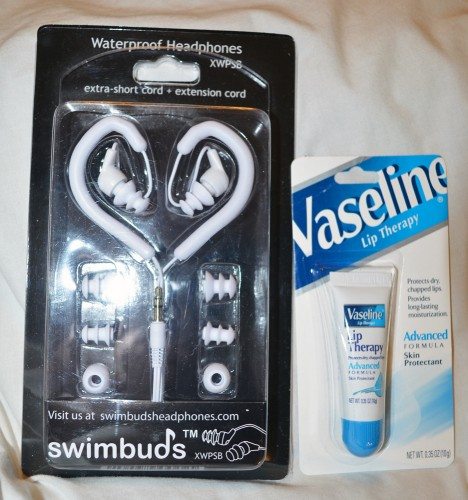 They sent me the Swimbuds waterproof earbuds in the bundle.  These earbuds have a very short cable that won't get in your way as you swim.  The cable is 9.6″ long, and it can be wrapped around the strap of your goggles when you clip the shuffle to the goggle's strap.  It's long enough to reach to the strap of your swim suit (if you're female) when you clip the shuffle there.  If you need a longer cord, a 39″ 3.5mm-plug-to-3.5mm-jack extension cable is also included.  There are three water-tight eartips to choose from when swimming, and there's a pair of standard tips you can use when you don't require a water-tight seal.  The folks at Underwater Audio also included a tube of Vaseline Lip Therapy for this review; you dab a bit of that on the eartips before inserting them into your ears for a better seal.  I don't think this is a standard inclusion with purchase, though.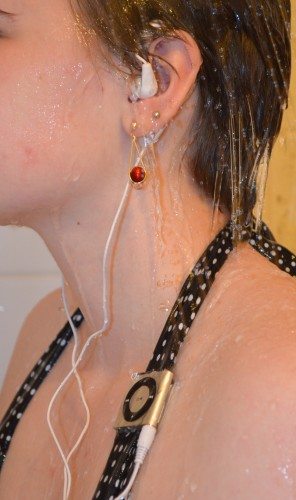 My daughter tried them out in the shower, and the waterproofed shuffle kept playing without a glitch.  The above picture is much bigger than I normally include in a review, but I wanted you to be able to see the water drenching the shuffle.  (Click for enlargement.)  It played while the water was running over it, and it continues to play now.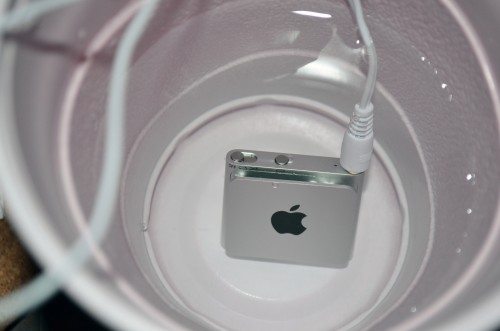 My next test was to submerge the shuffle in water.  I filled a cup with tap water, plugged in the Swimbuds, turned on the shuffle and confirmed it was playing.  I dunked the shuffle into the water and left it for five minutes.  The music was still playing when I pulled the shuffle from the water.  I dried it off, and the shuffle looks and sounds like new.  Again, I included a very large image so you could more easily see that the shuffle is completely submerged.
Underwater Audio's waterproofed iPod shuffle is just that – waterproof.  You can wear it jogging in the rain or swimming without fear of water damage.  The proprietary process adds a lot to the price of a $49 iPod shuffle, but it's worth the extra price for swimmers or other people who work or play in wet conditions.
Product Information
| | |
| --- | --- |
| Price: | $149 for shuffle only; $165 for the bundle reviewed here |
| Manufacturer: | Underwater Audio |
| Retailer: | Underwater Audio |
| Pros: | It's absolutely waterproof |
| Cons: | None (Yes, it's expensive, but try putting a regular iPod shuffle in water without this process, and you'll see what expensive is.) |