We use affiliate links. If you buy something through the links on this page, we may earn a commission at no cost to you. Learn more.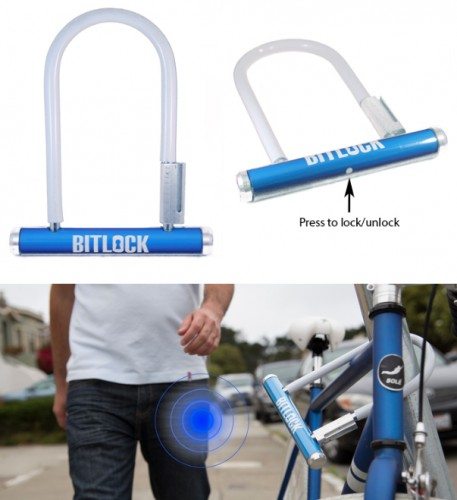 I've been researching keyless locks for houses recently, and I found this method of locking up your bike.  BitLock is a Kickstarter project actively seeking funding.  BitLock is a big, sturdy-looking lock for securing your bike to a post or rack.  It's made of re-enforced, heat-treated, cut-resistant steel; the shackle is 0.47″ thick, so it "cannot be defeated using any kind of lock cutter or hacksaw.  BitLock relies on the same security protocols used in online banking systems.  The encryption is based on open and published standards."
It uses Bluetooth LE to communicate with an app on your iOS device or a limited number of Android phones to sense your proximity; you'll only need to touch a button on the BitLock to open it.  (It will also have keyed access, in case your phone's battery is dead.)  You'll be able to share access to your bike with friends, and you'll never forget where you left your bike because it uses the phone's GPS to record the locations where you lock/unlock your bike.  It can even help your track your rides and provide statistics about miles, calories burned, and even the amount of carbon dioxide you've prevented from entering the atmosphere by riding your bike instead of driving.  It's waterproof, and the 5-year battery can withstand temperature extremes.
Funding continues through Thursday, Nov 14, 11:58am EST.  A pledge of $99 gets you one BitLock.  Estimated delivery is in July, 2014.