We use affiliate links. If you buy something through the links on this page, we may earn a commission at no cost to you. Learn more.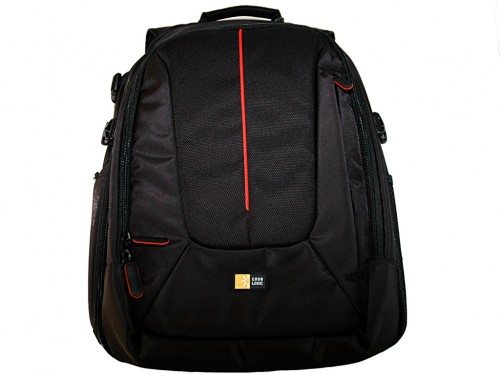 The Case Logic SLR Camera Backpack from Case Logic aims to provide a roomy and safe place for your SLR (digital or otherwise) camera, and (based on the insides) enough lenses to shoot a wedding, football game, and several other events. You'll likely be able to squeeze in a digital video recorder and a few point-and-shoots in there, too. The review sample that was provided by LoveCases arrived just before I headed off on a vacation, and literally days after I got myself a new Nikon DSL and some new telephoto lenses and assorted gear, so the timing was perfect. I received the black exterior/red interior one for review, but it also comes in "Anthracite" (a medium gray charcoal color) with a lime green interior. If you're one of the five people left on the planet who doesn't shoot everything with your cellphone camera, read on to see how the Case Logic bag fared.
No Box to Unbox!
Backpacks ship in big protective brown boxes, so there's not much to unbox – instead we'll jump right into the tour of the various pockets provided by the backpack. The opening photo shows the front of the bag – that front unzips to expose some "quick access" pockets for smaller items – this would be the place to stuff a point a shoot camera, and maybe a sandwich.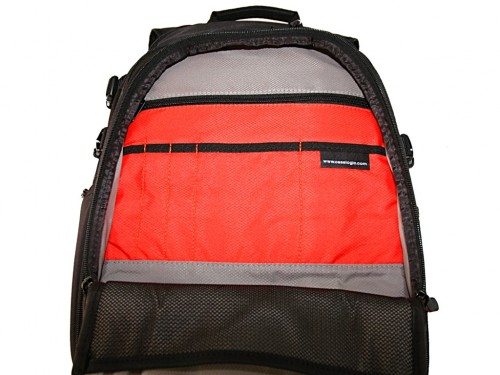 Moving further back we get to the main compartment. Like most great camera bags, the center is really just a large open space with padding around all the sides, back, and front. To partition up that space into smaller spaces that are sized just right for your gear, you get two long dividers to chop up the vertical space as you need, and eight smaller horizontal dividers to chop up the resulting three vertical columns.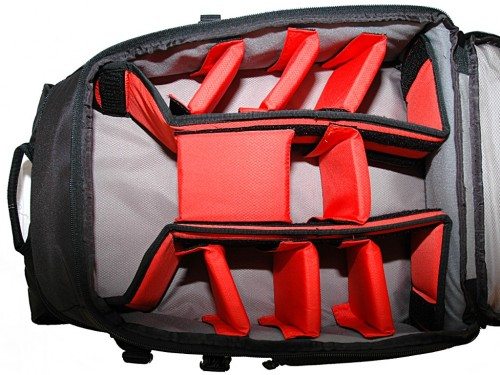 The front flap lays flat when unzipped – giving you a clean place to stage your gear, change lenses, etc. You also have a pair of zippered pockets on the flap for stowing more smallish/flat things.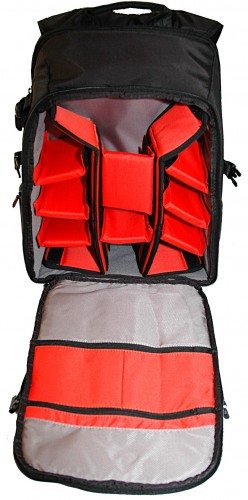 The left side has a zipper pocket, or you can use it along with the clip at the top to carry a monopod or a tripod.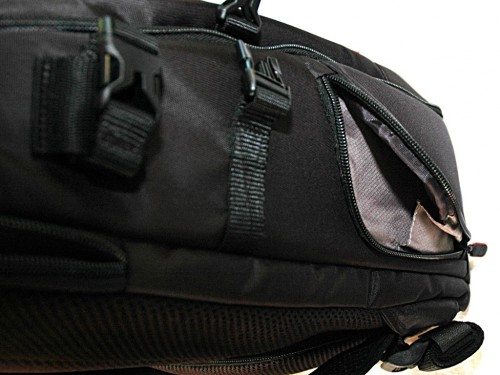 The right side has your cup holder. Or maybe a cellphone. Something small goes in there.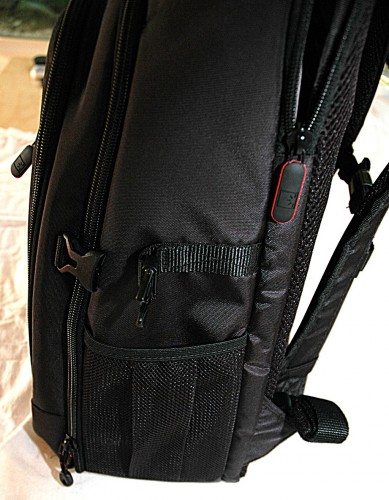 The back pouch is fully padded and can comfortably hold a 14″ laptop, possibly a 15″ one if it's not too thick.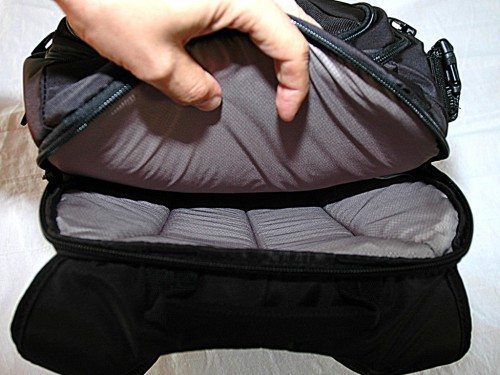 Putting Stuff In
The bag comes in at only 3.4 pounds – very light given its size. Speaking of size, that's 17.3″ tall, 11.4″ wide, and 8.4″ deep. It's made out of nylon, and comes with a 25-year warranty. Overall it seems durable and well constructed – the zippers have smooth action, the stitching looks sturdy, and the materials seem more than able to withstand typical use.
Ideally, the bag will also work well to actually carry a camera and a bunch of gear, so let's look at how it does with my Nikon and its lenses. When I'm traveling, I prefer to have the camera on the bottom as pictured, but you've got plenty of options for arranging the dividers so that the camera sits lens down at the top of the bag – that's the arrangement I use when I'm out shooting with the bag. That way you just unzip a bit of the top of the bag and you can grab the camera for some quick shots.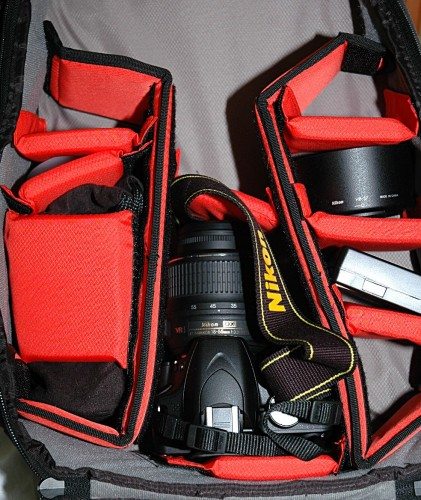 You can see from the shot above that the bag has plenty of room for a DSLR and 85mm zoom. I've got a 200 and 300mm zoom as well, and the camera with either of those lenses attached also fits with ease in either orientation, thanks to the roomy 17+" height of the bag.
Comfort as a Backpack
This is a backpack; it should be comfortable to wear – even with today's much lighter gear, you can easily find yourself hauling 10 pounds of stuff between a laptop, DSLR, 3-4 lenses, batteries, chargers, tripods, etc. The whole draw for me with these kinds of bags over slings or the dreadful rectangle bags that the camera makers bundle is that you could actually use these for a day trip/hike, or to carry everything you need for an extended shooting session, and not be crippled after carrying it. Plus, you can get everything into one bag.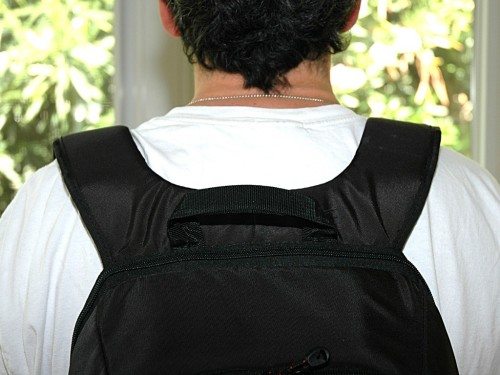 The top of the bag has a serviceable but somewhat underwhelming handle. You can carry the bag by the top handle, but if you're going to be carrying it for a while, go ahead and slide it on. The U shaped strap attachment distributes the weight low across the meaty part of your shoulders – just where you want it.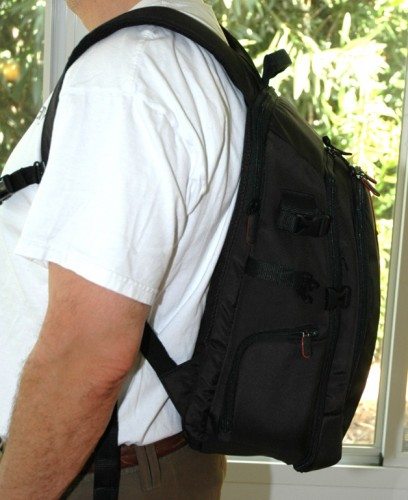 The bag rides nicely on your back without sticking out too far. It includes cross-chest straps; I'm not a fan, but if you like them, they're there, and there is about 4″ you can adjust on their position across your chest.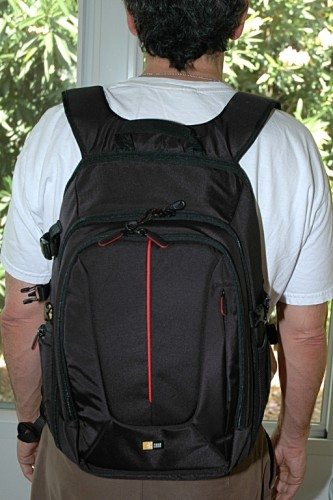 It's a good sized bag on your back, but it's very comfortable.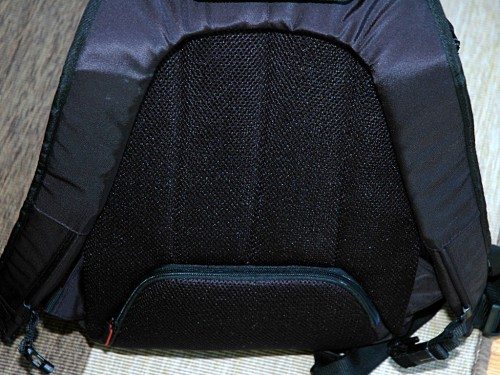 The back has decent ribbed padding, and a breathable mesh material. There is also an odd little pocket back there.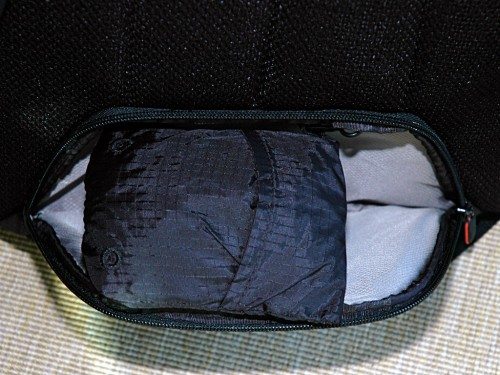 It's a nicely padded storage pouch, and inside is an interesting item clipped to the bag. Turns out this backpack comes with its own foul-weather cover for the bag, which folds into a small rectangle, and unfolds into this: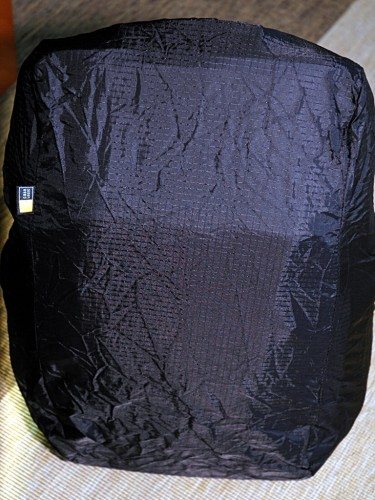 So you're covered even if your forget your umbrella. Of course this isn't going to work if you've got tripods strapped to the sides, but it's probably OK if those get a little wet!
Parting Shots
If you've invested several hundred (or thousand) dollars in a good DSLR and lenses, you know how important it is to protect that investment with a good camera bag. Once you've outgrown the small handbags, or you've amassed an armada of lenses, flashes, tripods, and whatnot, you face the problem of either leaving stuff behind or finding a large enough bag to carry it all safely. The Case Logic SLR Camera Backpack does a great job of doing just that. It's got enough room to carry two camera bodies and at least 3-4 decent sized lenses, along with a laptop for on the spot image processing/offloading, and whatever else you might need. It's big without being too bulky, and it's got decent protection without weighing a ton.
Product Information
Price:
$99.99
Manufacturer:
Case Logic
Retailer:
LoveCases
Requirements:

SLR/DSLR/other camera-shaped object in need of protection and portage

Pros:

A place for everything
Excellent protection
Light weight

Cons:

A bit too large for simple DSLR needs