We use affiliate links. If you buy something through the links on this page, we may earn a commission at no cost to you. Learn more.


The BigFoot Triple Insulated Bottle from Colorado based Eco Vessel is a water bottle that will allow you to stay hydrated all day. It holds 45 oz (1300 ml) of liquid and will keep that liquid cold for a crazy long time. We're talking up to a day and a half – 36 hours. If hot drinks are your thing, the BigFoot has you covered there too. It will keep your tea or coffee hot for up to 8hrs.

Note: Images can be clicked to view a larger size.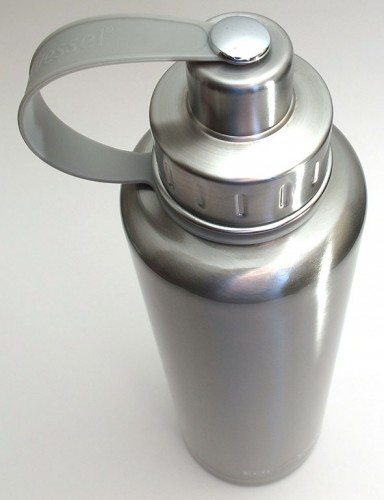 The BigFoot bottle is just that, big. It stands 13 in (33 cm) tall and has a 3.5 in (8.9 cm) diameter base. It's available in 3 colors: black shadow, mossy oak and silver express. I was sent the silver express version. It's made of premium #304 stainless steel and is free of lead, BPA, phthalates, liners or anything that would leach harmful chemicals into the contents of the bottle.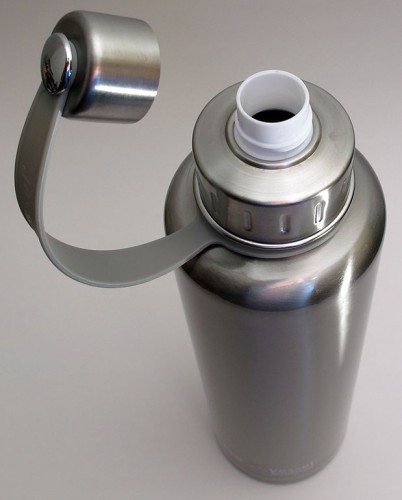 The two section cap is tethered to the bottle with a flexible strap. The upper cap unscrews to offer a comfortable drinking or pouring spout.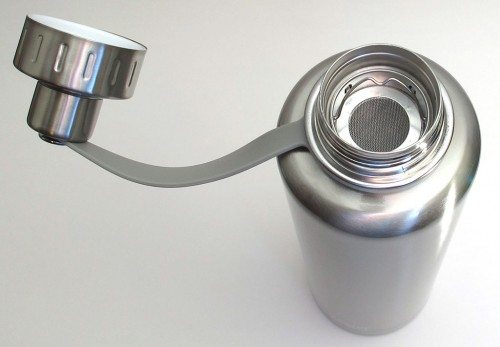 The bottom part of the cap unscrews to expose a wider mouth that will accommodate large ice cubes.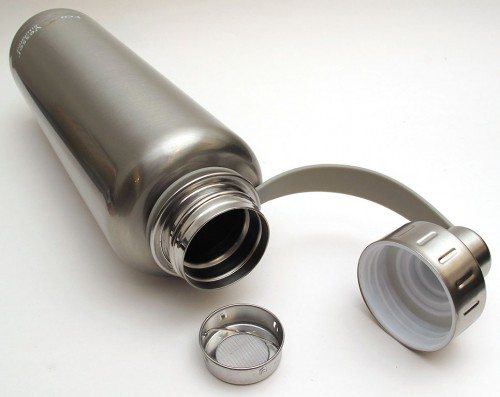 The BigFoot also features a removable steel mesh screen that works great as an ice dam or tea strainer.
The construction of this bottle is very high quality and upon close inspection I could find no defects at all. If it were up to me, I would make a couple modifications. First, I would add a handle to the side to aid in pouring and transport since the bottle (especially when full) is heavy. The strap that tethers the cap to the bottle can be used as a handle, but it won't help you with pouring. I'd also add some knurling to the smaller cap. It's really smooth and takes a little effort to unscrew when your hands are really dry.
One other thing to consider is that you won't be able to get your hand down in the bottle to wash it, so you'll probably need a long bottle brush. Especially if you use the BigFoot to hold liquids other than plain water.
When the Eco Vessel BigFoot bottle is empty, it weighs 1 lb 3.8 oz (0.46 kg) and when full, that increases to 4 lb 1.4 oz (1.85 kg). Like I said above, it's heavy and probably wouldn't be a bottle that you would want to carry around all day in your backpack. I look at more as a bottle that you would leave on your desk at the office or in your vehicle.
The claim of being able to keep liquids cold or hot for an insane length of time is really what drew me to this particular insulated bottle. The BigFoot uses TriMax® triple insulation technology. I'm not sure exactly what that means, but they aren't lying when they say it keeps things cold and hot. I ran two unscientific tests and had some great results.
For my first test, I placed 5 ice cubes in the bottle and then filled it to the top with cold filtered tap water, screwed on the cap and set it on the counter. I checked it every so often to see if the bottle was sweating or felt cold to the touch and neither were the case. 24hrs later I opened the bottle and poured out a cup of the water. It wasn't icy cold, but it was still cold and refreshing.
My second test impressed me even more. I filled the bottle with hot tap water and let it sit while I heated up a pot of water on my stove. When it was at a rolling boil, I dumped the water out of the BigFoot bottle and filled it to the top with the boiling water. Using a meat thermometer, the temp was 185 F (85 C). I screwed on the cap and set it aside. I checked the bottle to see if the heat radiated to the outside of the bottle and although it was warm to the touch, it was not too hot to pick up. I then set a timer for 8hrs. When the time was up, I unscrewed the cap and checked the temp using the same thermometer as before and was very surprised to see that the temp was still a very hot 150 F (66 C). In fact, steam was rolling out of the bottle. Wow, it had only lost 35 degrees in 8hrs! Very impressive.
The Eco Vessel BigFoot Triple Insulated 45 oz. Bottle is a very high quality water bottle that will keep your cold drinks cold and hot drinks hot for what seems like forever. If you need a high capacity bottle, this is definitely one to consider.
Product Information
Price:
$35.95
Manufacturer:
Eco Vessel
Pros:

Large capacity
Doesn't sweat
Keeps cold for up to 36hrs
Keeps hot up to 8hrs

Cons:

Over 4lbs when completely full