We use affiliate links. If you buy something through the links on this page, we may earn a commission at no cost to you. Learn more.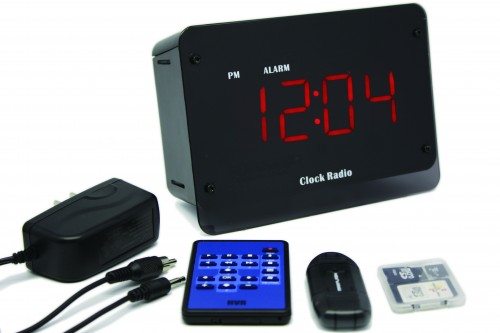 If you've ever wanted to covertly record something in your home or office but didn't want to leave an obvious camera out in the open, then the ZoneShield Night Vision SC8000 clock radio by SleuthGear just might be the thing – hiding in plain sight, disguised as an ordinary desktop clock.  But is it convincing enough to pass as an innocent appliance?  And, what does the video look like?
Note: Click images to enlarge.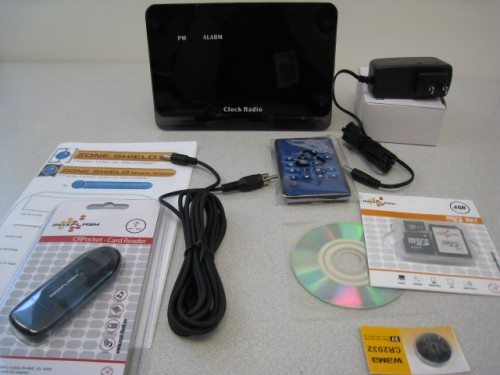 Inside the box, you'll find the all the accessories you'll need:  12V power supply, video cable, remote control, battery, 4GB microSD card and SD card adaptor, USB card reader, instructions, and a small CD-ROM with the Windows video viewer.  Sorry, no Mac.
Specs
IR emitting LED diodes at 940nm
Image Sensor: 1/4″ micron sensor
Resolution:740×480 pixels
S/N Ratio: >45 db
White Balance: Auto Tracking
Video System: NTSC
Sensitivity:>11.5V/lux-s @550nm
Video Compression H.264
PC Compatible: WinXP, Vista 32bit, and Win7 32bit, Win7 64bit
Choose from three Time/Date Stamp Formats: 1)yy-mm-dd, 2)dd-mm-yy, 3)mm-dd-yy
Control IR remote control
Firmware Upgrade through Micro SD card
Operation temperature 0~+50℃
Playback Fast Forward, Backward: x2/ x4/ x8, Frame by Frame
Playback mode via device itself or Secure Play back with bundled software
Playback Search By Time, By Event
Record Resolution 720×240 (NTSC) / 720×288 (PAL)
Recording Frame Rate 6/8, 13/15, 25/30 fps
Recording Quality 4 Levels adjustable (Super, High, Normal, Standard)
Recording Storage Micro SD card (support SDHC) up to 32GB
Video Compression H.264
Video Recording Modes: Continuous, Motion, and Scheduled Recording
Power: 110-220 Volt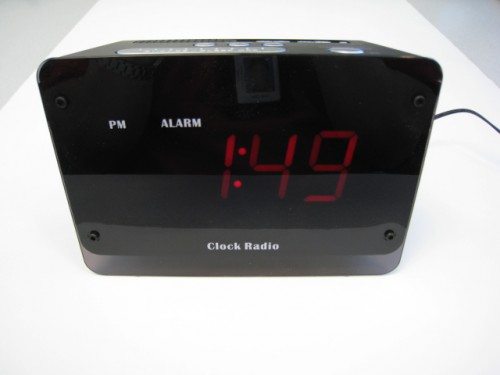 Once plugged in, the time appears in red LED numerals, just as you'd expect a clock to do.  That's about it.  The front face is a little spartan, without branding, which makes it look a little cheap, in my opinion.  The four screws in the front make it look like a kit project.
The video cable plugs into the small 1/8″ silver-ringed jack in the lower-left of the back panel.  There's also a wire antenna for the radio.  I was surprised to find the AM/FM radio actually WORKS.  Nice touch.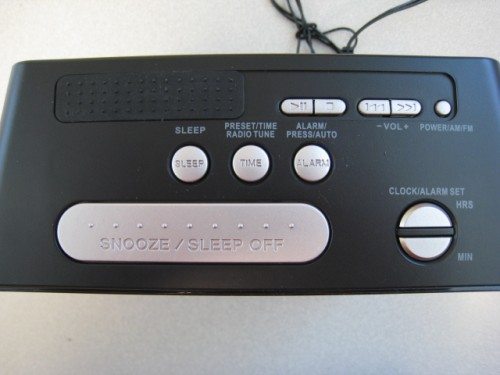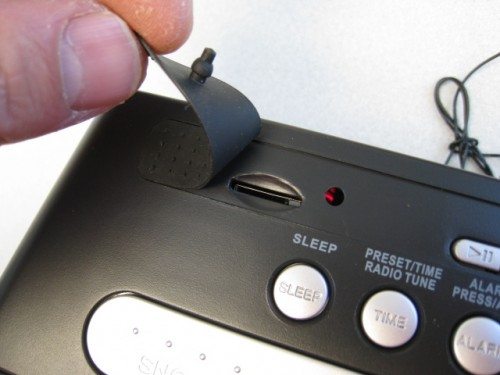 The microSD card lives inside a tiny slot under a rubbery flap.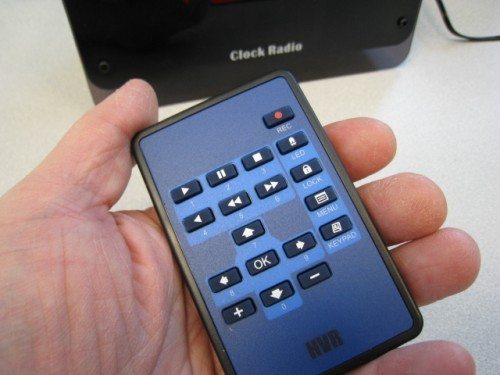 This is the credit-card sized remote control.  Batteries are thankfully included.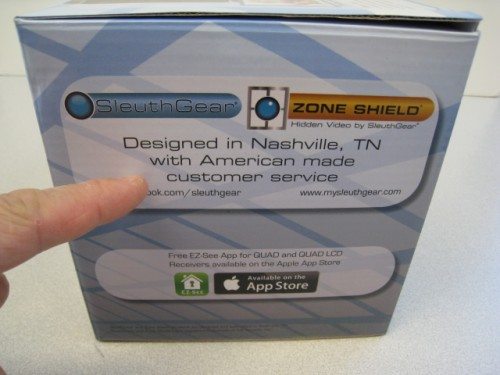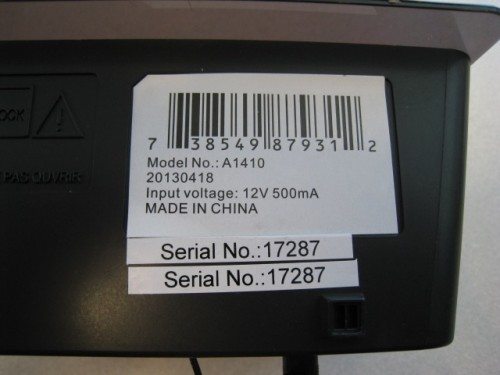 I have a bit of a gripe with this one.  The sales literature and exterior box lead you to believe this clock radio cam is made in the USA.  Flip the clock radio over, and you'll see the familiar "MADE IN CHINA" sticker.  Huh?  Read the box again.  "Designed in Nashville, TN with American Made customer service".  Yes, the CUSTOMER SERVICE is American Made.  Now I get it.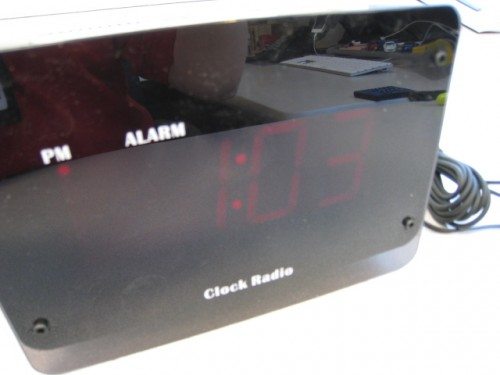 After a while, I noticed the LED display became dim and hard to read.  Normally, in some clocks, the display might dim when the ambient light is low, via photocell sensor.  However, it was quite bright where I took these pictures.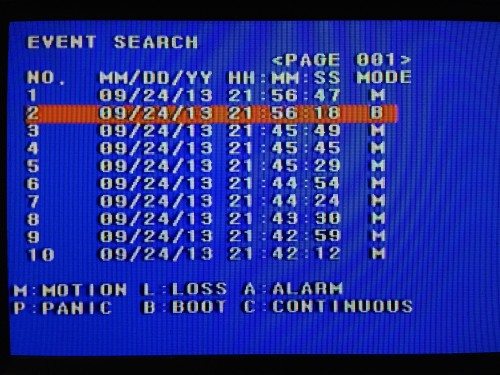 I found the menu setup to be primitive and slightly Byzantine, with all the modern touches of a 8-bit video game.  Here, you can see the list of recordings.  If Tivo had been invented in the 80's, this is probably what it would look like.
Testing
I decided to conduct two tests:  One in total darkness, and the other one in an office setting during the day.  Can you spot the incredibly handsome thief?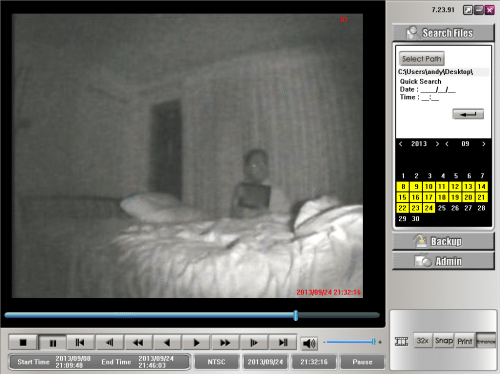 This screen grab is from the PC app, included on the CD-ROM.  It's pretty easy to navigate.  Even though there is a volume slider at the bottom of the screen, I'm not sure the clock radio camera records audio.
I could not figure out how to export the video, so I resorted to using my iPhone to shoot this video clip off a tiny LCD TV screen.  (Any noise you hear is background, captured by the iPhone).  The aspect ratio is stretched, which is a function of the LCD TV screen, not the camera.
As expected, the images are grainy and without detail.  However, it's good enough to see that someone blurry and handsome has swiped the iPad off the pillow.  What you may not realize that this was shot in COMPLETE darkness.  There's a bit of a spotlight effect in the center of the image.  This is from the array of bright IR LEDs hidden behind the clock radio face.
A note about the IR LEDs use for illumination:  I could not see these things.  Some "night vision" cameras use lower-frequency LEDs that are slightly visible to the naked eye, as a dim red glow.  These are 940nm wavelength LEDs, which are far less notiecable to the human eye – a nice touch.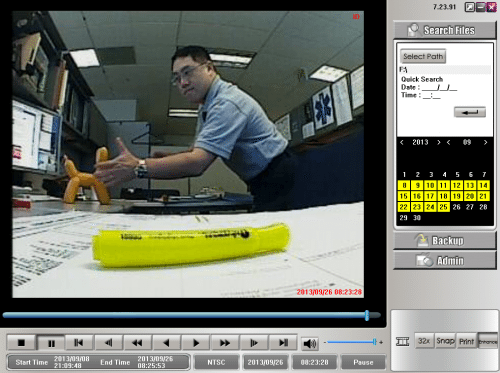 In this screen grab, our handsome cat burglar purloins a balloon animal sculpture and is caught!  As with the night scene, both were captured by the built-in motion sensor.
And, another iPhone-from-TV video.  This time I remembered to set the TV screen to a standard 4:3 aspect ratio.  The detail is much better when there's light, and colors aren't too bad.  That's a yellow highlighter in the foreground, and a royal blue "Star of Life" emblem on the cabinet doors on the right.  The balloon animal is orange.
The ZoneShield Night Vision SC8000 can record up to 50 hours on a 64GB microSD card on low settings, and it will overwrite the oldest file.  If you can overlook the DIY-kit clock appearances, the slightly primitive on-screen interface, mystery LED numeral dimming and slightly vague "made in America" labeling, the ZoneShield NightVision SC8000 is actually quite simple to use, and just plain works, day or night.

Product Information
Price:
$429 (MSRP), introductory price $399
Manufacturer:
SleuthGear
Retailer:
Available via Amazon
Requirements:

NTSC (model SC8000)
PAL (model SC8000E)

Pros:

Fully functional clock radio
940 nm IR LEDs are less detectable by the human eye and provide zero-light recordings
4GB microSD card included
Can view/setup directly to any TV with a composite input

Cons:

For a gadget-minded person, it's not very convincing-looking as a clock radio
No obvious way to export video
Viewing app is PC only.