We use affiliate links. If you buy something through the links on this page, we may earn a commission at no cost to you. Learn more.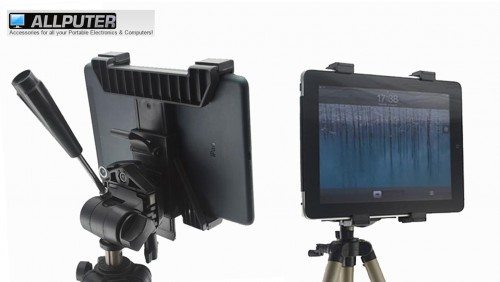 AllPuter.com is offering the Tablet / iPad Holder / Mount w/ Adapter Ready for Camera Tripod that transforms your tablet into a tripod-mounted camera with an extra-large viewing screen.  Taking photos of family and friends from a tripod inevitably leads to a small crowd of eyeballs glaring down on the tiny camera LCD screen to review the pictures; everyone wants to check what goofy expression the shutter captured in that fraction of a second.  Mounting a tablet on a tripod ensures a steady shot, and the tablet's seven-to-ten inch screen allows more room to view your always-a-possibility uncomplimentary pose.  You could also continue to shoot with your camera and use the tripod mounted tablet as a wireless remote viewer for instant gratification.  It could be used for small group slide shows or presentations for school.  If you set it up in the corner of an educational seminar, you could record the speaker live – if allowed of course.  Recently released tablets are sporting higher resolution cameras with more sophisticated controls and features.  We will likely see more family photographers out there opting for the easier to view larger screen that a tablet can provide.
Holds a maximum of 2.2lbs
Mounts to any standard tripod head
Universal 4-point grip holders for tablets measuring  5" – 8" height and 7" – 10.1" diagonally
A panning and control handle for smoother pans
Quickly and easily mounts to your tripod
One button quick release
You can purchase the AllPuter.com holder/mount now for a retail price of a mere $7.95.