We use affiliate links. If you buy something through the links on this page, we may earn a commission at no cost to you. Learn more.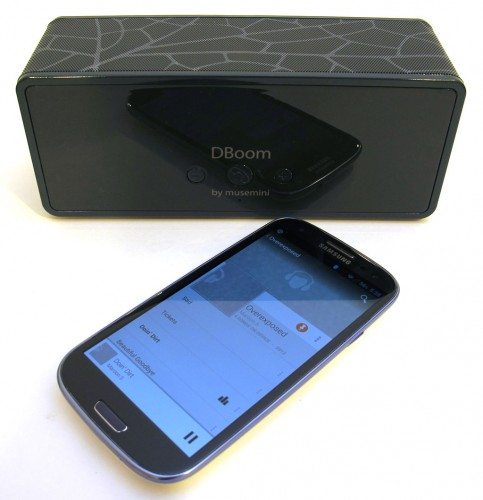 The MuseMini DBoom speaker features NFC, an emerging trend that we're starting to see in small portable speakers.  NFC stands for Near Field Communication and is built into most newer Android phones. NFC allows for quicker Bluetooth connections between the phone and the speaker. Instead of going into your Bluetooth settings, scanning for devices, pairing and having to enter a 4 digit code, NFC bypasses all that with one tap of the phone to the back of the speaker. Let's take a closer look.
Note: Images can be clicked to view a larger size.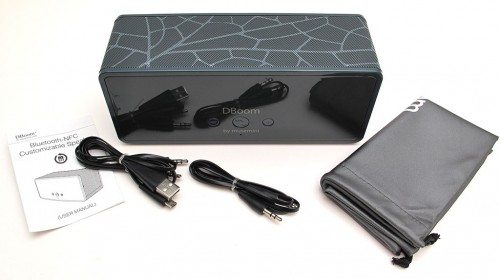 Package Contents
Dboom speaker
microUSB cable
2 3.5mm line-in/line-out audio cables
Drawstring storage pouch
User manual
Design and Features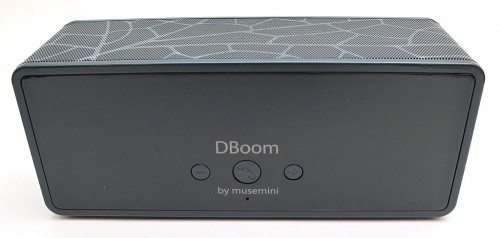 The Dboom is 7.5 x 3.0 x 2.5 inches (190.5 x 76.2 x 63.5 mm) and features a glossy plastic front and back, with a painted metal cover on the sides and top.
The front of the speaker has volume – and + buttons flanking a call answer/end button, with a noise canceling microphone centered at the bottom. The buttons have good tactile feedback and are easy to press.

The DBoom is available in 5 colors and has an interesting pattern painted on the metal cover which reminds me of an insect wing or the veins in a leaf. Some time soon, MuseMini will be offering custom front and back covers for the DBoom that will feature sports teams, brand logos or even your own image.
On the back of the speaker you'll find a status LED, input and output jacks, a micro USB jack and the power switch. The LED blinks blue while the speaker is powered on and glows red while charging. The LED is actually pretty bright and may become annoyingly noticeable if you use the speaker in a dark room. But the power switch is my biggest gripe about the DBoom because it's too small and takes some effort (and strong nails) to manipulate. I also don't like that it's on the back of the speaker instead of the front, top or even the side.
You'll also notice the odd placement of the NFC symbol which is located on the back top corner.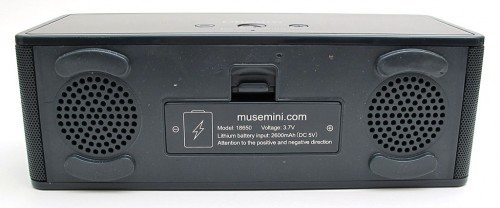 The bottom of the speaker is made of rubber, which ends up being a magnet for lint and dust.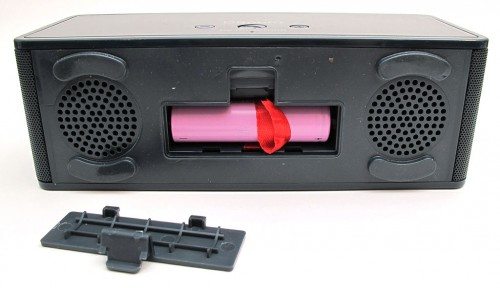 The DBoom is powered by a replaceable 2600mAH lithium-ion battery that will allow you to listen to music for up to 12 hours at high volume and up to 20 hours playtime on a single charge at 50% volume. That's impressive.
This speaker features 6 watts of stereo output from 2 custom high fidelity audio drivers and engineered passive sub-woofers. It also has a "daisy-chain" option that will let you connect to any audio device with a 3.5 mm jack (home stereo, car, or other portable speaker) to add to the volume.
Listening to tunes
When you turn the speaker on, a relatively loud female voice will say "Power On" and it will also say "Power Off" when you turn it off. Then touching an NFC enabled device to the back corner of the speaker, it will initiate Bluetooth pairing. If you don't have a device with NFC, you'll have to manually initiate pairing on your device. Once paired successfully the speaker will announce "Pairing complete". After the initial pairing you won't have to repeat these steps.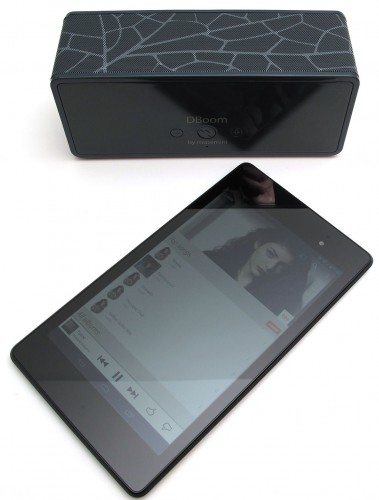 During my time testing of the DBoom, I paired it with my Samsung Galaxy S3 and a Nexus 7 2013 via NFC. I quickly found out that you can't pair more than one device to the speaker at once.
The DBoom has above average sound quality that won't distort when you crank the volume to the max. That's because the max volume isn't really going to make your ears bleed. It's plenty loud enough for a small room like my office, but I'm not sure it will fill a very large room on its own. That's where you can take advantage of the daisy chain feature.
The DBoom does sound good though and has very good bass for a speaker of its size. I especially like that it remembers the volume setting after cycling power. However the "Power On and Power Off" voice's volume level remains the same which is a little too loud in my opinion.
The – and + volume buttons double as next / previous track buttons. That's typical, but the problem with the implementation on the DBoom is that one press causes the audio device to change tracks instead of the volume level. To change volume you have to hold the buttons down and audio will stop playing for a second or two when the min and max levels are reached.
Another issue I have with this speaker is that it can only be charged while the power is off. That means you can't listen to music while it's plugged in and charging. There also doesn't appear to be an auto shut down feature, but that might not be that important due to the flashing blue LED that will remind you that that you left the speaker turned on.
It's tough to get excited about a Bluetooth speaker when they all seem so similar, but the good audio, bass, NFC and wonderfully long battery life do make the MuseMini DBoom stand out in a sea of portable Bluetooth speakers.

Product Information
Price:
$129.99
Manufacturer:
MuseMini
Pros:

Good sound and bass
Great battery life
NFC pairing

Cons:

Power button located on back and hard to slide on/off
Charging has to be done when the speaker is turned off
Front and back of case are fingerprint magnets