We use affiliate links. If you buy something through the links on this page, we may earn a commission at no cost to you. Learn more.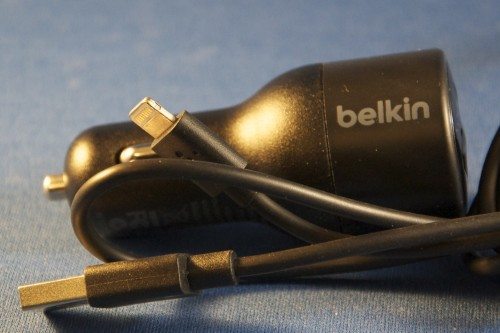 Getting power on the go used to mean carrying a bag-phone the size of a large loaf of bread and a power port plug to keep it juiced. Nowadays, we have much better battery chemistry, but for us power-users, the battery in a gadget may not last through a full day of use. If you're spending any time in a vehicle with a 12-volt power system, plugging in an adapter to get a midday top-up can mean the difference between missing messages and easily making it through the day. WirelessGround offered the Gadgeteer team the Dual Car Charger with Lightning to USB Cable from Belkin, and I was selected to get it.
Note: Images may be clicked or tapped for a larger version.
There are two types of power plugs – those that have a cable built in (this is known as a Captive Cable), and those that merely provide a USB port. Many folks have a captive model that came with a phone, GPS unit, or other gadget. The freedom to charge anything USB-powered from one plug, however, is quite a large draw. With Apple recently changing their ports to the smaller, reversible Lightning connector, many folks are in the market for something a little more versatile, like this Belkin charger.
The package from Belkin contains the two-port USB plug and a USB to Lightning dock connector cable, which will work on the new iPads, fifth gen iPod touch and Nano, and the iPhone 5. My Lovely Bride's iPad mini is the only device in our household that uses this connection currently, and she was tickled to get a quality cable that is 6″ or so longer than the standard one Apple packages with their devices. I was glad to be able to test a charger that can top up a phone and another device at the same time. (As a Gadgeteer, I typically have 3 or more USB-chargeable devices on my person or in a gear bag.) With a new vehicle and an expanded commute, I've had time to test this device fully.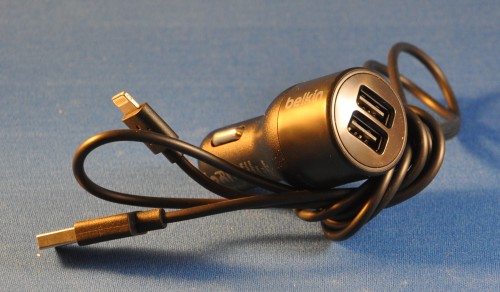 The plug itself is a largish one, which means it can be grasped to pull it out without pliers, but also means you may not be able to use it behind or in some console covers. It's not a huge knob on the end, but it's also not a mini-charger. Rated at 10 watts and 4.2 amps each, the ports are far enough apart to easily allow unplugging of either cable. There is also a blue LED ring around the face which glows when power is on – a nice touch. Single-point LEDs can be blocked by cables or the gear shift lever in some consoles. This thing, while not overly bright, clearly shows at a glance that things are connected to the auto's power.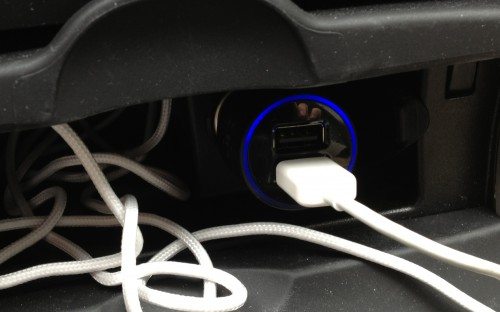 Belkin also spent the time and money to have their product tested and approved by Apple for use in their portable devices, as indicated by the "Made for iPad, Made for iPhone, Made for iPod" seal. Known as the MFi program (as in "Made for i–"), this is not an inexpensive or easy checklist, but assures consumers that the goods displaying the logo have been submitted and approved by Apple. They're not going to toast your expensive devices or electrocute you. It's a nice thing to see on a product you may be using daily.
In use, I found the power claims to be accurate. I charged my third-gen iPad, my iPhone 4s, several portable power bricks, speakers, and my Jabra Freeway speaker that clips to my visor.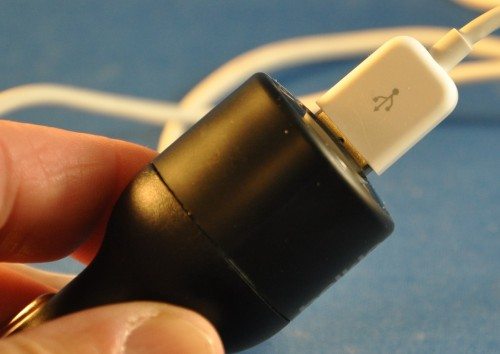 I did find one or two little things that were not so much flaws as irritations. First, the size. It's pretty big, and the inserted cables stick out a long way. I understand the physics involved and the circuitry needed to safely produce this much power, but it's still a huge wart on my console. I didn't downgrade the device for this, but it's still something I wish could be fixed. The other thing is the depth of the USB sockets. Every single cable I tried had about a quarter inch of bare metal showing. I know USB power is low and safe and all that, but bare metal on a power plug just strikes me as an amber warning light.
All in all, I give the unit four and a half out of five stars. It truly provides a huge amount of juice to all manner of gadgetry, albeit with a few niggles. It'll probably stay on my "Things I tested and decided to keep using" list for a good long while.
Updates 03/31/16
This was in constant use in my old car, but I recently got a new car, which has a USB/charging port built in. I still keep this around, for when I go on trips where I'll need to charge more than one device at a time.
Source: The sample for this review was provided by WirelessGround. Please visit their site for more info.
Product Information
Price:
$44.99
Manufacturer:
Belkin
Retailer:
WirelessGround
Requirements:

Vehicle with 12-volt power port
Device in need of power through USB

Pros:

Nicely finished - no rough edges or loose joins
Certified by Apple's MFi program
Full power for each port

Cons:

Cables do not seat fully into port