We use affiliate links. If you buy something through the links on this page, we may earn a commission at no cost to you. Learn more.
I'm a huge consumer of music while on the go. If I'm not doing something that requires concentration, I'm likely to have earbuds shoved in my ears or headphones on. When driving, however, I don't like to use earbuds/headphones because of the safety issues. I drive an older model car usually, so have been using a tape adapter to connect to the sound system. When Julie offered the team the Bluetooth equipped Jabra Freeway, I jumped at the chance.
I have seen these types of gadgets before, that connect to your phone via Bluetooth and serve as a speakerphone. I've talked to some folks that had them in their cars, and sometimes the sound quality was – um – less than stellar. I wanted to see if this could be a way to get better sound, safer handsfree telecommunications, and a hint of style in my ancient ride.
The unit itself is a smallish black box, roughly 4×5 inches and an inch to a half inch tapered top to bottom. On the front, there are six buttons hidden under touch-friendly locations: the two lower corners are volume controllers, the top center activates the phone, and the center two sides allow for voice input or connection to an FM unit. (More on these later.) The bottom center has a mute button for turning off the mic while on a phone call.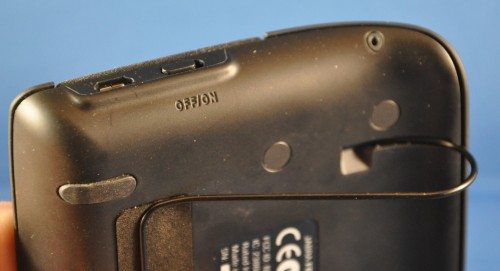 Setup is simple – turn it on, and it's in pairing mode. You're given voice instructions on how to pair, and it works with every phone I tried, as well as my iPad. Right out of the box, my unit had good battery charge, so I could test it walking around the house. It was quite nice to just take it to another room while my iPhone was charging. It was during this time that I began to explore the other buttons. I clicked the one labeled "Voice" and the friendly voice instructor said "Say a command." "Go get me a beer" came to mind, but I figured that may be difficult. Not knowing what else to do, and the manual being waaaay back on my desk (two rooms away) I held the voice button down to see what would happen. Sure enough, a menu of options was relayed. I tried "Battery" and was told I had three hours talk time remaining. Crazy.
As luck would have it, one of my daughters called about then. The music paused and I heard the phone ring through the device, plus I heard my iPhone vibrating on the desk across the hall. I hit the button with the phone handset on it, and said "Hello?" My daughter's voice came through just as richly as the music had been a few seconds earlier. We talked for a minute or two, and then I asked her how the sound was. She said it sounded just like normal. When we finished talking, I hit the phone icon again, and the music resumed right where it had faded out. Just like I expected. Nice!
There are other commands, like "Next Track", "Redial", and "Make a call." These worked as promised in most road conditions. Sometimes, however, there would be enough background noise or interference or something to prevent the command from working, or the unit just didn't understand my accent. (I tried to enunciate. Really, I did.) Usually, I could just repeat the command and it was fine.
The FM button can be used to find a blank spot on the FM dial to use for broadcasting to your in-car stereo. I tried this several times, but it's not worth the hassle. Our area has a huge number of local radio stations and repeater transmitters, so there is no single band that will stay unused driving more than 5-10 miles. The setup is easy (hit "FM", then tap the volume up button, and it'll scan. Tap FM to stay on a frequency, then tune your stereo to that station.) Since my antenna is right outside the post that the visor is mounted on, it's nice and close, for fairly good reception, but it's still spotty enough that I prefer leaving it in the built-in speakers of the Freeway.
Using the Freeway for music playback over a few weeks, I found that the eleven hours or more that a full charge promises in talk time is about half what playback from your phone will get you. It's still good enough to last most long commutes and short trips, but if you're going all day in the car, you may need a charge midday. Charging is done through an (included) USB to mini USB cable, either with your computer or the included car power port plug. The only thing that I found that really irritated me is that the power plug doesn't recharge my phone.
The voice options included are pretty neat, but there are ways to extend this through services on your phone. This will vary by operating system, your budget, and what you want to do, but I tested several services for my iPhone. One let me dictate a note to Evernote, which was pretty cool. (It took three hours to post, which made me think it hadn't worked, but I was pleased when it finally showed up, word perfect, in both text and audio format.) Jabra has a page of apps and solutions linked from the device homepage. (Beware, the site is a Flash and cookie-crazy place! Things jump around on every page.)
The results of my testing? Well, I obviously like it, and had no real issues using or living with it. It's certainly nice to walk out to the car, click a switch, hear the nice lady say, "Power On. Connected." and then hit another button and say "Play" to start my iPhone for a drive. Ending a session is as easy as sliding the switch off – "Power Off" – the phone pauses playback automatically, never leaving my pocket. What's the sound like? Well, it depends. When I want to crank up a song on a cool summer evening and roll down the windows and sing along – this is not the unit you want. It will not match playback of even my ten-year-old factory standard Toyota sound system. But with it right in your face, it's pretty full, and far better than your phone's built-in speaker.
Being on the visor means it can get overheated when I fold down the visor, and this position also causes the sound to go into the windshield, rather than my face. What's worse is if someone calls while you're driving into the sun. You have to flip the visor back up for the duration of the call. You could clip the unit on the underside of the visor if you had to drive a long way, I guess. But this is just one of the limitations of a basically fine design. (Operating temp range recommendations also mean taking it out of the car if you park in the sun for long periods or during the winter. Basically, treat it the same way you would your phone or laptop and it'll work just fine.)
Overall, I give it 4.5 stars – it's well designed and constructed, works as planned and expected, but the sound is just a little thin for use in a car if you want to "experience" music, and sometimes the visor mounting can be an issue. Worth the price, as long as you're not expecting arena-quality sound.
Product Information
Price:
$129.99
Manufacturer:
Jabra
Retailer:
Amazon (Exclusive vendor)
Requirements:

Device with BlueTooth sound output. There is a compatibility guide on the Jabra website on the device page.

Pros:

Easy, Intuitive, voice-assisted operation.
Good sound.
Long battery life.

Cons:

Not a full-scale sound system.
Visor mount means that sometimes, you'll flip the visor and change sound.