We use affiliate links. If you buy something through the links on this page, we may earn a commission at no cost to you. Learn more.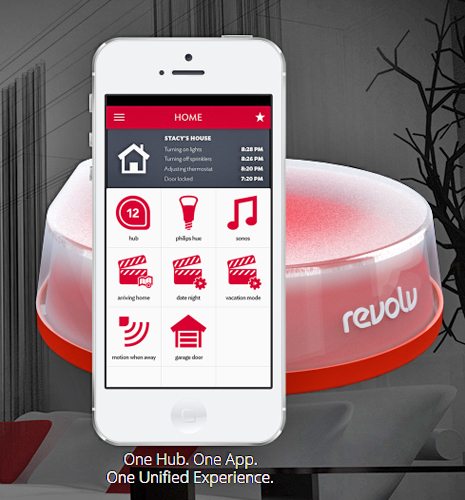 If you've started trying to automate your house and find you've now got a variety of systems doing various tasks, you should check out the Revolv Smart Home Solution.  Simply power up the Revolv hub in your home, and it uses the proprietary FlashLink system to join your local network (you'll need to enter the password, of course) and will identify all the home automation systems you have; you can add others manually, if necessary.  After everything has been identified, you can use the Revolv app to control everything in your home.  The Revolv system works with a variety of automation products from companies like Insteon, GE, Sonos, Trane, Honeywell, Yale, and others.  You'll be able to do everything from turning on lights to making sure your doors are locked from your smartphone app.  Using the GeoSense technology, your Revolv will be able to detect when you're getting close to home, so it can turn on lights, music, and adjust the thermostat to make home inviting.
Right now, the app is available only for iOS, but they are working on an Android app.  A limited number of Revolv systems will ship this fall, and you can leave your email to reserve one for you (no credit card is required).  If you act quickly, the purchase price will include not only the hub and app, but will also enable a free lifetime service plan enabling remote and GeoSense automation.