We use affiliate links. If you buy something through the links on this page, we may earn a commission at no cost to you. Learn more.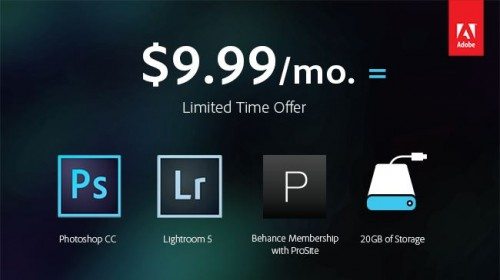 Adobe has received a huge backlash of negative comments from current users of Photoshop CS about expensive Creative Cloud pricing.  In an effort to make numerous frugal photographers happy, actually let's say less upset, Adobe is throwing current users a "bone-us".
During a recent Photoshop World conference in Las Vegas, Adobe announced a significant drop in the Photoshop-only $19.99 monthly fee to a $9.99 monthly fee.  They also sweetened the offer significantly by adding Lightroom 5.2.   Adobe is calling this special bundle the "Photoshop Photography Program".  Don't look for the deal yet though, it won't show up on the Adobe CC site until the week of September 16th.  A caveat – you must be a previous owner of CS3 or higher, and unfortunately, owners of the Adobe Creative Suite products do not qualify.  Yep, if you bought the most expensive full suite, you won't qualify!  That part sucks, and I feel for those owners/businesses.
Despite this still being "rental" software, IMHO this is good news for many enthusiast photographers like myself.  We still want to receive the frequent feature updates to Photoshop, but we don't want it to break the bank.  (Do I really neeeeeed Netflix?)  You may well already know, CS6 will only be updated with bug fixes, but new features upgrades are no longer added.  Sadly, the desktop versions of Photoshop are at the end of their line.
Here's what you get:
Photoshop CC
Lightroom 5.2
20 GB of online storage
Behance ProSite – Build and manage your personal portfolio site
Access to Creative Cloud training and support resources
Ongoing upgrades and updates
One fear of mine was that Adobe could still jack-up the monthly fee in coming years at will, but I received an email today stating the $9.99 monthly fee is for life.  It wasn't from Adobe, but it did help take the edge off that fear.  It was from KelbyTraining.com or  Scott Kelby.  Mr. Kelby is someone I think, surely hope, we can trust.  He is a very well-respected Photoshop educator, author, publisher of Photoshop User Magazine and president of the NAPP (National Association of Photoshop Professionals).  Adobe only stated that this is not an introductory price for previous owners, but didn't go as far as saying "for life".  We shall see I guess.
Don't forget, you MUST sign-up by December 31st to get this bundle at a reduced monthly price.  If you have already purchased Adobe Creative Cloud Photoshop at the original price it will automatically be switched to the new cheaper price.
What do you think? Post your thoughts.