We use affiliate links. If you buy something through the links on this page, we may earn a commission at no cost to you. Learn more.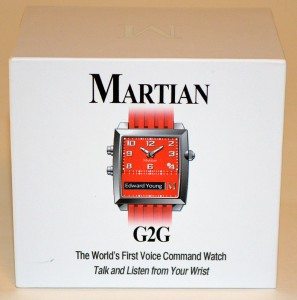 Smart watches are the big topic lately, with rumors of various companies supposedly releasing their version at any moment now.  If you don't want to wait, there are some smart watches already on the market.  (You can see reviews done here at The Gadgeteer of some smart watches in the related links at the bottom of this review.)  I like the idea of a smart watch, but I hadn't seen anything that really grabbed my attention until I saw the Martian Watches.  They started their life as a Kickstarter project, but I didn't learn of them until after they were already successfully funded.  I love the retro look of these watches.  Martian Watches remind me of Dick Tracy's radio watch (before he got the television watch).  They have an analog watch on the face, so you can tell the time at a glance without having to press any buttons to activate a screen.  Martian Watches promise to act as a hands-free Bluetooth speakerphone and display incoming text messages and emails for most any Bluetooth-enabled smart phone, so you aren't out of luck if you decide to change platforms.
I was thrilled when Julie told the team that Martian was offering one of their watches for review.  I'm not ashamed to tell you I begged Julie for a chance to try out a G2G watch.

Martian Watches offers three different models: Passport, Victory, and the G2G.  The Victory watch has a rounded case; the Passport and the G2G are slightly rectangular watches, and they look identical.  Both the Victory and Passport are $299, and they both have stainless cases.  Both are available in a variety of black and white combinations that seem masculine, though both watches do offer a white face/white watch band combination that seems more feminine.
The G2G watches are $249, because they have an aluminum case.  This seems to be the more "fun" model, with colored faces and matching silicone bands.  There's also a white watch/white band combo.  The red G2G really called my name, but I finally decided to ask for the white one, because the white face would work with any color band if I decided I wanted to change it later.  Funnily enough, the white G2G watch will perhaps work best for most men, too.  They can change the band to black or brown for a more masculine look.
The G2G is not a small watch.  It measures 1.53″ tall X 1.46″ wide X 0.52″ thick and weighs 1.7 ounces.  The other two models have similar dimensions, but they both weigh more because the stainless cases are heavier than the aluminum case.
Despite the differences in appearance and in cost, the feature set is identical for all three models.
Tech specs
Analog quartz watch with Japanese movement
Upper command button
Lower select button
Noise-cancellation microphone
Directional personal speaker
96 x 16 pixel graphic OLED display
Bluetooth® 4.0 chip (classic Bluetooth and Bluetooth low energy)
RGB LED light
"Light Touch" vibrating motor
3-Axis accelerometer
Anti-scratch glass crystal
Micro USB port for recharging and firmware updates
2+ hours talk time
7 days of standby time (separate analog watch battery will run for and up to 2 years)
Built-in lithium polymer rechargeable battery
2 hours charging time
Speaker volume:  Low: 88 dB @ 10cm for 1 KHz tone; Med: 92 dB @ 10cm for 1 KHz tone; High: 95 dB @ 10cm for 1 KHz tone
Just a note:  Martian Watches are splash-proof but not waterproof, much like your smart phone.
Appearance and setup
I wore the G2G for a while before deciding that I would prefer a leather band instead of the silicone band.  Martian sells a variety of replacement bands, and they say that any 22mm watch band should work with the watches.  I wanted a light blue watch band similar to the one on my Seiko Coutura Chronograph watch, but Martian didn't offer a leather band in that color.  I decided I'd instead test their claim that any 22mm watch band should work, so I found exactly what I was looking for on eBay.
My husband, Butch, suggested while I was looking for another watch band, I should also order a Martian Watch for him.  I decided I'd order a white G2G for him, but I'd buy a black watch band for it.  He wasn't sure if he'd rather have silicone or leather, so I ordered one of each for him.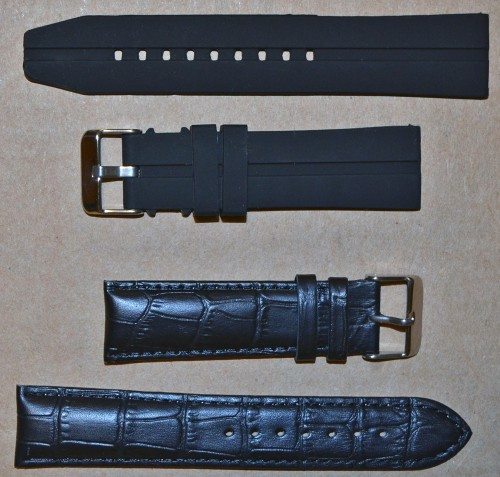 The leather watch band (bottom) has the croco look I wanted, but I didn't want a black band for myself.

Here you see both Butch's and my Martian Watches sporting their new leather bands.  Just as promised, the 22mm band from eBay fit the watch perfectly, as did the leather Martian band.  Both bands have padding, but the Martian band seemed a little more flexible than the eBay band.  The Martian band was also just a tiny bit longer than the eBay band.  We were both very happy with our respective choices.  By the way, you'll have an easier time of it if you have one of those watch band changing tools.  If you don't already have one, Martian sells one; you'll find it on the same page as the watch bands.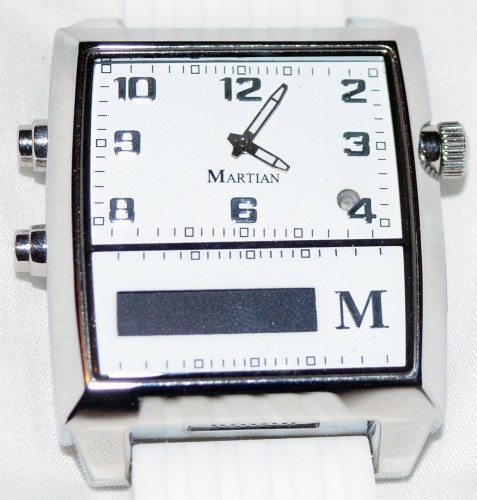 I don't know how the cases of the other two models look, but the G2G case has a shiny finish.  The face has an analog watch at the top that's big enough for even aging eyes to see easily.  There's a status light at the 4 that flashes red, green, or blue to indicate pairing status, charging status, or incoming messages and calls.
The crown on the right has only one function: to set the time on the analog watch.  You pull it out and adjust the time, just like on any old-fashioned watch.  The two buttons on the left are multi-functional.  They are used simultaneously to turn the watch on or off.  The top button initiates/answers/ends calls, and it's used in setup to select options.  If your iPhone has Siri enabled or if your Android phone has voice control functions, this button will initiate voice commands.  The bottom button rejects calls (sends to voicemail), toggles the watch's speaker volume, or toggles through the menu and the data display.
The bottom of the face has a 96 X 16-pixel graphic OLED display.  This displays the watch's settings and setup options.  It will also display caller ID and incoming emails and text messages.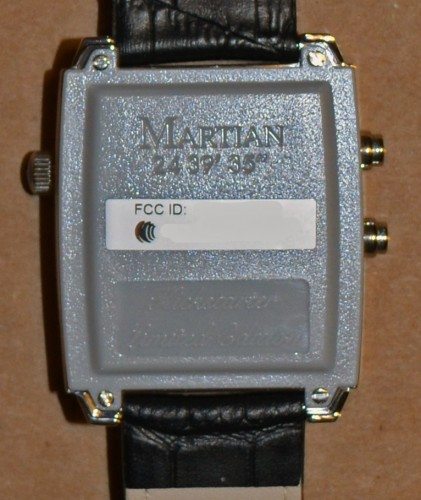 The back of the watch is plastic.  It displays the Martian name at the top.  The numbers below are obviously the length of a Martian day expressed in terms of Earth hours, minutes, and seconds, but I didn't see anything on Martian's website or in the manual to indicate any other significance of these numbers.  It's hard to see in this picture, but both Butch's and my Martian watches display "Kickstarter Limited Edition" in the box at the bottom.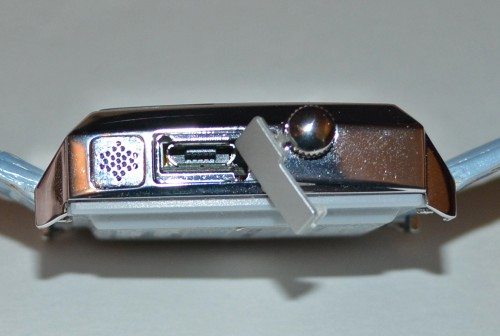 The side with the crown has the microphone and a covered microUSB port.  The watch comes with a USB-to-microUSB cable for charging.  It took about two hours to fully charge the G2G, just as specified.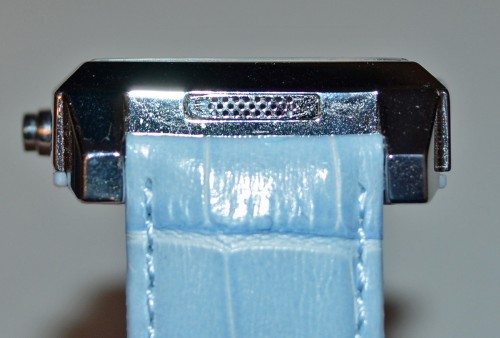 The bottom end of the case has the speaker.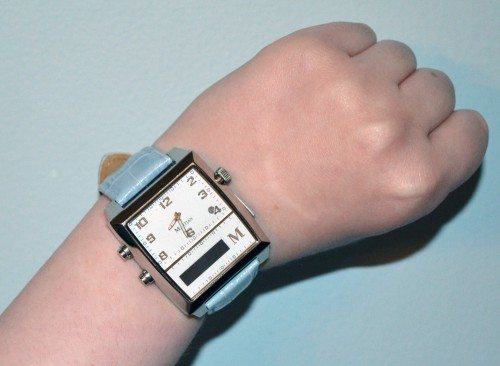 Here you see the G2G on my 17 year-old daughter's wrist.  It's big, but not overwhelming.  It does take some time to adjust to the large watch on your wrist, but I didn't even notice it was there after a few days.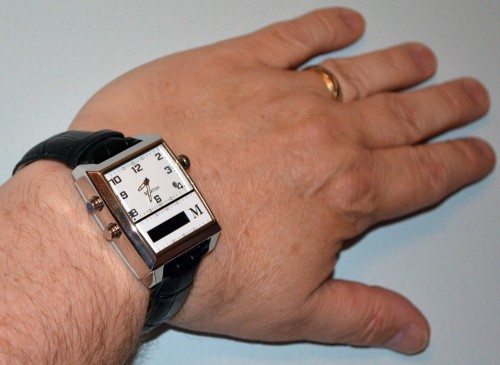 Here's Butch's watch on his wrist.  It's no bigger than other watches he owns.
Use
After I got the watch charged up, I paired it to my iPhone 5 via Bluetooth.  I had no problems getting it paired, and the watch would quickly re-pair with the phone when I turned one or the other off.  Martian watches use Bluetooth 4.0, so it's easy on your smart phone's battery.  I carefully noted battery drain, and I found that my phone's recharging schedule didn't really change.  I could still go 2-3 days between charges most of the time.  Butch sees the same thing with his watch and iPhone 5.
I found that I could use the hands-free phone functions just by pairing with Bluetooth, but I needed the Martian app to enable the other functions.  The app is free in the iTunes App Store.  There is an Android version of this app available, too.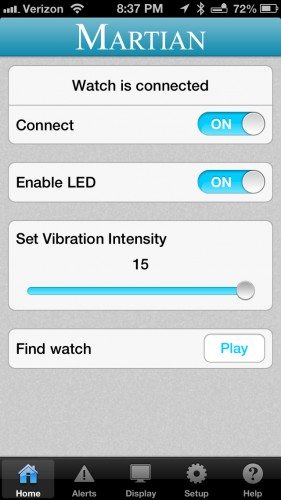 Even though the watch is paired via Bluetooth, you need to connect it in the app to get alerts and messages sent to the OLED display.  If you don't like the LED (near the 4 on the analog display) flashing when you get notifications, you can turn it off in the app, too.  The watch vibrates when it receives a message, and you can set the vibration intensity here.  Because I wear my watch band a little loose, I keep the vibration intensity set to the max.  Although the watch doesn't sound an alarm when you get a call or a message, it does make a sound because of the vibration mechanism.  When you lower the intensity setting, the vibration noise is quieter, but it never seems to go away.
You'll notice the last setting on this page is "Find watch."  When you can't find  your watch, open up the Martian app and press the Play button to have your watch play a little melody to help you locate it.  If you have the watch but not your phone, your watch can play a tune on the phone, so long as they are paired via the app.
Because the Martian watch functions as a Bluetooth "headset", you'll notice that my iPhone 5 displays an icon in its status bar showing the charge level of the G2G's battery.  (It's to the left of the iPhone 5's numeric battery display.)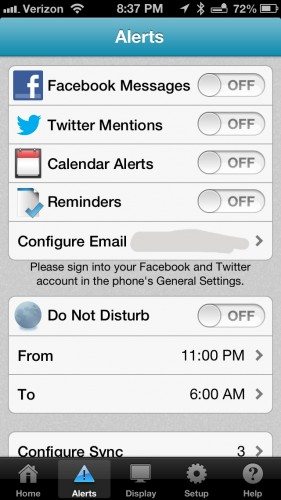 I'm not a big fan of the social media sites, but you can have the watch alert you when you get new Facebook messages or Twitter mentions if you are.  If you use the native calendar app on your phone, your watch can notify you of calendar alerts.  You can configure one email account in this app, and the watch will vibrate, flash the blue LED, and show the sender's name and the subject on the OLED display when you receive a new email.  At the bottom, you can set how frequently the watch will check for emails.  I set mine for 3 minutes (the minimum delay), because I like to know immediately when I get an email.  Of course, longer delays are easier on the watch's battery.
You'll receive these notifications even if your phone's sound is muted.
You can even set the watch to Do Not Disturb so you won't be bothered during important meetings or while you're sleeping.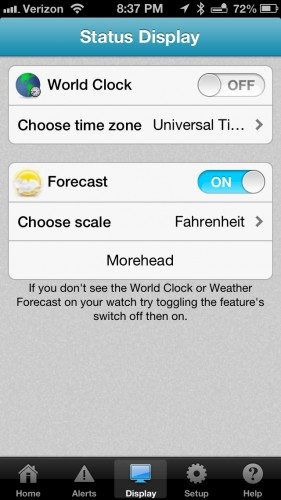 A variety of information will be displayed on the watch's OLED display when you touch the bottom left button.  Part of the data display information is a world clock for any selected time zone.
If desired, the watch's data can also display the current weather.  You'll be asked to allow the app to access your current location if you turn this function on.  You can choose Fahrenheit or Celsius units for the temperature.
Although they're not in the setup, the watch will also show you a battery status icon, speaker volume level, Bluetooth connectivity, and whether the watch is paired to the Martian app in the first line displayed.  Other lines show the date and the weather.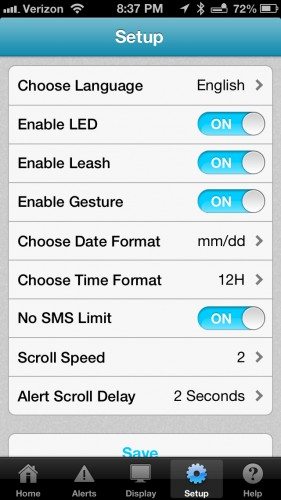 In the setup functions, you can enable a Leash that will alert you if you move too far away from your phone.  Butch really likes this function;  it alerted him he'd left his phone in the car and saved him a trip back to the parking lot when he finally realized he was missing his phone later in the day.  Butch got the alarm when he was about 20-30 feet away from the car.  I've found that barriers can shorten the distance before the Leash alerts you.  Our house has very thick plaster, lathe, and wire walls, and I can lose connection walking into another room.
When you enable Gesture, you can reject an incoming call or notification without pressing a button.  You just lift your arm straight up and twist your wrist firmly side-to-side a couple of times.  You can make it look like you're simply adjusting your cuffs during a meeting instead of messing around with your gadgets.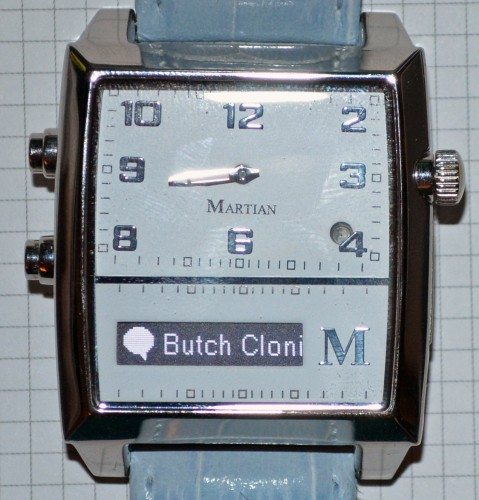 Here you can see the beginning of a text message from Butch being displayed.  The camera shutter closed between blinks of the blue LED, unfortunately.  The info scrolls by on the OLED display, and you can adjust both the delay before the message starts scrolling (so you have time to get the watch into position to read the message) and the scrolling speed in the settings page in the app.  The display is easy to read.  You don't always see the complete email or message, but you can glean enough to know if you need to grab your phone to see the rest.  There's often a delay before you're notified of emails, as you remember from the app settings, but text messages seem to come in immediately.  If you miss a notification, you can tap on the screen to have it replayed up to 5 minutes after it initially displayed.
I like the notification functions, and I find they work very well.  I like seeing who's trying to contact me without having to grab the phone or trying to remember which ringtone I associated with which person.  I like the analog watch, too.  It's nice to be able to see the time without having to drag out my phone.  Because I tend to be a bit picky, it does bother me a bit that the analog watch face is a bit off-kilter on my particular watch, as you can see in the above image.  It doesn't affect the function of the watch, but I can't stop noticing it.  (Note: As soon as this was published, we were contacted by an employee at Martian Watches who said the off-kilter face is neither typical nor acceptable, and they have offered to replace my watch.  I received my replacement G2G last week. It has a perfect face. Good customer service!)
There's also a neat feature that you access directly from the watch.  You can turn on camera mode from the watch's own settings (not in the iOS app).  Camera mode allows you to snap photos or take video from your phone, using the top left button on the watch to trigger the phone's camera.  You can even push-and-hold the button to start a 2-second delay before the photo is taken, so you have time to get your hand down if you're in the picture.  Camera mode will turn itself back off after 1 minute, but you can continue to snap photos during that one minute time.  You can always re-activate the camera mode after it expires to continue controlling the phone's camera.
Okay, so how does the G2G work for hands-free calling?  It works like a champ.  It's easy to answer or end a call with a single button.  The sound is very good.  My callers sound clear, and they are easy to understand.  I've had no complaints about how I sound from the person on the other end.  When Butch and I talk to each other while we're both using the G2G watches, we sound good.  I have absolutely no complaints about how the watch functions as a hands-free calling device.  I don't use Bluetooth headsets because I can never find one that fits my ear comfortably enough to keep it in my ear for any length of time.  With the G2G watch, I don't need a Bluetooth headset.
Like Dick Tracy, I first found myself holding the watch up to my mouth to talk.  I don't need to do this at all.  The microphone is strong enough and the speaker loud enough that I can easily conduct a call with my hands firmly on the steering wheel of my car.  The microphone has noise-cancellation, so the sound of the air rushing out of the car's vents by my hands doesn't interfere with call quality.  I haven't tried making a call in an extremely noisy environment, but I probably wouldn't do that using my phone, either.
By the way, the Martian watches have A2DP abilities, so you can have the watch play music or sound from games or other apps, but this will of course drain the G2G's battery faster.
I've found I have to recharge the watch every 2-3 days, like my phone.  I get quite a few text and email notifications during the day, and I make  a few phone calls.  I haven't tried it with one of my marathon calls with my friend, Leah.  Specs indicate the battery provides about 2 hours of talk time, so it would never make it through one of our three hour calls, anyway.
With Siri turned on, it's very easy to use her to initiate a call.  I can have Siri read me an incoming text message and even have her send a reply.  I can ask her other questions, too, just like I was using Siri directly from the phone.  Of course, I can't see Siri's response displayed on the phone's screen; I only know what she speaks.
I have installed a firmware update since I got the G2G watches.  It was easily done.  I simply followed the instructions on the Martian site to connect my watch via the included microUSB cable, then to download and install the update.  I updated both Butch's and my watches without any problems or glitches.
There are special things that you may have to do to get this or that function set up properly, depending on your phone.  It's nice to have the manual for the watch available from the Martian app so I can look up stuff up without having to get my computer.  Anything I can't find in the manual, I have found in the FAQs on the website.
Conclusion
I like the Martian G2G watch a lot, and so does Butch.  It's not like having a miniature computer on your wrist.  You can't install apps on it or watch movies.  That's not what I was looking for anyway.  This watch does exactly what I need it to.  It lets me make a hands-free call while driving, if I have to.  Sometimes I get text messages from my daughter when I'm on my way to pick her up, and I need to see them even while I'm driving, and I can do that with the G2G watch without fumbling with my phone.  I can even have Siri read me the message and text her my reply without touching my phone.  (I know people say even hands-free is a distraction while driving, but I don't see it as being any more distracting than talking with someone in the car.)  At $249, it may be more expensive than some of the smart watches that are on the market now, but I've seen a lot of complaints that those watches don't necessarily have all the functions that were promised, at least not yet.  For me, the G2G has performed every promised function and performed them well.

Product Information
Price:
$249
Manufacturer:
Martian Watches
Retailer:
Martian Watches
Requirements:

Bluetooth-enabled phone. Check the Martian website for phone compatibility. http://www.martianwatches.com/products/phone-compatibility/

Pros:

Leash feature works great so you don't leave your phone behind
Gesture works well to dismiss notifications
Long battery life
Hands-free calling without a painful earpiece is great
Can change the watch bands to suit your style and color preferences
Can use Siri or voice command functions of your phone
Works with most Bluetooth-enabled phones, so you don't have to worry about changing platforms

Cons:

Not completely silent because of vibration mechanism
Some people may not like the large size