We use affiliate links. If you buy something through the links on this page, we may earn a commission at no cost to you. Learn more.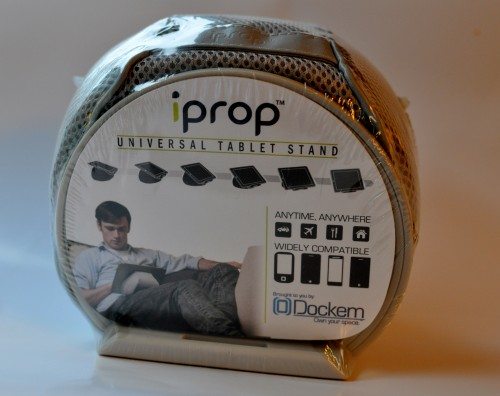 Don't be fooled by the "i" in the name, the iProp Universal Tablet Stand  (not to be confused with the other iProp iPad floor stand reviewed by Julie) is a universal tablet/smartphone stand, which my Kindle Fire has been nestled in for a few weeks now.  It is advertised to be a self-adjusting stand that reduces neck strain, frees up your hands for drinking coffee (always a problem for me), and provides infinitely adjustable positioning for a wide range of viewable angles.  All of that sounds good, but these wonder-stands are a dime a dozen–how did this stand actually measure up?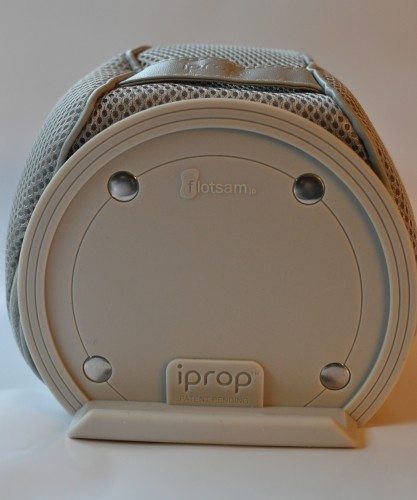 What drew me to the product was that I didn't have to have any permanent attachments, suction cups, or any other funny business attached to my Kindle or phone in order to use it.  The tablet just needs to sit on the "silicon" (I think they may mean silicone) shelf and lean back against the "beanbag" body.  If it fits in the shelf (roughly 3/4″ deep), it can be iPropped!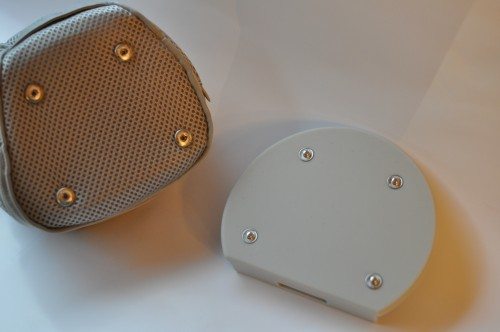 There are really just two parts to the "system":  a rigid and removable  faceplate and a sports mesh material outer body holding an inner container of microbeads.  There is a zipper allowing for the removal of the beads, in the event you'd need to wash the mesh body.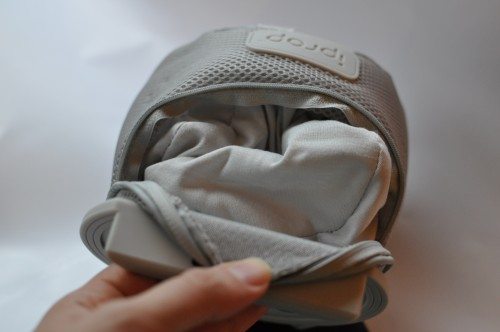 And being that I was using this in the kitchen while referring to recipes, washability is probably going to be an important factor.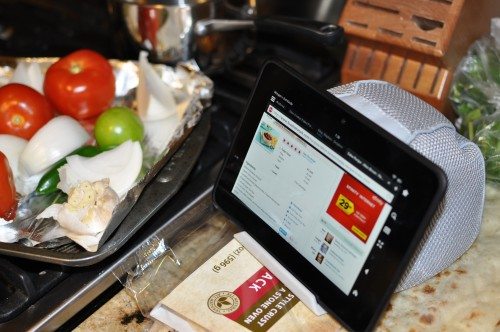 To remain effective on even slicker surfaces, like say a granite counter or laminate desk, the bottom of the iProp is "grippy" to keep itself standing tall and solid.
The packaging for the iProp states that it's "infinitely adjustable."  I'm not exactly sure what that means, unless it's referring to the ability of the iProp to adjust itself to uneven surfaces.  Otherwise, the beanbag doesn't have that much give to it.  You could roll it onto its back, so the tablet is facing straight up, but that's about all.  This isn't a loose-type beanbag that cradles; it's hard-packed without a whole lot of give.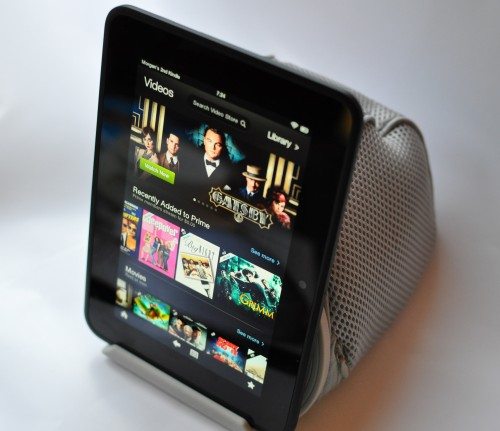 Without a tablet sitting in it, iProp was a little front-heavy, and on non-flat surfaces it leaned forward a bit.  I thought the moment I put a tablet in it, I'd see both tablet and stand topple over.  That never ended up being the case.  With the extra weight, the iProp does "adjust" itself to an uneven surface and provide stability thanks to the shifting microbeads.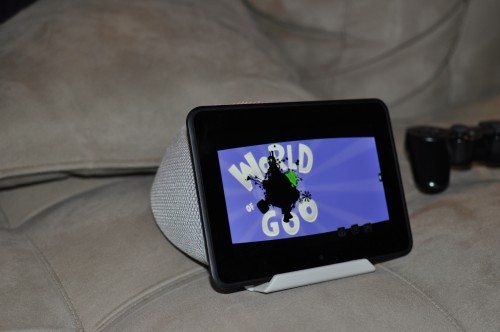 To test that though, I set it up on my couch, which has a bit of a "pillowy" surface.  The cushions are a mix of plush with significant dips at the seams.  I tossed the iProp on the cushion, set in my Kindle, and  that thing stayed perfectly in place – just fine for gaming.
But how about the real test, what I'd actually end up using it most of the time for – being lazy on the couch.  For some reason, I use my Fire the most while I'm watching television, usually flipping through websites and browsing on Pinterest.  I took the ultimate lazy position and sat the iProp on my stomach, giving me a view of both the TV screen and the Fire screen.  The iProp passed this test with flying colors!!  Breathing and slight position adjustments did not affect it in the slightest.  At no point did I feel as though my Kindle might be unstable or fall off of me.  Heck, I'd even go as far as to say it was comfy!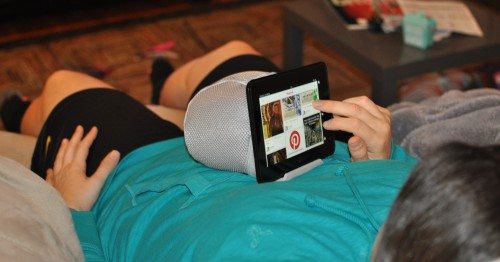 One word of caution though – there is a little carry handle on the top of the iProp.  Do NOT lift the iProp to carry it while a tablet or phone is in place!!!  Yes, I did this.  No, I will not be making that mistake twice.  A tablet simply "sits" on the shelf–it's not being held by magnets or straps, so it definitely can fall out if the iProp is picked up.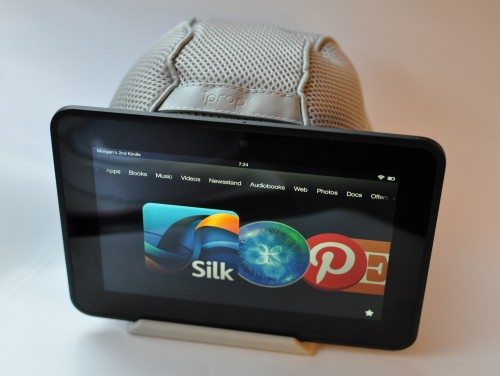 All in all, I absolutely love my iProp and would recommend it to anyone, especially if they use their tablet in bed or in the kitchen.  It seems too simple to be so perfect; there has to be some drawback, right?
While reviewing a product, I usually try not to read too much about it on the manufacturer's site until I have my final opinion together.  In my head, I estimated the iProp (available in either black or grey)  at about $15 and thought it was a pretty nifty little accessory for that price.  The actual cost though is about twice that – $29.99 for an iProp through the manufacturer.  I still really like the product – it's convenient and practical, but I feel as though that price point is a little higher than it should be for what it is.
Product Information
Price:
$29.99
Manufacturer:
Dockem
Requirements:
Pros:

Works on uneven surfaces
Washable
Adjustable

Cons: