We use affiliate links. If you buy something through the links on this page, we may earn a commission at no cost to you. Learn more.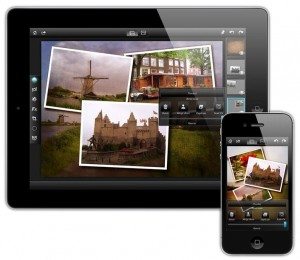 Have you often wished for an image editor app with a magic wand tool to make selective image adjustments for your iPhone or iPad?  Do you long to post process your iOS device photos using more sophisticated tools like a clone tool, text tool or paint tool with adjustable brush sizes and hardness?  Leonardo, a full-featured photo editor for iOS, could grant you that wish.  Published by Pankaj Goswami, the recently released Leonardo is available now in the App Store at a 60% discount of $1.99 during an unknown promotion period.
The app works well whether you create a layered collage of vacation photos or a complicated selection of an unwanted background.  You can even feather the edge of a background selection and invert it so only your main subject is selected for a copy and paste into a more pleasing background.  You can then transform your copy and pasted selection for more realistic proportions. 
Curves, color adjustments, shadow/highlight, live histogram, unsharp mask and many more options are available.  If you have used layers in Photoshop, the layer blend modes and mask options will be a nice surprise.  Leonardo is fast enough to handle most of the 25 photo effect presets in real-time.  That means no status bar to wait on while the effect is applied.  You can export your file as a .psd including layers, a .png or .jpeg.  Export file resolution for iPad maxes out at 4096 x 4096 and the iPhone is limited to the resolution of its camera.
When you first open Leonardo, straight away you're given a link to view video tutorials. View as many as possible before diving in without a life jacket. The tool names and how they function will feel familiar to you if you've used a high end image editor such as Adobe Photoshop.  The interface works more like a Photoshop plug-in with many of the 19 filters having adjustable parameters.  It will take repetition using the app to get a grasp of all it is capable of.  Well worth the learning curve if you don't want to fire up the now, rapidly becoming a relic, desktop PC.  Photoshop clone?  Probably not, but the closest yet.
The app is available for the iPhone, iPad – iPad Mini and the iPod Touch. Requires iOS 5 and above  (iPad 2 and up).