We use affiliate links. If you buy something through the links on this page, we may earn a commission at no cost to you. Learn more.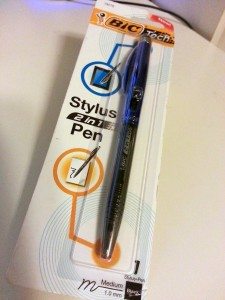 I am a big fan of tablets for my everyday reading of news, setting reminders, and writing down notes.  I've tried a couple of styluses back when I owned my first iPad, and I continue to try them for my Nexus 7.  I also enjoy a good old-fashioned pen when I need to write down thoughts on normal notebook paper and in my journals.  I recently had the opportunity to review the BIC Tech Stylus 2-in-1 Pen, so I jumped at the chance!
Note:  Images can be clicked on to view a larger size.
The BIC Tech Stylus 2-in-1 pen is a lightweight pen plus stylus for any capacitive touch screen device.  It's available in a blue or grey barrel, with a black bottom. The body of the whole pen is a nice-feeling, smooth plastic.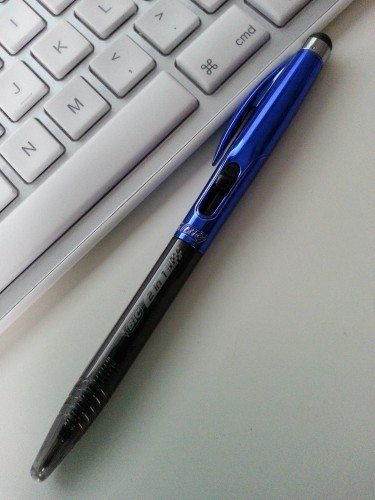 The stylus end of the pen is has a nice chrome-colored ring holding a rubber tip, which gives when you press it against your tablet.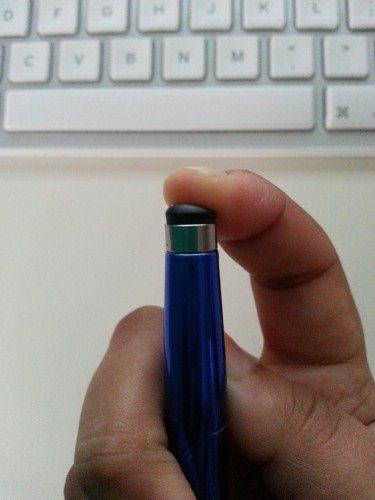 The pen end has a medium ball point (1.0mm) tip, and it holds black ink.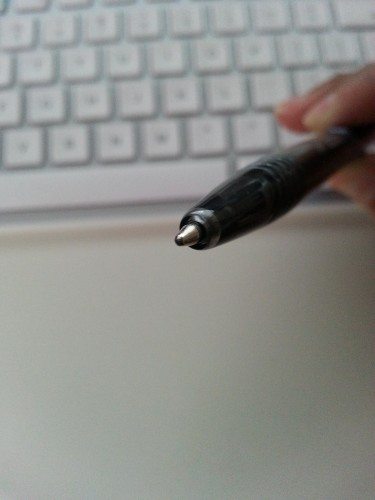 To write, you press the retractible pusher in the middle of the stylus pen.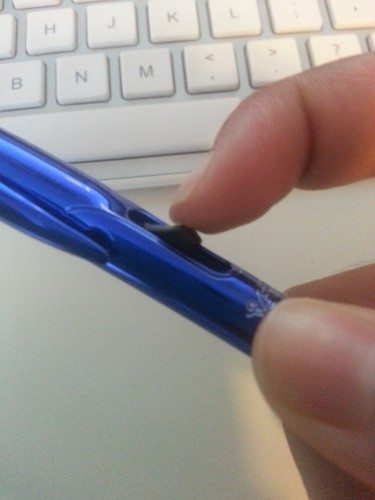 Using it to write on paper was lovely.  The ink and pen glided across the paper, with no blobs or roughness.  I wrote in cursive handwriting, since I hadn't done that in a while!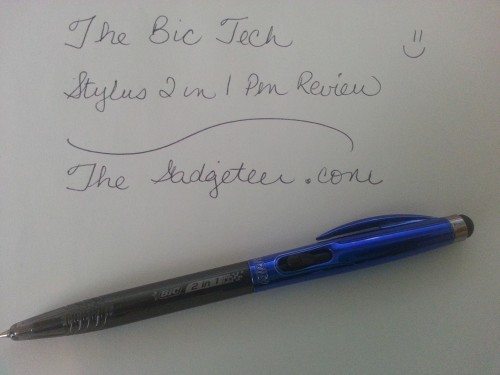 Using the stylus was good on my Nexus 7, but better on the iPad.  The smooth rubber tip glided easily along the glass surface, without any friction.  I also was able to use it at any angle and didn't need to press too hard.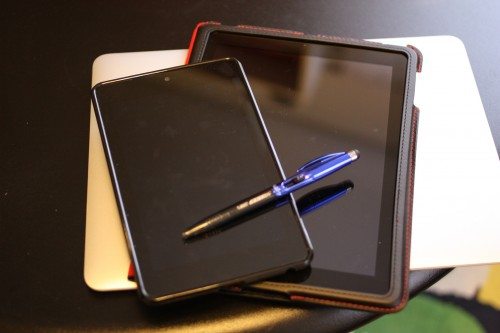 I really loved using this pen at work, where I jot down a lot of notes.  I tended to not use the stylus as much for my tablets since I don't draw or feel the need to scroll through apps with it.  I think a stylus might be more useful in the winter time, when you are wearing gloves, or for those who draw frequently on a tablet or smartphone.  Also, I prefer a thinner stylus when I do draw on a tablet, but that is just my personal preference.
The BIC Tech Stylus 2-in-1 pen is available from their own website, on Staples, or from any other online retailers that sell writing instruments.  It costs between $4.79 – $6.29.  At this price, it's very much worth it, since you get a really nice pen and stylus in one, where normally just a stylus can cost well over $10!