We use affiliate links. If you buy something through the links on this page, we may earn a commission at no cost to you. Learn more.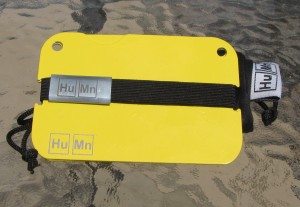 So whats in my wallet? Do I even need to carry a wallet anymore? If I don't want to carry a wallet, how do I carry my basics for everyday life? A while back there was a news posting about the HuMn Wallet, which is not so much a wallet in the classical sense as a card holder. The HuMn Wallet looked good, but it seemed kind of large so I did not pay much attention to it. Recently the folks at HuMn Wallets introduced the new HuMn Mini Wallet and offered us a chance to review it. I was lucky enough to be chosen to do the review.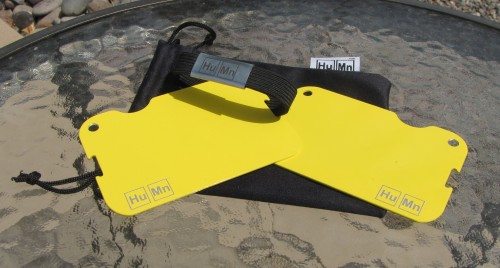 As you can see, I was sent an aluminum yellow HuMn Mini Wallet (a good choice, since I do like yellow) with a black shock strap. (It is also available with carbon fiber plates.)  This wallet consist of a front plate, back plate and a shock strap to hold the plates together. It comes with a nice microfiber pouch to store your HuMn Mini Wallet when not using it. The aluminum version of the HuMn Mini is available in 15 basic powder coat colors, two Cerakote (a ceramic coating) colors, and a Bead Blasted finish. The carbon fiber version comes in only one color. The shock straps are available in four color: black, blue, green, and red.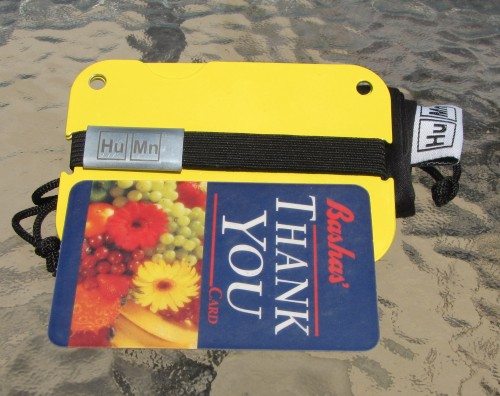 The HuMn Mini Wallets dimensions are:
Width: 3.8″
Height: 2.53″
Thickness: .10″ (for 2 aluminum plates)
Weight: 1.6 oz (or 1.1 oz for carbon fiber)
These dimensions make the plates a little larger than a credit card or license, and it does not add a lot of bulk to your pocket.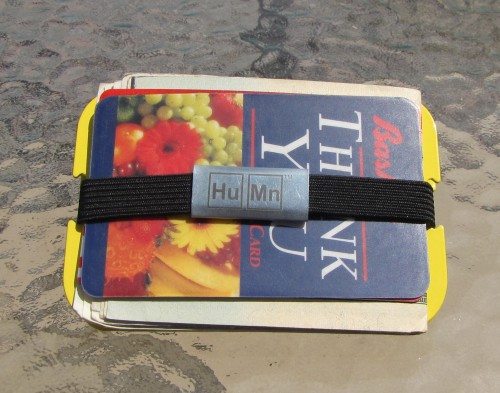 The first thing I had to do when I decided to go to a front pocket-style wallet was to figure out what items I could do without in my wallet. As you can see, I probably didn't downsize as much as I should have, but the HuMn Mini Wallet handles everything I do carry well. You will also notice that I carry some of my credit cards as well as my paper money on the outside of my wallet. If you want to carry credit cards or any cards in this same manner, you should be mindful of any that are equipped with RFID chips. The HuMn Mini Wallet, as well as the other HuMn wallet offerings, are designed block RFID signals when your cards are between the plates. This is a nice feature for security-minded people.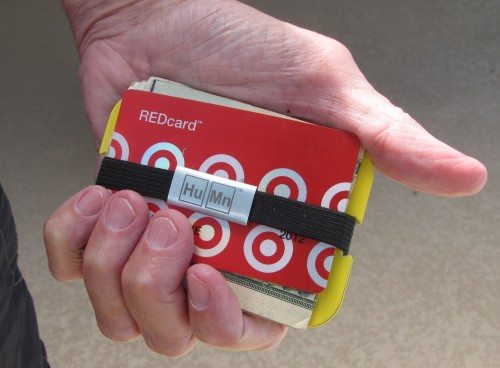 I have been carrying around the HuMn Mini Wallet for a couple of weeks now and have gotten to the point that I really don't notice it anymore. While the wallet does add a little weight and bulk to my pocket, the ability to keep all my items organized and together outweighs that slight issue. I do still reach to my back pocket at times looking for my wallet (old habits are hard to break), but I find having everything in my front pocket more is more convenient, comfortable, and efficient.
So all in all, my changeover to the HuMn Mini Wallet has been a pleasurable experience. The size and weight make the wallet easy to carry, and with several color and material choices available, it is sure to please anyone's taste. At $76 for the basic model I am reviewing, this is a high-end buy, but I believe the quality and workmanship do justify the price.
Update 01/30/15
I will admit that I have returned to my Dragonthorn Leather PC system, but the HuMn wallet has found a long term home with my partner. This is his every day carry and he loves it. The elastic band (shock strap) has held up well even when he has pushed the limits of what it should hold to the brink. The finish on the HuMn still looks new with no signs of wear. Even though the HuMn Wallet Mini was not to my taste I am glad to see it is getting good use.

Product Information
Price:
$76 for the basic model
Manufacturer:
HuMn Wallets
Retailer:
HuMn Wallets
Requirements:
Pros:

RFID Protection
Multiple color and materials options
Easy to use

Cons: