We use affiliate links. If you buy something through the links on this page, we may earn a commission at no cost to you. Learn more.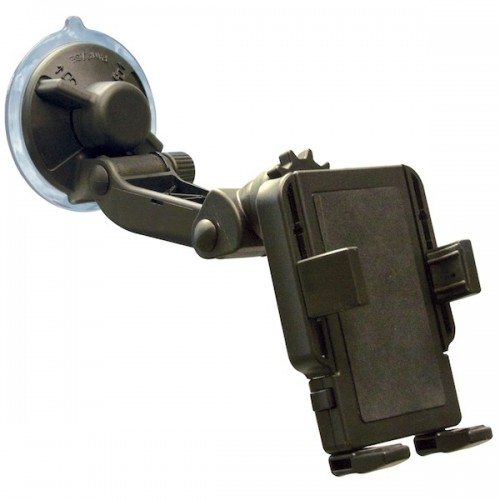 I don't use a phone holder in my car anymore.  I just can't seem to find one I like.  I also needed a way to keep my phone within easy reach at my desk.  Maybe the PanaVise PortaGRIP 15504 Universal Phone Holder will do the trick!  Let's take a look.
The PortaGRIP 15504 comes in those plastic packages you have to destroy to get into.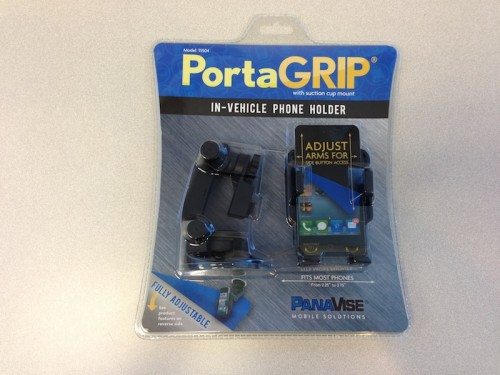 Features
Rubberized indexed grippers and foam backed cradle won't scratch your device
Quick release button for easy phone access
Vertical low profile grips allow full access to touch screens
Side arms adjust from 2.25″ to 3.75″ in width to fit nearly any phone
Ratcheted feet allow for access to data ports
PanaVise Tilt, Turn & Rotate = fully adjustable
Low profile design minimizes mount behind phone
Powerful suction cup mounts to any smooth non-porous surface. Easily move from vehicle to vehicle or stow for security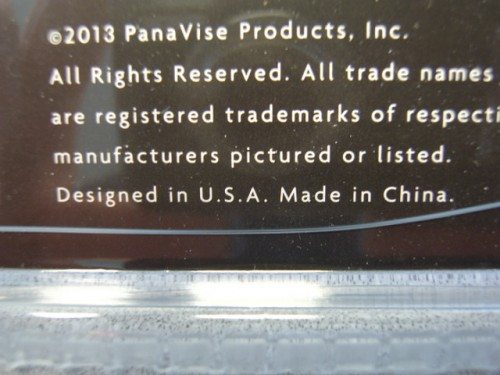 Here's the holder out of the box. It consists of two pieces:  The holder itself, and a jointed arm with suction cup.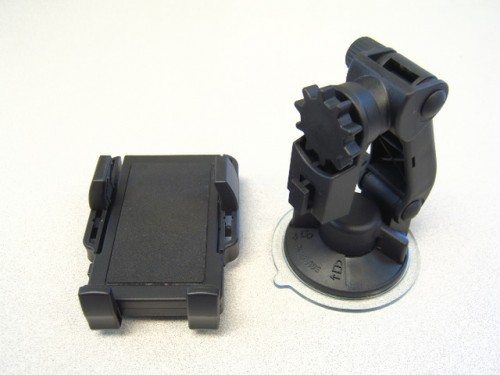 The holder has a small square button that you press to release the spring-loaded "arms".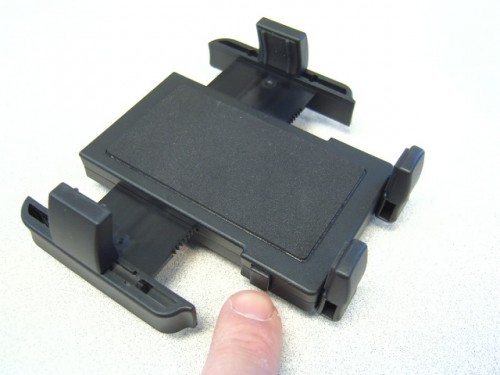 Never miss one of our posts again. Sent MON, WED, and FRI with the latest gadget reviews and news!
The holder attaches to the arm via a single slot and tab.  You may have seen this in other mobile mounts.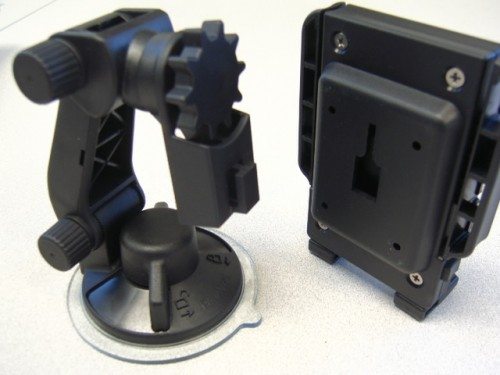 The bottom two "feet" rotate 360-degrees for an exact fit.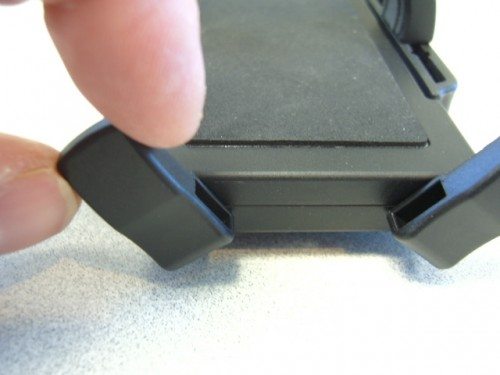 These are some of the hardware that keep the holder together.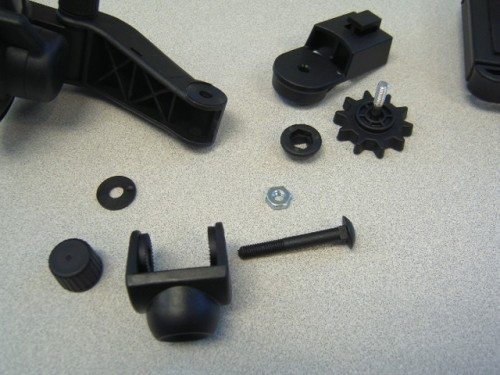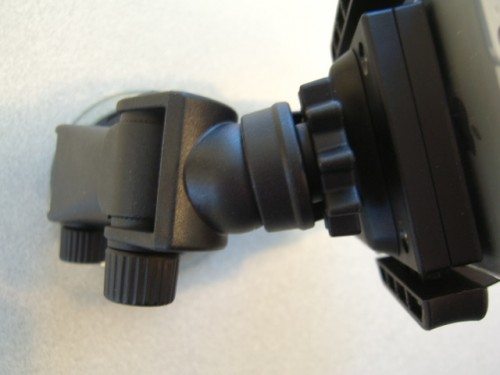 A toothy knob and nut adjusts the pivoting head.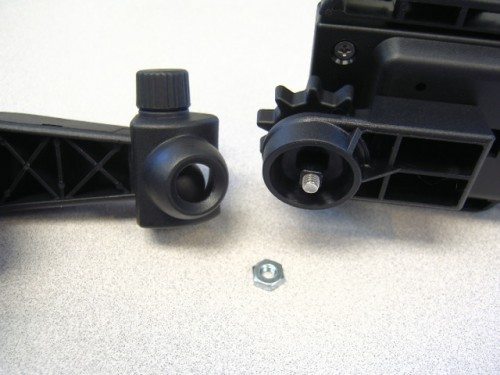 I was most interested to see that the two adjustment bolts were actually made of black plastic, and the knob had a brass-colored metal insert.  I didn't have any problems with cross-threading or striping.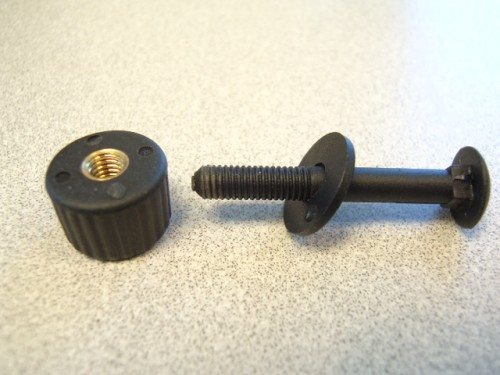 The suction cup locks into position by twisting the base.  Handy icons show you which way is which.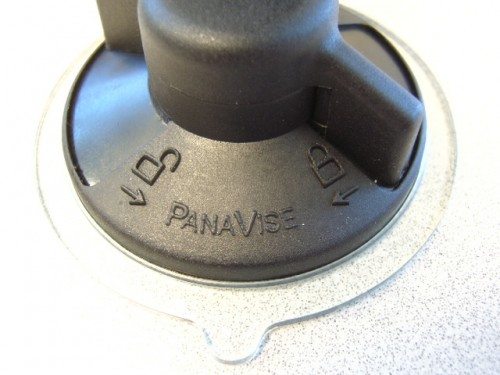 My iPhone 5 resting nicely in a tabletop configuration.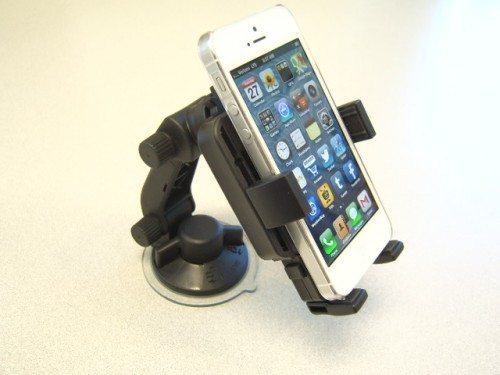 If you're using an iPhone 5, there is a small catch.  There's plenty of room for the Lightning dock connector, but if you want to connect headphones, you'll have to swing away one of the bottom "feet".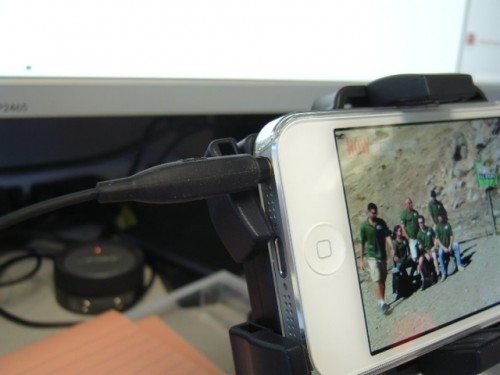 Here's the entire assembly attached to a windshield.  No shakes, no rattles of any sort.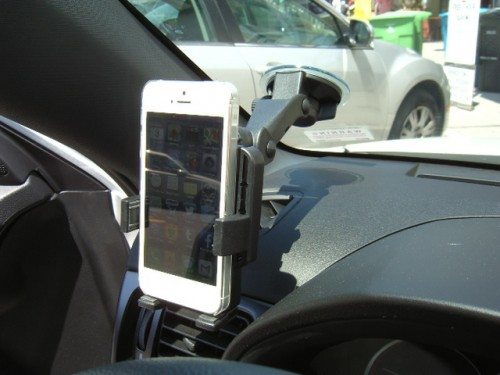 The PanaVise PortaGRIP 15504 Universal Phone Holder is a highly adjustable device that works equally well in the car as well as on your desktop.  I opted to give this holder a permanent home at my desk, since I like to keep my windshield clutter-free.  However, if I had to, I'd pick it in a minute for vehicle use.
Product Information
Price:
$29.99
Manufacturer:
PanaVise
Requirements:

Flat, smooth surface for suction cup
Phone with a 2.25" to 3.75" width

Pros:

Easy adjustments
Strong suction cup
Spring-loaded release

Cons:

Bottom "feet" may block some ports, such as the iPhone 5's headphone jack