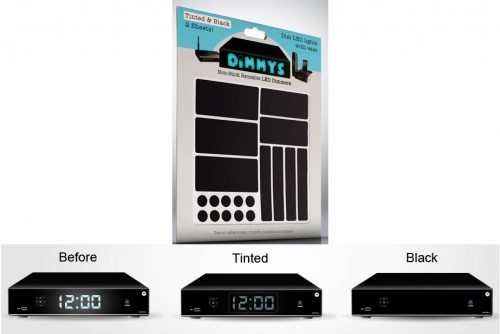 I don't use an alarm clock with a constantly lighted digital display, but the clock I used to have tended to keep me awake because it was too bright.  I also have a variety of chargers that tend to have LEDs on them that can feel like a laser burning through your eyelids in a dark room.  Even the ceiling fixture in my living room has an array of "decorative" bright blue LEDs right in the middle of the ceiling plate that are very distracting.  I've considered getting some duct tape to cover up the ceiling fixture LEDs; I'm only stopped by the thought of how ugly that would look.  Dimmys were designed by someone at LEDDimmys who also is irritated by bright LED status lights and digital displays.  These little plastic strips adhere to your device with static cling, so there's no residue, and they are reusable.  You can purchase tinted Dimmys to dim a display, like your alarm clock, and you can stack them to filter out more light, or you can get black to totally obscure lights that you don't need to see.  Put a black one over your webcam, and you don't have to worry that someone is spying on you through the camera.  You can purchase a package with two sheets of Dimmys in all tinted, all black, or a sheet of each for $6.95.
Support The Gadgeteer
:
We may earn a small affiliate commission from purchases made from buying through links on our site. As an Amazon Associate I earn from qualifying purchases. Learn more.