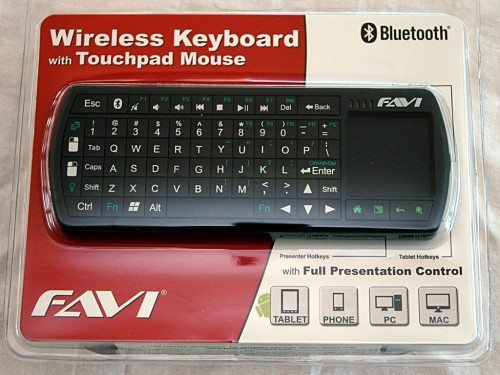 The FAVI Bluetooth PC / Tablet Keyboard and Presenter with Laser Pointer (yes, that is the actual product name) is a handy little Bluetooth keyboard with integrated touchpad and laser pointer. I guess FAVI couldn't work Touchpad into the name. It includes some dedicated Android keys, some dedicated presentation keys, a laser pointer, and just about anything else you could need to drive most any Bluetooth-enabled device. It's even got a wee USB Bluetooth dongle tucked inside in case your device lacks Bluetooth. It hopes to cover a lot of devices and use cases, and for the most part, it does an admirable job.
UnBlisterPacking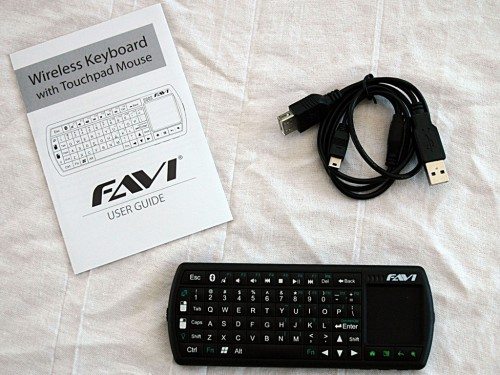 After wrestling the keyboard (I'm just going to call it that, the name is just too long) from the packaging, you're left with the simple but complete manual, the keyboard, and a nice mini-USB charging cable which doubles as a USB extender cable – that's a win right there, as you can leave the USB cable plugged in, and not lose a port.
The Keyboard Tour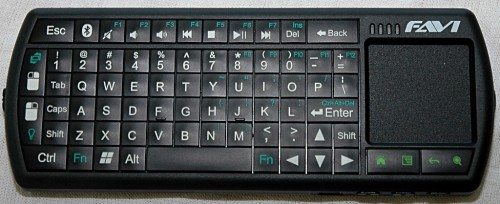 The keyboard is quite nicely made. The key styling reminds me of the look (and feel) of the high-end slider phone keyboards from the end of the pre-iPhone era from Nokia and HTC. The keys have a satisfying curve, an audible and tactile click when pressed, and they don't wobble around. They're even backlit (more on that later!). The touchpad area is somewhat roughly-textured, but not uncomfortably so. There are media keys across the top, a full arrow diamond on the lower right, a windows key, a pretty complete set of Fn alternate keys including Ctrl-Alt-Del and F1-F12, and on the side page up/down keys. On the left side are your left and right mouse buttons, and under the touchpad are the main four Android keys. The "grill" area next to the Favi logo is where you'll see the blue Caps Lock, orange charging, red low battery,  and  blue Bluetooth pairing light. The keyboard is about the size of a typical universal remote at 6.2″ x 2.4″ x 0.5″ and weighs a comfortable 3.5 ounces (100 grams). It's got good balance thanks to the central location of the 800mAh Li-ion battery.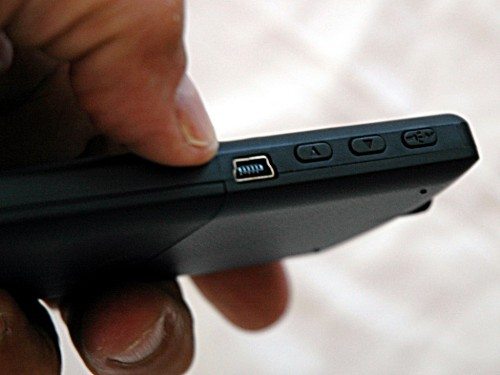 The right side is where the mini-USB port and page up/down buttons live, along with the laser pointer button.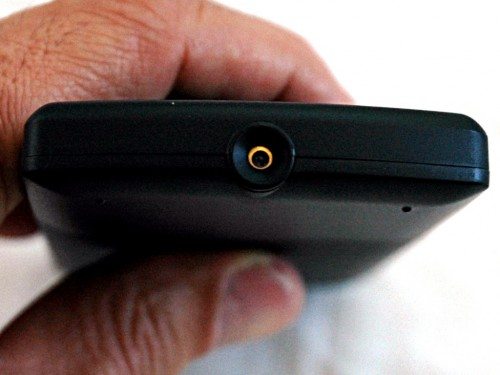 The laser is at the "top" – the right end with the touch pad. The left/bottom end has the on/off switch. You can leave it on all the time, but it will drain the battery down on standby in about 30 days. That's why there's an off button!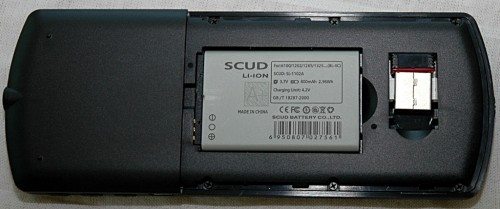 A view of the back with the cover removed. The Bluetooth dongle isn't anything amazing – and no drivers are included – but it should be recognized by a PC and get you connected if your PC lacks Bluetooth.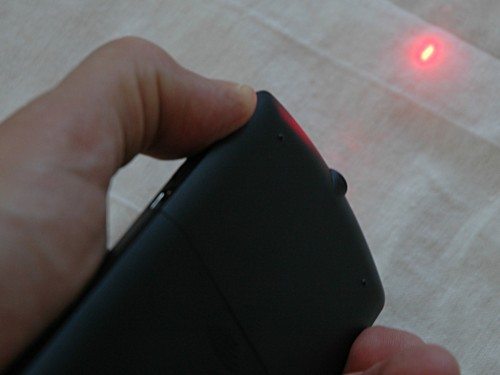 Yes, it has a laser. I'm not sure I've seen anyone give a presentation and use a laser pointer since the late 90s, but it's there if you want to kick it old school. Or play with your cat.
Pairing Up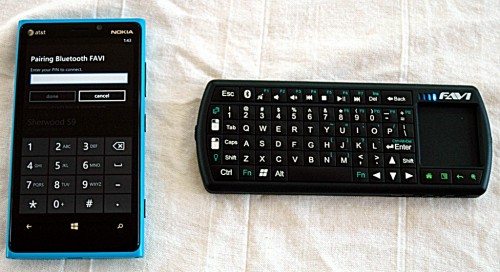 The manual doesn't say how many devices the keyboard can be paired to before you start overwriting parings – I paired with 6 devices, and it seems to remember all of them, so it's likely 10 or more. Pairing is just a matter of turning on the keyboard and pressing the Bluetooth button (next to the Esc key) – this lights up the pairing LED. Search for new devices on the device you want to pair to the keyboard, and select Bluetooth FAVI when it's discovered. A numeric code will be displayed on the pairing device which you type into the keyboard, and press Enter. That's it, you're paired.
A Few Loose Ends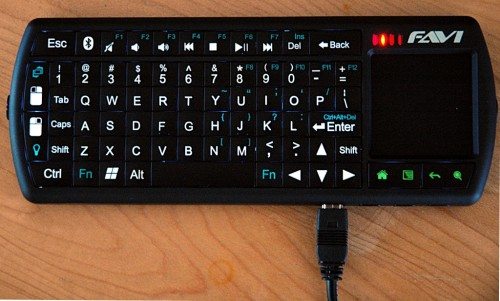 Here's the keyboard when charging. It's fully functional while charging, which is a nice touch.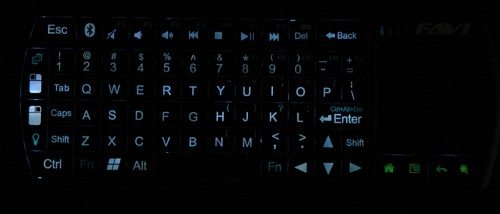 Finally, here's the backlight view (in the dark) – you enable that by pressing Fn + the bottom mouse button. That combo might be tricky to hit in the dark. When the backlight mode is enabled, the backlight turns off after a few seconds, but it turns back on when any key is pressed.
Chiclet Two-Thumb Touch Typing
Remember those glorious days of the slider phone with keyboard? No? Well, if you did, you'd love this keyboard – the size is perfect for holding it in two hands and using the thumbs to type, and the feel and sound of the keys brings back so many memories. The keyboard works well on all manner of devices (Android, iOS, Windows, Windows RT, Mac/OSX, even Linux), and even the media keys performed as expected across most of these devices. This would make quite a full featured HTPC remote.
Touch This
Sliding the thumbs to the edges, you get great right-handed mouse/left-handed mouse buttons positioning. If you're left handed you're out of luck… the rotation button only toggles between "touch pad on right" or "touch pad on top" modes. The touch pad/mouse HID profile isn't supported by iOS, so there you don't have any functionality. On Android/Win/Mac/Linux/most-computerish-things-with-HID-Bluetooth-profiles-that-support-mice it, works nicely. The 1″ square touchpad even supports a right edge "scroll" area. On larger screens, you'll be picking up up your thumb a few times to mouse all the way over to one side or the other, but it works surprisingly well. Double tap to left click works as expected too.
One Handy Little Keyboard
I don't know how many Bluetooth keyboards I've got that I don't use anymore. I don't know how many HTPC wireless keyboard/mice/track pad things I've tried and ended up adding to the island of misfit toys where gadgets go to die because they were too bulky to use or have around the living room. I don't even want to think about all the times I've tried to peck out emails on small phone screens. Fortunately my current job doesn't require much time making presentations, but I do remember endlessly walking over to the laptop to press a key for the next slide. The FAVI Bluetooth PC / Tablet Keyboard and Presenter with Laser Pointer could step into all those roles with ease, and it's small and light enough to toss into your gadget bag so you've always got it handy.
Support The Gadgeteer
:
We may earn a small affiliate commission from purchases made from buying through links on our site. As an Amazon Associate I earn from qualifying purchases. Learn more.
Product Information
Price:
$79.99 list; under $40 online retailers
Manufacturer:
FAVI
Requirements:

Bluetooth-enabled device with HID keyboard/mouse profile, or USB 1.1 or better PC/Mac

Pros:

Light, compact
Backlight
Media keys
Touchpad
Left/right mouse button, presentation buttons, special keys for Win/Android

Cons:

Bias for right-handed use