We use affiliate links. If you buy something through the links on this page, we may earn a commission at no cost to you. Learn more.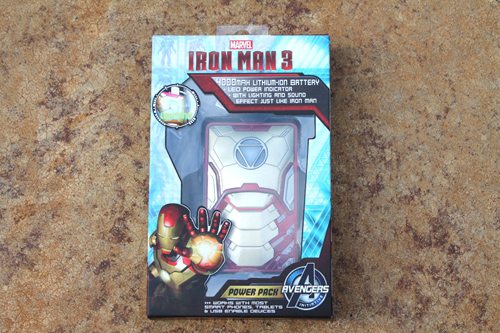 I am a gadget guy, so I am always in need of a power source.  I have gadgets of all shapes and sizes which of course need to be charged.  So my eyes are always peeled for a portable power source.  So when I spotted the Iron Man Power Pack (hereafter referred to as the IMPP) from Brando I was a little taken aback.  What is this?  Is that Iron Man's suit in a box the size of a deck of cards?  Surely not.  It looks like his suit, but is that really a power pack or a toy? Say what?  The round chest thingy lights up and makes the iron man sound?  I had to have it.  Of course.  But would the performance match the coolness?  Let's find out!
Specs and overview of device
First things first… the specs from the manufacturer:
Battery capacity: 4,000mAh
Input: DC 5V / 1A Max
Output: DC 5V / 2A Max
Cell Type: Lithium-Polymer battery
Input Recharging Time: 4-7 hours (approx.)
Product Dimension: 96.2(L) x 60.7() x 23.2(H) mm
Product Weight: 132g (approx.)
The IMPP came with a USB cable, which is actually a dongle.  A very short one.  I mean, really short…. A little over 4 inches in length.  It also came with a piece of paper with instructions on it.  I like the fact that instructions came with it, but look guys, we have to stop with this incredibly small text.  I would have preferred a longer USB cable, even a short one at 1-ft would have been better than this.  With this short cable you are really limited to being right next to your charging device, which will probably be your computer.  Good luck if the USB port on the computer is behind your desk.  Luckily I have a ton of USB cables that I can use, so this isn't a huge problem.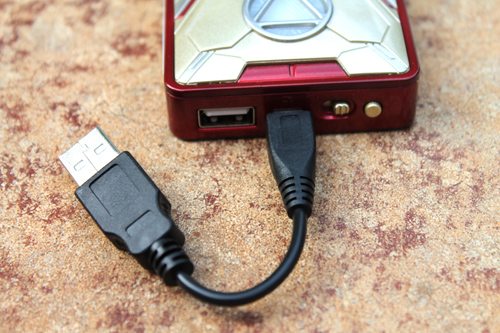 The outside case is really quite durable.  The product marketing points say it's 'Super power Iron Man 3 armor'.  I wouldn't go that far, but the device feels solid and durable.  No complaints there.  And it does look like the Iron Man suit so Iron Man fans will like it.  There are accents on the sides as well that are Iron Man-esk, and a small speaker on the upper left side.  The size of the IMPP is almost the same size as a deck of cards, but slightly thicker, so it is very portable.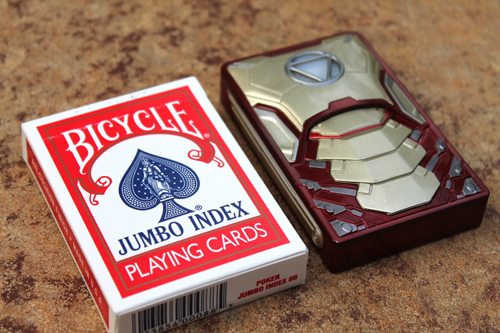 There is nothing on the sides (aside from the speaker I just mentioned), bottom, or back of the device.  On the top you'll find the power button, mute button, the USB port, and the micro-USB port.  One thing that is really nice on the IMPP that I haven't seen on other battery packs that I own is that the micro-USB port is labeled as "in" and the USB port is labeled as "out".  So you don't have to guess which port you need to use to charge the battery.  Nice touch.
On the front of the IMPP in the middle of the Iron Man suit chest armor you'll find the round indicator lights that are used to indicate to you the level of power left in the device.  And for you Iron Man fans, when you turn it on it makes the sound like Iron Man's suit is coming on.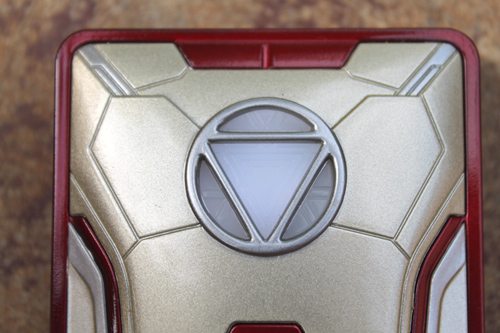 Here is a video of me turning on the device with the mute button on and then with the mute button off so you can hear the sound:
Performance
When you turn on the device, the 4 LED indicator lights in the middle of the chest armor glow to show you how much power you have left.  Basically, the more lights that come on, the more power you have.  And when the power gets low 1 LED light will blink and it makes a slightly different sound so you know both visually and audibly that it needs to be charged.  Anything that can be charged via a standard USB port can be charged with the IMPP.
My results:
My Nexus 7 tablet (with a 4,325 mAh battery) was sitting at 50% battery level.  I connected a fully-charged IMPP pack and 2.5 hours my Nexus was fully charged.  The IMPP still had 3 LED lights lit on the front.  So that indicates to me that a Nexus 7 can almost be fully charged by the IMPP in 5 hours.  Although the IMPP capacity isn't quite as big as the Nexus 7 battery, but almost.
My cellphone is the HTC Thunderbolt from Verizon (no jokes please).  It has a 1,400 mAh battery.  And strangely enough, when I was at 50% battery on the HTC it took the IMPP almost 2.5 hours to charge it up to full.
From completely dead the IMPP fully charged via the USB port on my laptop in just under 4 hours.  The spec sheet says recharging time should be "4 to 7 hrs", so I guess that is good.
Bottom line
So would Iron Man fans purchase this device?  Absolutely.  It provides 4,000 mAh of carry-around power that will charge most cellphones at least twice, and a great boost to most tablets.  iPads do have tremendously large batteries in them, so don't expect to charge your iPad with this.  For example, the iPad 3 has a 11,560 mAh battery, so the IMPP won't charge your iPad 3 very much.  But it is pretty geeked-out for those Iron Man comic book fans, so you won't be disappointed.
But would I recommend this battery pack for non-Iron Man fans?  I am actually not sure about that one to be honest.   This device space is becoming more and more crowded, which is great for gadget fans like me.  Having a compact 4,000 mAh battery in your pocket for emergency power is awesome. No doubt. But prices are becoming very competitive in this space, so at $65 that is a little higher than other portable battery packs that I have seen.  And some people won't want to carry this around simply because it looks like a toy.  If this device were priced at $40 or so, then I could highly recommend it.  As it stands, I only recommend it.
Product Information
Price:
$65.00
Retailer:
Brando
Pros:

Compact size
Nice indicator lights
Sturdy case design
Labeled ports

Cons:

USB cable incredible short
Slightly overpriced, but not by much