We use affiliate links. If you buy something through the links on this page, we may earn a commission at no cost to you. Learn more.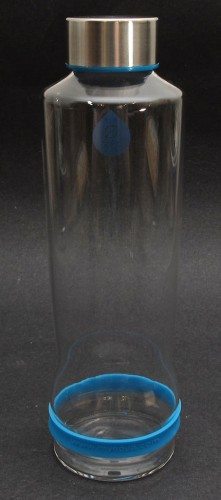 Chances are high that you drink water more than any other beverage. Considering that water is the number one consumed beverage in the world, it was an easy guess. A tougher question to answer is how do you carry / store your drinking water? Do you use a thermos, plastic bottles, paper cups or something else? How about the CMYK Drop glass water bottle from EQUA? They recently sent me one to try, so let's see if it's up for the task.
Note: Images can be clicked to view a larger size.
CMYK stands for Cyan, Magenta, Yellow and Key (black), which are the available colors for the Drop bottle.
The colored ring that you see around the base is a silicon band that can be removed for cleaning. Other than decoration, it really doesn't serve much of a purpose.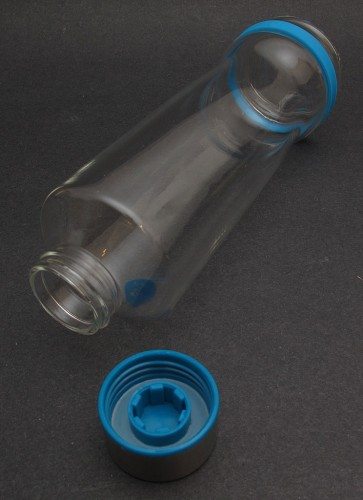 Why would you want to use a glass water bottle instead of plastic? Here's what EQUA has to say:
Since we put your health and well-being of environment on first place, we made bottles from glass. Glass is a completely natural material, healthy for people and nature and 100% recyclable. From many different types of glass, we chose superb borosilicate glass known for its firmness, resistance to thermal shocks and chemicals. Other material used is best quality stainless steel, from which the cap is made of. It will keep the content safe in your bottle.
After my adventure with cancer in 2011, I've stopped using a lot of plastic containers due to chemicals like BPA which can leech into food and beverages. When you use glass or stainless steel, you don't have to worry about that.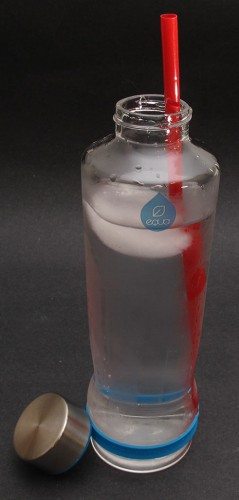 Design and features
The CMYK Drop bottle has a  size and shape that is easy to manage for even people with small hands. The rim is perfectly smooth and comfortable to drink from. The bottle looks small, but looks are deceiving as it can hold 570 ml (19.27 ounces). Even though the mouth of the bottle is narrow, it's large enough to accommodate ice cubes – at least the ones from my Kenmore refrigerator's ice maker. The stainless steel screw on top is lined with BPA-free Tritan plastic and has a silicon seal to prevent leaks.
Things to consider
The main thing to consider before buying this water bottle is the fact that it's made of glass… and unlike plastic or steel bottles, a glass bottle will break if you drop it. However, the Drop bottle is made of thick glass and doesn't feel fragile. Having said that, I wouldn't give the bottle to a child to use… or a clumsy adult 🙂
Another thing to be aware of is that the CMYK Drop bottle will sweat if you put cold liquids in it. See the image above? That's what you'll get within a few seconds if you fill the bottle with cold water and/or ice.  Personally, I don't like a bottle or cup that sweats and makes my hand wet and clammy every time I pick it up…
And lastly, the mouth of the Drop bottle is narrow (slightly larger than the diameter of a quarter), which means it will be tough to clean if you drink anything but water.
On the good side
The best thing about a glass water bottle is that it imparts absolutely no weird taste to your water like plastic and steel bottles can do sometimes.
There really isn't a whole lot to say about the EQUA CMYK Drop bottle other than it's a simple product that is well made, looks nice and will perform its intended task. If you are looking for an alternative to plastic or steel water bottles and don't mind the caveats that I've mentioned above, you'll enjoy using the Drop. Just don't drop it… Sorry, I couldn't resist 😉
Product Information
Price:
21,85 € ($29.02 US)
Manufacturer:
EQUA
Pros:

BPA free
Does not make liquids taste funny

Cons:

Breakable
Small mouth makes cleaning difficult
Sweats with cold liquids