We use affiliate links. If you buy something through the links on this page, we may earn a commission at no cost to you. Learn more.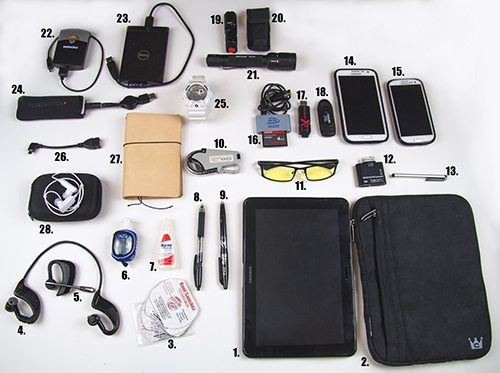 It's time again for another inventory of our everyday carry items,  or as I loosely refer to them "my survival gear", so I wanted to share them with the outside world.
And surprisingly,  I found out that I use each and every item daily in one form or another. And some more than others.
I numbered them individually in hopes of better separating them from one another.
Here we go:
#1. Samsung Galaxy Tab 10.1 Tablet.
I received this as a Christmas gift a few years ago from my immediate family, and I share it with my kids because they like to play selected games and of course Angry Birds. I also used it a lot with Skype when my brother, sister and dad visited the Philippines  so that I could video conference with them and my other relatives. I carry it with me in my camera backpack on photo shoots so I can transfer the SD cards to the tablet if they get full. It goes with me  to work in my messenger bag, as well. I use it with a few photo apps, and I like using it as a drawing tablet with my aftermarket stylus.
#2. Faux Suede Case by CaseCrown  for Galaxy Tab.
I bought this case from Amazon.  I think it's perfect for what I wanted. I wanted a case with a pocket to hold some small accessories, and this was it. It came with a free stylus, so that was a bonus. And it was very inexpensive. I wasn't looking for a case that folded into a stand because I bought a snap-on case for the Galaxy Tab that has a built-in kickstand.
#3. CDR Business Cards.
These are some memorable cards for people I hand them to. They have some video samples and links to my websites and other information.  Many people don't know that you can put these in your PC computer tray and play them like regular CD's. Unfortunately, Mac's can't play these type of CD's since they don't have CD trays.
#4. Plantronics BackBeat 906.
These are basically the 903's with an added Bluetooth dongle, so I can use it with any device that has a headphone jack. I love Bluetooth headphones/earbuds whether I'm working or working out. I have lost the taste for corded headphones/earbuds. I have been wireless and tangle-free for ages and can't look back. These are on my head basically 8 hours a day. I love listening to old-time radio mysteries on podcast and listen to documentaries on Netflix on my Samsung S3 and Note 2. (I have to tuck my phone away so I don't watch the docs, or I'll get distracted when I work. I just listen to the docs. It's just as good.)
#5. Plantronics Voyager Pro Headset.
This was a product I reviewed awhile ago and found to be a great hands-free earpiece. The call quality is great for both the person wearing it and the person on the other end. To be honest, I am not a fan of the boom arm. I prefer my hands-free headsets to be inconspicuous . Fortunately, this boom arm isn't that big and protruding, so I don't look like a Time-Life operator when driving in my car.  I mainly use it at home if I know I'm going to be on a long phone call so I have both hands free to go through my phone or write notes if needed.
#6. Purell Hand Sanitizer.
No real description here. Self explanatory. Helps clean germs from all those gadgets we touch.
#7. Murine Plus Red Eye Relief.
When you're working all day in front of two monitors, your eyes tend to need a little freshening up. Those unseen, refreshing scan lines can take a toll on your eyes. Keep your eyes hydrated.
#8. Sharpie Liquid Pencil
I got turned on to erasable pens again by Julie when she sent me a Frixion pen by Pilot. These were years ahead of the PaperMate EraseMate I had in high school. The EraseMate was good just as long as you didn't let the ink dry on your paper before trying to erase it, because you would eventually wear a hole in your paper trying to erase the no longer erasable ink. With the erasable pens nowadays, like the Sharpie Liquid Pencil and Pilot Frixion, it's almost the opposite. I find that it's easier to erase with no residue if you actually let the ink dry first.
#9. Pilot Frixion Pen
The Frixion Julie sent me was a click pen; this is more of a capped pen, but it still works the same. Great pens. Thanks again, Julie.
#10. Flex Neck Butane Lighter.
This was a lighter I bought at a 7-11 on the way to the beach one day. From time to time I find that I need a lighter, and I wanted something interesting. I have a thing for flashlights and lighters, so when I saw this one I was really digging it. It has a flexible steel neck, so you can bend it in any direction.  It has a carabiner on it to attach to basically anything. It is refillable and easy to use for firing up the BBQ grill, or lighting the candles on the kids' birthday cakes, or for fireworks or whatever.
#11 Gunnar Optiks Phenom Eyeglasses
These were another product I was lucky enough to review.  This eyewear was made  for people, like gamers and graphic designers, who spend a lot of time in front of computer and TV monitors, because of the glasses' special lenses that are made with Gunnar's proprietary material to enhance monitor viewing. The glass material actually makes it better to view computer and TV monitors without the typical eye fatigue.  These glasses were specifically made for gaming, but I like to use them when I know I am going to spend a lot of time editing videos or working in Photoshop or Lightroom.
#12. Galaxy Tab OTG Connection Kit and Card Reader
I connect this to my Galaxy Tab when I need to connect a thumbdrive, flash drive, or SD card to transfer images, video and other files. This connection kit can also allows me to connect my Canon 60D DSLR and use camera apps to control the camera.
#13. Stylus.
Obviously, I mostly use it with my Galaxy Tab. Hey, it came free when I purchased the Connection Kit so why not use it? It is helpful using certain photo apps on the tablet.
#14.  Samsung Galaxy Note 2
I love this phone. It never leaves my side. I always enjoyed using a stylus back in the days when I had the Sprint Samsung  i500 flip phone. I prefer writing and drawing  with a pen anyway, because texting a video treatment, story idea, or even a long note becomes tedious with texting alone. Plus I have some really nice apps that incorporate the S Pen, like talent release forms and drawing apps.
#15. Samsung Galaxy S3
I like this phone, but I noticed the reception is not as good as my S2 before it.  However, I can live with the average reception, because I like what this phone has to offer me in other features. It's not as good as my Note 2, but it's very close. Before I got my Note 2, I used to watch Netflix on the S3, and I liked the image quality the S3 has. I also like the feel and shape of the S3 over the S2, but I would love the reception of the S2 with this phone. It would make it that much better. I use this phone more as my personal phone and the Note 2 as my business phone.
#16. Card Reader/ Writer
I still use Compact Flash on my older Canon 20D DSLR camera, so I basically need this reader/writer for it since my computers don't have a CF slot just USB and SD card slots. It says on the front it that  it is a 50-in-1 Reader/Writer.  I don't know how likely or how possible that is considering I don't think I can name 10 types of  different media cards, but it is nice to have with me in my messenger bag when I need it.
#17 Patriot Xporter XT 8Gb Flash Drive
I use this flash drive constantly. Although it is only 8GB, the price was what I was willing to spend for that amount of storage when I bought it.  I use this flash drive to carry and transfer videos and images from system to system. I like that it has a rubber housing; I have dropped it many times so I know it can take a beating. Unfortunately, someone borrowed it and lost the rubber cap.  It doesn't need the cap to function; however, it irks me that he lost the cap since it doesn't seem like a set anymore. Bummer…
#18. Zeikos Hi-Speed SD Card Reader
I use this in addition to my other card reader. This one I use mainly with my SD Cards for my DSLR camera. It's just easier to use and has no wires to get tangled up. It is more compact and easily fits into one of  the pockets of my messenger bag or camera bag.
#19. Primus Prime Torch Flashlight
I love this little flashlight. It has a super strong light and is really compact enough to carry anywhere. It goes with me to help set up my brother's shows for his band so I can see to  connect wires to amps and speakers and running mic cables to soundboards. It is also useful for getting someone's attention in a dark venue or club. This was another product I got to review for The Gadgeteer.
#20. Case for the Primus Prime Torch Flashlight
It's just a handy little tough case for the Primus Prime Torch flashlight. I'm not really sure why I have this in this article.  Nothing too exciting about this little case, but I guess it was in my pile of gadgets when I laid them out for the picture. Oh, well. It's a really sturdy case and fits the flashlight nicely.
#21. Pelican 2370 LED High Performance Flashlight.
This is slowly becoming a favorite flashlight, next to the Prime Torch. It  is a dual-output flashlight, and I like having an option of a high beam and a low beam with my flashlights. It also has a a rotating ring on the front barrel to switch to a cool blue light or a warm red light. These two lights make it easier to look at something white and reflective in the dark without blowing your night vision. For example, if you were reading a book in bed with the lights off, using the red or blue light softens the light reflection on the pages so that the light reflecting back isn't blindly distracting you or the person next to you in bed. That person will thank you and your eyes will thank you. I am actually reviewing this flashlight so I should have more on it soon.
#22.  Duracell Powerhouse Charger
Obviously, I use this to charge my cellphone when the battery gets low. Since I use my phones a lot, I need the extra power, so I also use the Powerstick+ charger (item 24) for extra juice in case the Duracell dies out. They fit nicely into my bags, and they are ready to use when I need them.
#23. Dell TB External Harddrive
I really like the size of this external harddrive, and that's not just the physical size but the storage space, too.  I like to have backups of my stuff and like to keep my files mobile when I need them. I actually got a good deal on this harddrive. I received a gift card from Dell, so I used it towards this harddrive. Needless to say I, only paid a tiny  fraction for what this harddrive is worth. Thanks Dell…
#24. Powerstick+ USB Drive/Power Charger
I use this charger in addition to the Duracell Powerhouse charger. This is a really good charger with a little extra feature – an 8GB flash drive. Now this is a product I use numerous times during the week. Whether I am using it for extra power for my phone or for transferring files from system to system, this gets plenty of use and has come in handy a handful of times with power and extra storage space when I needed it. I had a chance to review this as well.
#25. G-Shock White Resin Watch
I've been rocking G-Shock for over a decade and started wearing them while I was really into inline skating. I was street skating and doing contests, so I wanted a watch that could take a beating. And G-Shock was the watch for me. It can take some pounding. The waterproofing is nice when I am skimboarding at the beach too. This watch doesn't come off my wrist much. This watch is almost a part of my body on a daily basis.
#26. OTG MiniUSB Cable
I have started using this cable with an additonal USB cable since I found an app for my Samsung S3 that can control the shutter on my Canon 60D. I also found another app that almost can have  full control of the 60D such as focus, white balance, shutter speed and more. You can also connect small peripherals such as mini-keyboards, or flash drives, external harddrives and more with this cable.  Pretty straightforward.
#27 Handcrafted Leather Notebook
This was a generous gift I received  from Julie over the Christmas holiday. I have had this with me at all my production meetings and just around work. I use it for jotting notes and ideas when they hit me. I love the vintage and nostalgic look of this notebook. The stretchy band that wraps around it keeps the notebook closed and secure preventing any loose papers that are inserted from getting loose or flying away. It's a perfect size. Not too big or too small but perfect enough that I can write comfortably in it and sketch drawings on  the pages. Thanks again Julie!