We use affiliate links. If you buy something through the links on this page, we may earn a commission at no cost to you. Learn more.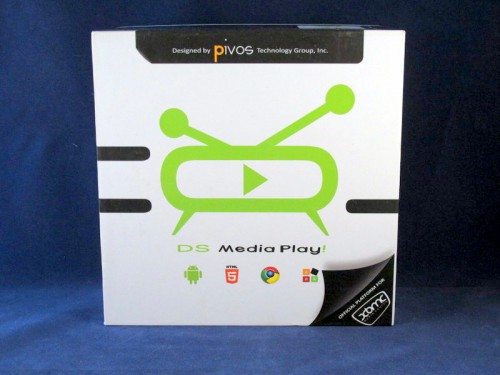 Is there really a market for another media player?  Pivos seems to think so and offers their XIOS DS Media Play, an Android-powered box that connects to your TV.  I have some experience with these players, and up until now, it hasn't been good.  I've spent over a month putting the Pivos device through its paces and will share my results.  If you're impressed by specifications, you won't be disappointed by the DS Media Play.
Hardware/Software:
ARM Cortex A9 processor
Android 4.0 ICS
Mali-400 3D graphic processor
Built in Ethernet, 802.11b/g/n Wi-Fi, high speed USB ports, and MicroSDHC card reader to expand up to 32GB of storage
1 x HDMI A/V out
1 x 10/100 Ethernet
1 x 802.11 b/g/n built in wireless
3 x USB 2.0 ports
1 x MicroSD/SDHC Memory Slot (upto 32GB)
Supported file types:
AVI/ MKV/ TS/ TP/ TRP/ M2TS/ MPG/ MP4/ MOV/ M4V/ VOB/ IFO/ DAT/ WMV/ ASF/ RM/ RMVB/ FLV/ XVID/ DIVX 3,4,5 for up to 1080p resolution.
MP3/ OGG/ WMA/ WAV/ AAC/ FLAC
HD JPEG/ BMP/ GIF/ TIF/ PNG
Supported video codecs:
MPEG 1/ 2/ 4, H.264, VC-1, WMV, M2TS, TS, RMVB, AVI, MKV, MOV, TS, MPEG, FLV, DivX, Xvid
Supported audio codecs:
MP2/ 3, OGG Vorbis, WMA, WAV, WMA PRO, PCM LPCM, MS-ADPCM, LC-AAC, HE-AAC, COOK, RA-Lossless, RM/ RMVB 8/ 9/ 10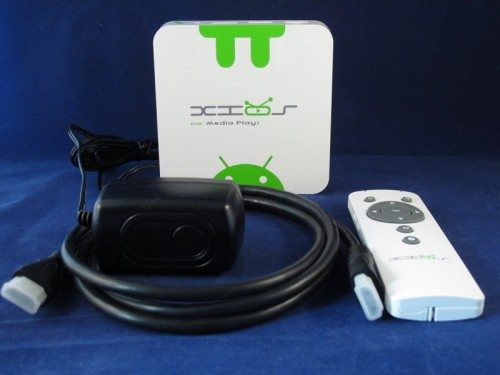 In the package are the player box, remote, power wart, an HDMI cable and a user guide.  I found the guide useless, because the print is so small, I needed a magnifying glass to read it.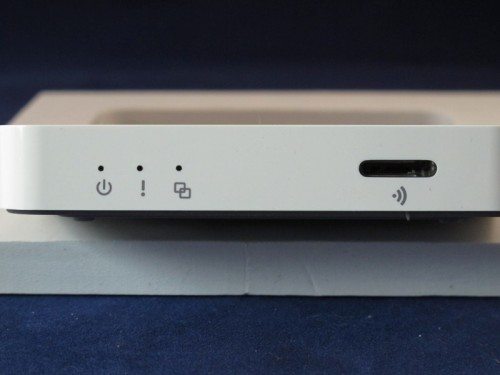 A front view of the device.  There is no documentation as  to the function of the indicator lights.  I can guess at some.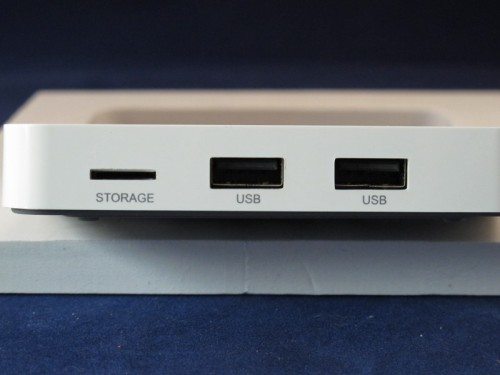 On the right side is a microSD slot and two USB ports.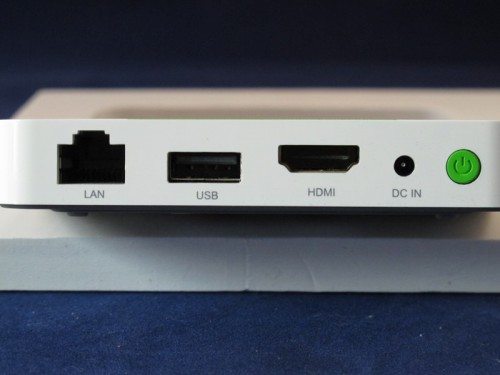 In the back you have Ethernet, USB, HDMI and power ports.  There is also a green standby/on button.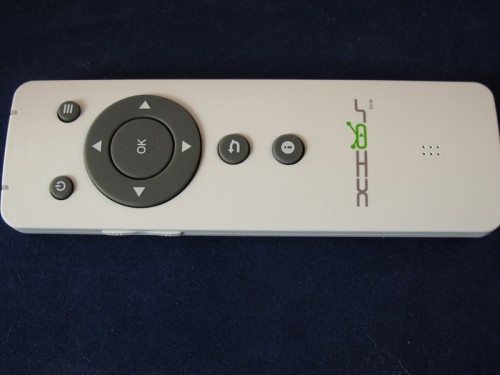 The last piece of hardware is the remote.  Notice there is a rocker button just visible in the photo on the left side.  This is the volume control.
The DS Media Play supports either an Ethernet or WiFi connection to the Internet.  I tried both, and they worked equally well.  When I had problems I switched between the two to insure that wasn't the source.
I hooked everything up, set my TV to HDMI-in, and fired up the media play box.  From this point on it was many hours of frustration.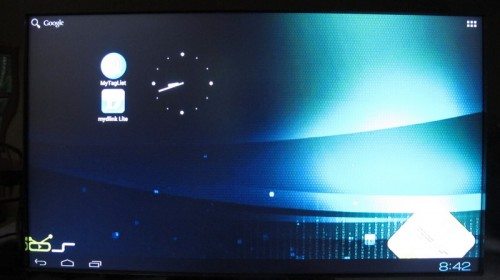 This is the home screen.  To get to this point took some tweaking in the settings menu.  There are adjustments for the size and resolution before anything can be seen.  Getting there was a steep learning curve for me because I'm not at all familiar with Android.  For those who have Android smart phone experience, it should be easier because this is essentially a port of a cell phone operating system to a box with some USB inputs and an HDMI output.  Movement around the system expects touch commands, so using the remote is slow at best, and it just doesn't work for some functions at all.  To make it easier to move around the screen, I connected a USB keyboard and a mouse to the box.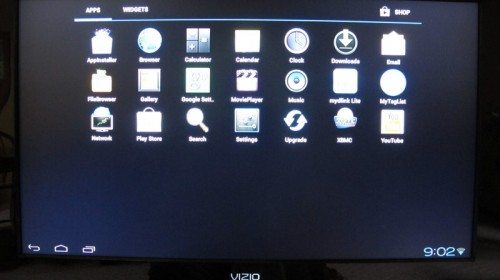 There are some apps that come with the device.  Others can be downloaded from the Google Play store.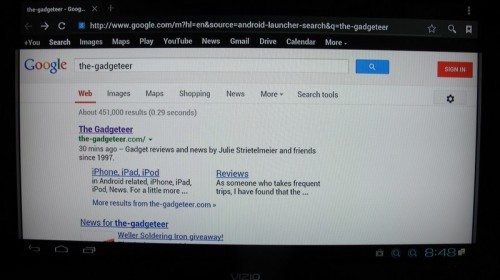 There is a browser built-in.  Again, using the remote and an onscreen keyboard is tedious at best.  If you're expecting PC or smart phone response times, you'll be disappointed.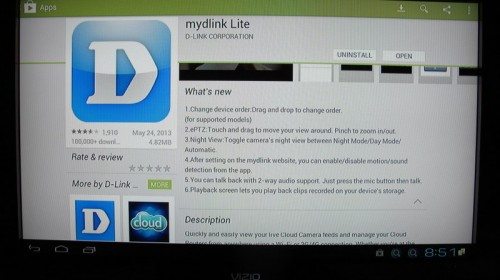 I was able to access the Play store and successfully downloaded a couple of apps.
After a couple of hours experimenting with the device, problems started to creep up.  The most annoying was a total freeze of the system requiring the unplugging of the power to reboot the device.  This was repeatable by quickly initiating screen commands one after the other.  If I slowly started an operation and then let it complete before starting another, it didn't freeze as much.
Another issue I came across was that if I plugged in an external hard drive at the same time there was a microSD  installed, the hard drive was not recognized.  Removing the microSD card solved that issue.  And then there was the problem of playing videos, which have a constant audio buzz and jerky motion.  There were several other problems, so I emailed  the support line.
I was advised to update the firmware – which appears to be the standard "fix" for Android issues.  After some time figuring out which version to download, I updated the device.  This did eliminate the freezing issue, but added a few new ones.  I also updated the XBMC app, because I was having problems with it, too.
I've spent far too much time with the DS Media Player attempting to make it work.  I was looking forward to using the XBMC app for my media files, but after the update, it no longer recognizes my external USB disk.  Using the DS Media Player as a 10′ web-surfing machine is marginally useful.  I can accomplish the same thing by plugging my PC into the TV, and it runs faster.  As for Android apps, they're written for a smart phone or tablet, and from my perspective don't port very well to a non-touchscreen device.
If you're looking for something to play your media on a TV, there are better options available.  We've reviewed several here at The Gadgeteer.   This box is not for the technically challenged and is definitely not plug-and-play.  However, there may be a market for the DS Media Player.  The device could be a platform for techies that want to experiment with Android in a box, and it can be used as an XBMC device by downloading the Linux XBMC firmware.  Just be prepared to spend a lot of time on the vendor's forums and website.
Product Information
Price:
$106.03
Manufacturer:
Pivos
Retailer:
Amazon.com
Requirements:
Pros:
Cons:

Unstable operation
Difficult to use
Steep learning curve
Poor documentation