We use affiliate links. If you buy something through the links on this page, we may earn a commission at no cost to you. Learn more.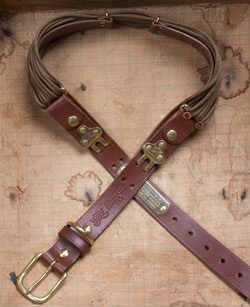 I am not sure if I should cue the theme to Mission Impossible, Raiders of the Lost Ark, or MacGyver… And we all know if you are considering theme music, it is the start of a fun review. That difficult decision aside, the review item I am discussing is the No. 11 Survival Belt from Colonel Littleton that not only holds up your pants but may help you get out of a dicey, bad, or downright life-threatening situation.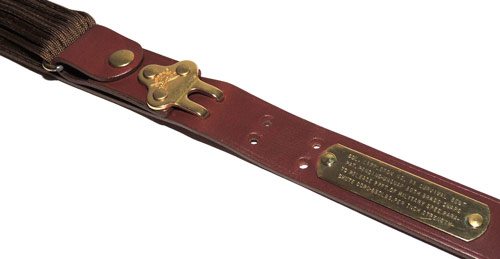 The No. 11 Survival belt is handmade in Col. Littleton's workshop from native American steer hide with solid brass hardware, snaps, and rivits. The thick, heavy, well-made adjusting hooks are monogrammed with Colonel Littleton's logo and enable the belt to fit pant sizes 34-48. The brass plaque riveted to the side of the belt details name and function of the Survival Belt.

In addition to being constructed with fine leather and solid brass, there is 27 feet of 650 lbs strength per inch, military spec parachute cord integrated into the design of this survival belt.


Like all the other Colonel Littleton products I have reviewed, the material quality, old world craftsmanship, and attention to detail are truly second to none.


As I mentioned above, the adjustment hooks enable the belt to expand and contract countless times from 34 to 48 inches. It is a pretty ingenious design that will hopefully allow you to wear the belt for countless years.

  The Survival Belt is available in three colors: Olive Drab, International Orange, Navy Blue.
Here is a great video of the Colonel himself discussing the history, design, and uses of the No. 11 Survival Belt (very nice garage and truck, btw). Colonel Littleton promises, not only on the website but in the video as well, that "if you have an occasion to use the belt in an emergency situation, send us a photo and tell us your story, and we'll restring your belt for free."
Julie kept trying to convince me to use the cord to scale a cliff and/or paraglide with it. But I thought it best to save it for when I really need it.




The No. 11 Survival is said to require a 2" belt loop to accommodate buckle hardware. I am wearing what I would consider a normal pair of jeans with typical belt loops. Slipping the belt through the loops took a bit more care than a typical belt due to the Survival Belt's brass hardware. But once installed, worked/fit as designed. All this thick leather, solid brass, and many yards of para-cord does make the Survival Belt heavier than the typical leather belt. I only found this noticeable when I held it in my hand. When I was wearing it, I felt little to no difference.
Overall, I really like the No. 11 Survival Belt. As with all Colonel Littleton creations, it is extremely well made with the finest materials. In many ways, its para-cord back gives the belt a look and style all its own. The 27 feet of parachute cord integrated into its design may never be needed or come in handy in a pinch, but you never know. The evening news is regularly reporting ordinary folks getting lost in the woods or sliding off the road due to poor weather conditions. If that type of moment/situation ever crosses your path, that cord may make all the difference in the world.
Product Information
Price:
$149
Manufacturer:
Colonel Littleton
Pros:

- Old World craftsmanship
- Excellent materials
- Thick supple leather
- Solid brass hardware
- Unique design
- Adjustable waste (34-48 inches)
- 27 ft of parachute cord

Cons: