We use affiliate links. If you buy something through the links on this page, we may earn a commission at no cost to you. Learn more.


I work in a corporate office (Cummins Inc.) with 100's of other people. It was once common to see people carrying around soft drink bottles to and from their meetings. But in the last few years, soda has mostly been replaced by water. Where people once carried around Coke, Pepsi and Mt. Dew bottles, now they carry all manner of plastic and metal water bottles.
According to whoever make the rules, humans should drink at least 64 oz of water a day to stay hydrated. That means if you don't want to walk back and forth to the water fountain all day, you need a water bottle. Finding your perfect bottle is like trying to find a perfect pair of sneakers… personal preference plays a big part. The Square water bottle from Clean Bottle is an option with an extra feature that may or may not make it your next favorite bottle. Let me show you.
Note: Images can be clicked to view a larger size.
The Square is available in Charcoal, Orange, Green, Blue, and Raspberry. I was sent a Green bottle to review.
At first glance the most obvious feature of the Square is the fact that it is… square. This not only sets it apart visually, it also keeps the bottle from rolling if you drop it.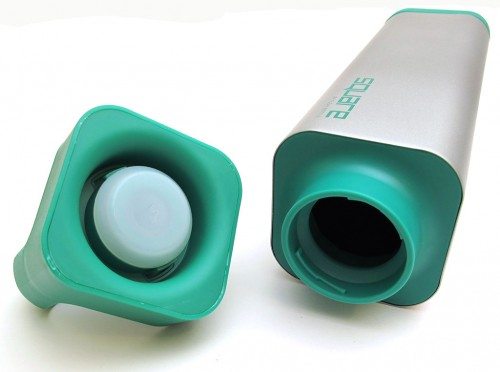 The bottle is made from food grade 304 stainless steel and has the capacity to hold 20 ounces of liquid. The caps and spout are made from 100% BPA free plastic.
During my time using / testing this bottle, I found the cap was easy to remove and place on the bottle. I also liked the large handle. The spout was comfortable to drink from. It's not sharp or rough and is large enough that you can take a large gulp.
Never miss one of our posts again. Sent MON, WED, and FRI with the latest gadget reviews and news!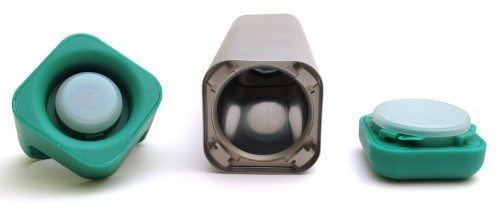 Other than the shape, the Square seems like any other metal water bottle, till you realize that the bottom cap can also be removed. What's the point of having both a top and bottom cap that can be removed? Ease of cleaning, at least theoretically…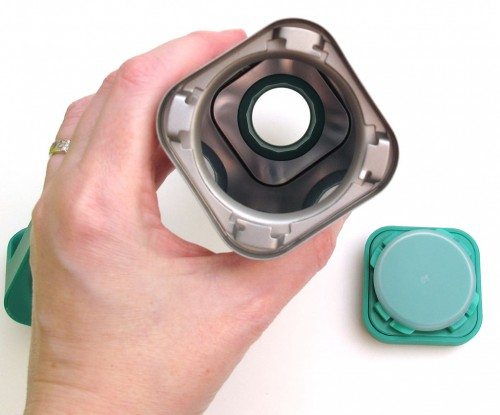 In a promotional video for the Square, they mention that regular bottles are hard to clean because mold and mildew can accumulate at the bottom of the bottle. With the ability to remove the bottom of the bottle, the Square is supposed to be much easier to clean. It sounds good, but in reality, I found it no easier to clean than a regular bottle. If you study the picture above, you'll see why. First of all, it's too narrow to get your hand inside to clean it, so you'll need to use a bottle brush. Also, the main part of the bottle isn't a straight through tube. It has what I call "shoulders at the top and a ledge at the bottom. This design makes it almost impossible drain all the water because it gets trapped in the corners. After washing the bottle and setting it on the counter with both ends removed, a little bit of water was still rolling around inside it even after more than 24hrs had passed.
One other thing I didn't like about this bottle is that it isn't dual walled. That means that it will sweat when  filled with cold water.
In the end, Clean Bottle's The Square water bottle has a unique look and an interesting design, but in my opinion it needs a lot more work to really make it easier to clean. Also the price is way too expensive at $45.
Product Information
Price:
$44.95
Manufacturer:
Clean Bottle
Pros:
Cons:

Sweats
No easier to clean than a normal bottle due to the bottom and top edges that trap liquid