The Gadgeteer is supported by readers like you! If you buy something through links on our site, we may earn an affiliate commission. Thank you! Learn more.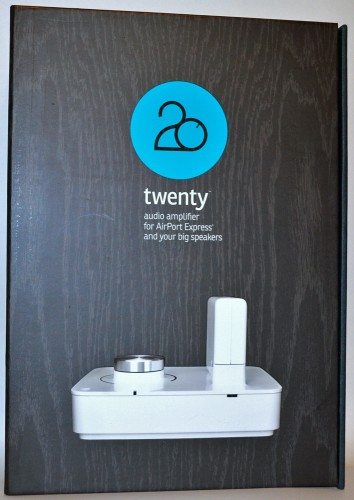 In the Cloninger family, we keep all our music in iTunes, so it's accessible from our iPhones or iPads.  Music sounds great through earphones from an iOS device, but sometimes you don't want to use earphones.  The built-in speakers in both the iPad and the iPhone are weak and wimpy, so we've tried various speakers setups looking for the best sound and the greatest convenience.  Bluetooth speakers are much better than the built-in speakers, but Bluetooth transmission compresses or clips the music, and it just doesn't sound very good.
The best experience we've had is using an Apple AirPort Express Base Station with an Orb Audio amp and speakers, and that works great in our living room and bedroom.  My daughter, Rachel, also has Orb speakers with their Mini-T amp paired up with an AirPort Express for AirPlay functionality.  That setup sounds great, but it has one major inconvenience.  The Mini-T doesn't have a remote control, and Rachel often doesn't bother to go over and turn off the amp when she's finished listening.  (The inconvenience for her is having to listen to me harp about her not turning off her electronics… yada yada yada.)  When I saw the Twenty Digital Audio Amplifier for AirPort Express from Griffin Technology, I thought it looked like the perfect fit for her needs.  It would use her fabulous little Orb Speakers, so she'd have great sound.  Because the AirPort Express Base Station would always be on and listening, she'd never have to bother going over to turn the amp on or off.  The only thing she'd be hearing is her music – and not me complaining.  It sounds like a win/win situation.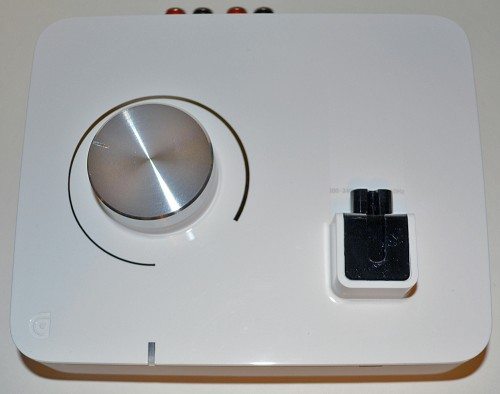 The Griffin Twenty is a shiny white box that measures about 7″ long X 5.5″ deep by about 4.75″ tall with the old-style AirPort Base Station installed.  The big silver dial on top of the Twenty is the volume knob for the amp.  The black connector on the right is a power plug for Apple's old-style AirPort Base Station that looks like the power supply for a Mac computer.  To use it, you simply remove the power prongs from the AirPort Base Station and slide it on this plug.  If you have the newest AirPort Base Station that looks like a small, white Apple TV, you'll have to use the Base Station's own power supply and just leave this power port empty.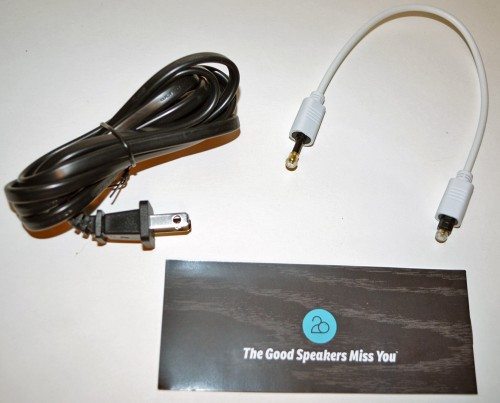 The amp has an internal power supply, so you'll only get a power cable – which is an easier fit on crowded power strips.  You also get a short optical audio cable for the highest-quality transmission between the Twenty and the Base Station.  Finally, there's a little user's guide with instructions in several languages.
Tech specifications as shown at Griffin
Amplifier:
Class D Stereo Amplifier: TI PurePath™
Input: S/PDIF optical, TOSLINK connector (included)
Sensitivity: 0.34 dBFS for 20 watts (volume control set to max)
Speaker Output:
Power: 20 watts per channel into 8 ohms @ 0.08% THD, both channels driven
Frequency Response: 20 Hz to 20 kHz, +0, -0.34 dB
Signal-to-Noise ratio: 95 dB
Crosstalk: -71 dB
Subwoofer Output:
Left + Right sub-bass audio
Autoswitching when powered subwoofer is detected
Power: Line-level output (2 V rms at 0 dBFS input)
High-Pass Filter: 80 Hz 2nd order Linkwitz-Riley applied to L+R channels
Low-Pass Filter: 80 Hz 2nd order Linkwitz-Riley applied to subwoofer output
AC Power:
100 to 240 VAC @ 50/60 Hz
Supplies both amplifier and power connection for original Airport Express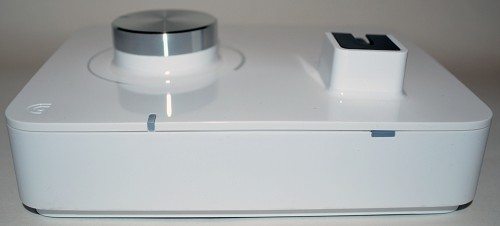 The Twenty has two lights on the front.  The vertical light in front of the silver knob shows blue to indicate the amp is receiving power.  The horizontal light in front of the Base Station power platform glows green while the amp is actively receiving an AirPlay signal.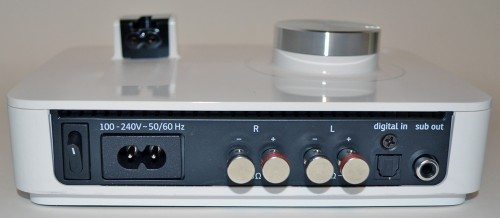 Going left to right, the back of the Twenty has a power switch, a connector for the power cable, positive/negative posts for the left and right speakers, a digital audio-in port, and a subwoofer-out connector.  The speaker connectors are bare-wire connectors instead of those little RCA-type plugs that many speakers use.  The non-powered Orb Audio speakers we already had require the bare-wire connections, so I simply connected the speaker wires to the posts on the back of the Twenty amp.  I had just gotten one of the Super 8 subwoofers from Orb Audio for Rachel's room for use with the Twenty, so I just plugged it into the sub-out port.  The subwoofer is optional, though.
It's obvious at this point that the Twenty is a 2.1 system, with two stereo channels and a subwoofer connector.  If you do opt to use a subwoofer, plugging it in to the Twenty amp causes the internal crossover filter to automatically switch on to send lower frequencies to the subwoofer and only the middle and higher frequencies to the stereo speakers.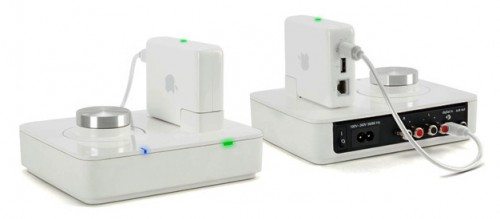 I forgot to take a picture of the setup after I plugged the AirPort Base Station in, and I'm not going to go fight the nest of cables in Rachel's room to get a good one.  I borrowed a photo from Griffin's site to show you how the Twenty looks with the old-style Base Station in place.  This is the type of Base Station I already had in Rachel's room, so I was able to make use of the Twenty's power plug for it.  Since that Base Station was already connected to my network, I didn't have to go through setting it up.  I simply plugged the optical cable into the back of the Base Station and into the back of the Twenty, like you see in the above image.  If you have the new Base Station, you'll have to make sure you can set it very close to the Twenty, or you'll have to buy a longer optical audio cable.
Once all these connections were made, I attached the power cord to the Twenty, then I flipped the Twenty's power switch.  The green light on the AirPort Base Station blinked until it could re-establish its connection.  Once it was connected, the light on the Base Station was steady green, and the blue light on the front of the Twenty was steady blue.    I was ready to use the speakers.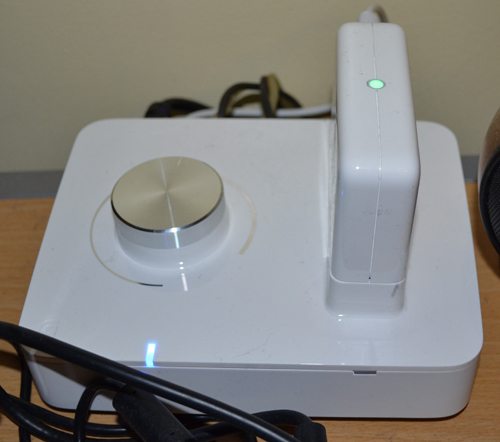 Here is the Twenty and Base Station ready for action in Rachel's room.  Now that everything is hooked up, I can stream music to Rachel's Twenty and Orb Audio speakers from any iOS device or any iTunes-enabled computer in my house.  All these devices have to be on the same network, but they already are setup that way.  Rachel can stream music from her iPad whenever she wants, without having to bother going over to turn on an amp first.  She doesn't have to remember to turn it off when she's done, either.  She's not limited to only music from iTunes.  Any app that's AirPlay-enabled can send sounds to her speakers.
When Rachel's in her room with her door closed, she suddenly becomes deaf to me calling to her.  I've often wanted an intercom so I can talk to her from another room, but I never got one installed.  Granted, this doesn't give me two-way communications, but I have played around with a couple of messages I recorded and added to iTunes.  I can send them to her AirPlay speakers, and she keeps her volume loud enough that I can hear my message playing in her room.  Now she can't claim she didn't hear me.  If I can hear the message from the kitchen, I know she heard it in her room!
The sound is very good using the Twenty amp with the Orb Audio speakers and subwoofer.  It's not clipped and flat, like music always sounds going through Bluetooth speakers.  It sounds as full and rich as music stored in iTunes can sound.  The Twenty drives each stereo channel at 20W into 8 ohms @ 0.08% THD.  Specs say it reproduces 20-20,000Hz; I don't have any way to test that claim, but the music does sound rich and full, and just like I expect it to sound.  With the powered Super 8 subwoofer attached, it can rattle the room.  For the first time, Rachel can expect to hear what teenagers have heard since the invention of the old Victrola – "turn that crap down!"
The Twenty from Griffin is the ideal solution for Rachel's needs.  It's not tiny, but it doesn't take up as much room as many audio amplifiers do – that's important in her crowded, cramped room.  It's a snap to hook up, which means that it will make getting it set up in her dorm room easy. (That's coming sooner than I care to think about.)  It doesn't have a remote for her to lose, and she doesn't have to remember to go hit the power switch, because it's always ready.  It's connected to the fabulous Orb Audio speakers and subwoofer, and it can supply them with the high-quality signals they need to sound as beautiful as they look.  Of course, you don't have to use the Orb speakers.  You can use it with any non-powered speakers you already have.  And I know a lot of people may not agree, but I dislike seeing nothing but black electronics, so I think the shiny white box that houses the Twenty looks great.
Although the Twenty is very easy to hook up, Griffin has some videos showing you how to set it up.  There's a video showing you how to connect a Base Station to an existing network, how to create a new AirPort Express network with an iOS device, and others.
It's a low-cost, high-quality solution for turning your old, loved, non-powered speakers into AirPlay speakers.  The Griffin Twenty AirPlay amp meets my needs perfectly.
Support The Gadgeteer
:
The Gadgeteer is supported by readers like you! If you buy something through the links on our site, we may earn a small affiliate commission. Thank you! Learn more.
Product Information
Price:
$99.99
Manufacturer:
Griffin Technology
Retailer:
Griffin Technology
Requirements:

iPod touch (4-5 gen), iPad (2-4 gen and mini), or iPhone (4/4S, 5)
Non-powered speakers and optional subwoofer

Pros:

Lets you use your non-powered speakers as AirPlay speakers, so you don't have to buy new, AirPlay-enabled speakers
AirPlay doesn't clip sound like Bluetooth does
Easy to set up
Easy to use

Cons: