We use affiliate links. If you buy something through the links on this page, we may earn a commission at no cost to you. Learn more.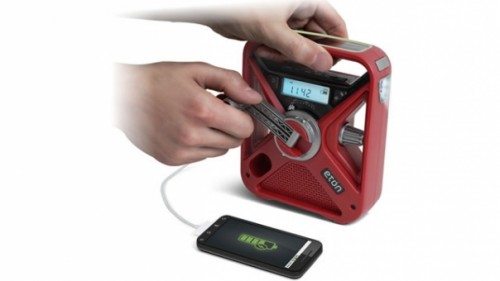 Unless I'm in the car, I don't listen to terrestrial, broadcast radio anymore.  At work I have satellite radio, and at home it's an iPod in a dock.  I haven't had a dedicated "AM/FM" radio in ages, but since I live in earthquake country (San Francisco Bay Area), I'm overdue.  Thank goodness the Eton FRX3 American Red Cross Emergency Radio landed in my lap.
The FRX3 American Red Cross Emergency Radio is part of Eton's lineup of preparedness-oriented products.  The first thing you notice is the folded crank on the front to recharge the internal battery.  That's right, no more stealing batteries from the smoke detector.
Specs:
6.9" x 5.8″ x 2.6″ (17.4 x 14.7 x 6.7 cm)
1 lb. 5 oz. (603 g)
For you preparedness-minded folks, here's an excerpt about the hand-crank's ability to recharge:
How much operating time does 90 seconds of hand cranking provide for the radio to play and for flashlight?

About 5 to 7 minutes of radio, at low volume.
About 20 minutes of flashlight.

How long does it take to fully charge the radio's battery with the USB adapter?

How long will the radio play when the rechargeable battery is fully charged?

About 3 to 4 hours, at low volume.

How long does it take to fully charge the radio's battery with the solar panel?

About 10 hrs in direct sunlight (not through a window or in the shade).
This is the American Red Cross edition, as indicated by the little circular logo on the charging crank.
On the front you'll find an LCD display that shows the current time.  I really like this.  In fact, as I speak, it's sitting at my desk as my clock.
There's a telescoping antenna on the back, a rubbery flap that covers some ports, and a battery door.  A NiMH rechargeable battery pack comes shipped from the factory, disconnected and partially charged.  You can also add your own AAA batteries (x3).  Dual battery sources to choose from with a push of a button!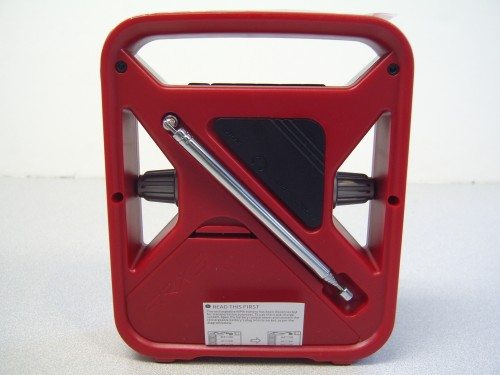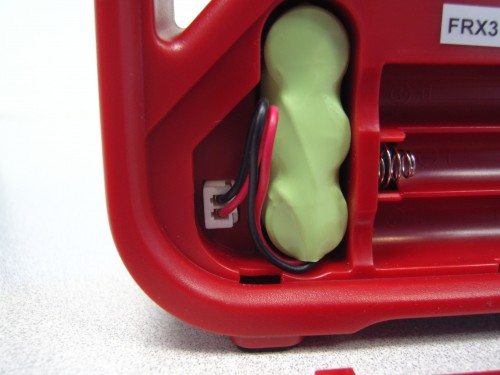 Under the flap is the aux audio input, headphone output, mini USB charging port (for the rechargeable batteries) and cellphone/USB charging port.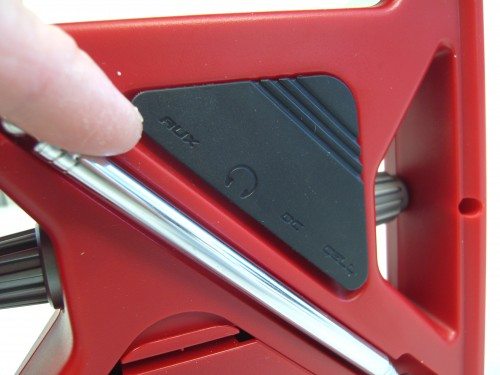 The cellphone/USB charging port is a "dump" charge:  Plug in your cell phone, hit the "Cell" button on the controls, and the rechargeable battery discharges (or "dumps") to your cell phone.  The rechargeable battery pack is only 600 mAh at 3.6 V, so you're not going to fully charge a dead iPhone battery, but it's better than nothing.
There's also an alarm clock and weather alert function, accessible from the top buttons.
A slider knob lets you choose between AM, FM, and seven VHF weather frequencies from 162.40 to 162.55 MHz.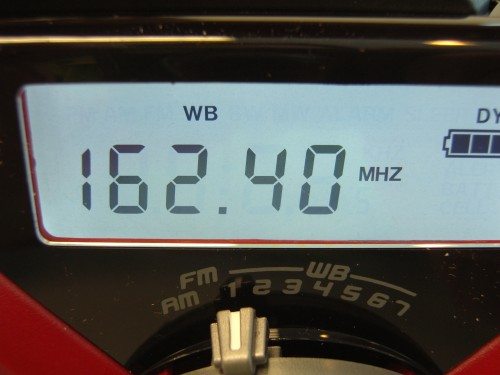 I didn't notice this at first, but the handle has a solar panel that trickle charges the rechargeable batteries.  In another trick, the radio features a glow in the dark ring around the solar panel.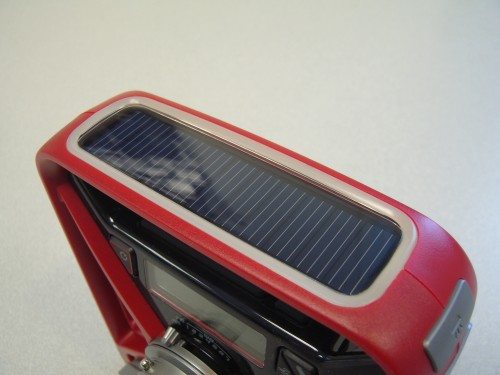 My favorite hidden feature is the two-function LED flashlight.  Press the button found on the upper right corner once, and you get two bright LED lights.  A second press turns on a blinking red LED.  You won't attract overhead aircraft with any of these, but they're handy.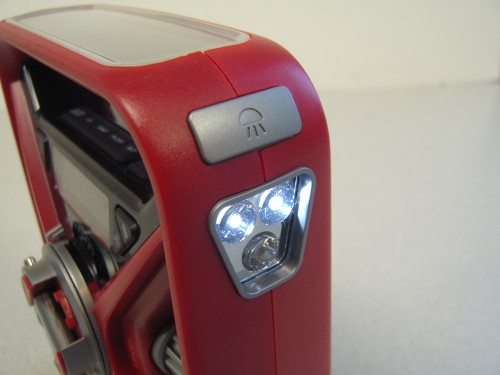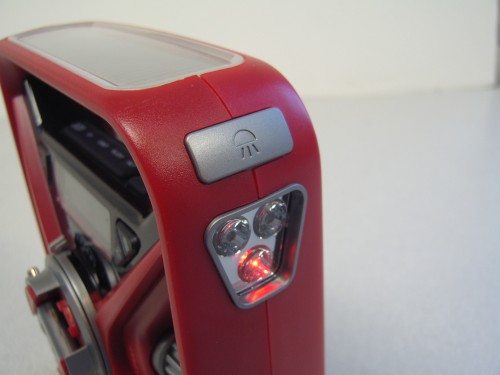 I love the FRX3 American Red Cross Emergency Radio.  It now sits happily at my office window, soaking up rays during the day (a little battery icon blinks to let you know it's charging), so it's ready to go at a moments notice.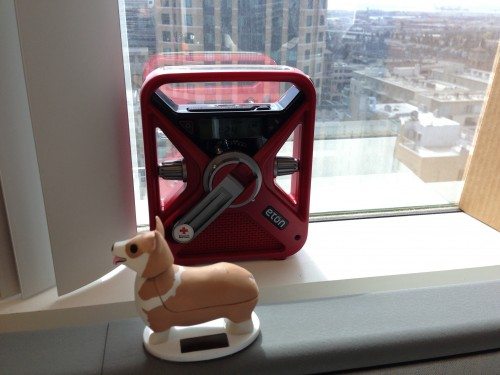 Update 01/22/15
This radio has been living in my office for nearly two years. I've tried to keep it charged up via solar panel alone, but it seems to take forever. I eventually lose patience and top it off via USB charger. Maybe I need to be more patient.
Source: The sample for this review was provided by Eton. Please visit their site for more info.
Product Information
Price:
$59.99
Manufacturer:
Eton
Requirements:

Sun for solar charger, a little muscle for the crank, or three AAA batteries (completely optional)

Pros:

Between a solar charge, hand crank and AAA batteries, you're out of excuses for having a radio that doesn't work.
Glow in the dark bits around the solar panel and a built-in LED light are nice touches.
User-selectable switching between AAA batteries and rechargeable NiMH pack.

Cons:

Don't expect to fill up a completely discharged phone with the tiny 600 mAH, 3.6V rechargeable NiMH battery.