We use affiliate links. If you buy something through the links on this page, we may earn a commission at no cost to you. Learn more.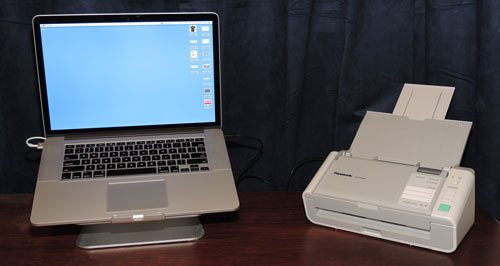 The world seems to be slowly moving towards a paperless society/ecosystem. Many of us pay our bills, read our newspapers and books, communicate with each other and the masses, and manage our lives electronically these days. I cannot tell you the last time I wrote a check or read a physical book. But many of us do have historic paperwork, articles, photos, and/or documents on paper taking up valuable space and often making it difficult to ever search for and/or find what we need. But thankfully, document scanners have evolved a great deal in the last few years, becoming much more capable, reliable, and easier to use. The folks at Panasonic have a new line of compact business class scanners, the KV-S1026C and the KV-S1015C, and asked if we would like to try them out. Since both Bill Kuch and I were looking to reduce our paperwork clutter and organize it electronically, we both raised our hands, and thankfully they sent us each a different model for this joint review.
My comments will be in normal black text and Bill's will be in italicized blue. Since the KV scanners are relatively similar, Julie, Bill, and I thought it would be best and most fun to collaborate on this write up.
Bill: Just like Dave, I look forward to having a paperless office, but I've been working on this since the early 1990s.  My first attempt was a black and white single sheet-fed scanner.  It didn't take long for that to get old.  I've also used various flatbed scanners, and they weren't much fun either.  With the KV-S1015C, it's now possible to finally get some of the clutter out of my home office and digitize the archives, rather than have boxes full of paper.
Dave: I have an old (Epson) flatbed scanner as well.  It is fine for scanning the occasional photo or document, but it was definitely not designed for mass scanning.

After reading the specs, I was surprised how compact the KV-series is for what it can do. When closed, the device takes up little room on my desk.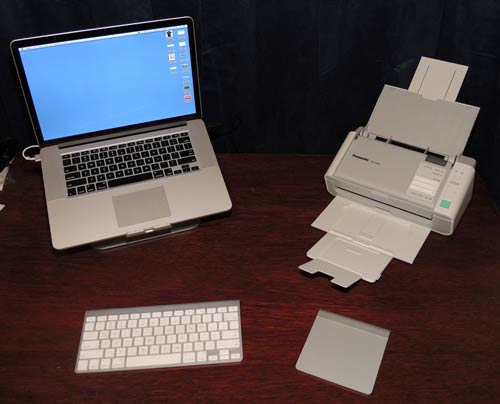 Even when its trays are extended during use, the KV-S1026C does not take up an unreasonable amount of space.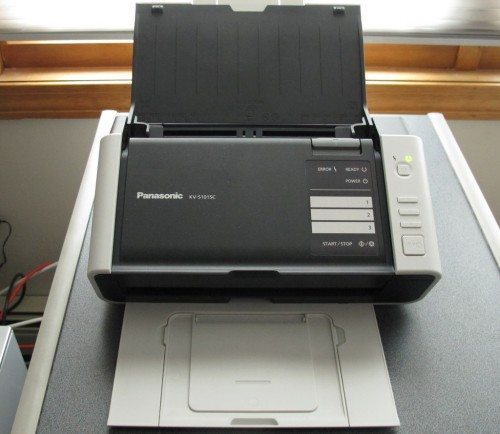 Bill: I have my unit sitting on a file cabinet.  I too was surprised at its small size. All the trays can be folded or slid into the body making for an even smaller package than shown here.
Installation and Setup:
Dave: I came to discover the KV-series is currently Windows only – in a Mac only household, that is an issue. I was relatively surprised that Panasonic was not ahead of the curve on this, but sadly not. Fortunately, I had Windows 8 running in Parallels and was able to get everything loaded and the scanner operational.
Bill: Dave, you have to come over to the dark side and get a Windows system.  I had no problems installing the drivers and software on my vintage Vista configuration.  A heads-up is that the software should be installed BEFORE plugging the scanner into a USB port.  This is standard for any scanner or printer I've ever installed.
Dave: Bill, Bill, Bill (me shaking my head)…  I left that Evil Empire long ago, and while I may be considering switching my iPhone 5 for the  Samsung Galaxy S4, I am definitely an OSX kind of guy. According to the folks at Panasonic Bill and I talked with, they are currently working on the Mac drivers for their KV series of scanners, and I can not wait for them to be available.
Software: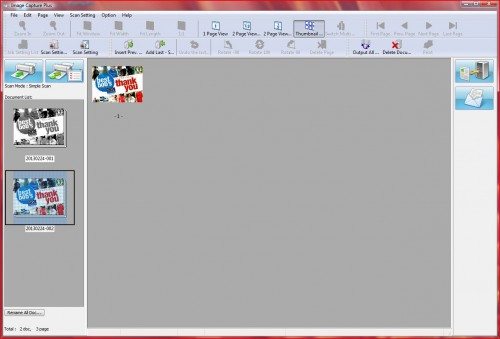 The Image Capture Plus software that Panasonic includes with the KV-S1026C is very capable. The interface is intuitive and easy to use. The two work well together out of the box, especially compared to the old days of scanner interfaces.
Both scanners have three "One Touch Scanning" buttons, that can be "programmed" to allow users to set-up three different sets of preset scanning parameters, resulting in the scanned document being saved at a certain dpi, file format and in a specific folder, or sent to a pre-set email address.
Bill: In addition, the KV-S1015C comes with an additional software application for the SOHO market.  It's called Pagemanager.  It facilitates arranging and filing documents and uses a desktop metaphor.  You can stack pages and put them in different folders.  It's very similar to Paperport, which I've been using for the past 15 years.  As a matter of fact, the KV-S1015C is recognized as an acceptable scanner for use with Paperport.
My unit also came with Presto BizCard software.   It scans a business card and strips the data into the correct fields for use standalone, or it can sync with other applications such as Outlook, Google contacts, and Salesforce.   Although I don't have many business cards to scan anymore, I can see how this would be very helpful in keeping your contacts current for those folks that still collect them.  When I was out in the field, we carried around folders with all our contacts' business cards.
Performance:
Dave: The performance of the KV-S1026C is impressive. It totally blows away all the other scanners I have previously used. I put more than a few double sided manuals into the scanner at a worthy dpi (450), and the pages just zipped through. I had to break them into 10-15 page batches and recombine them on my MacBook Pro but that was a minor effort. So far, I have only had a single paper jam the entire time I have been using the scanner.
Bill: There is no comparison between the Panasonic scanner and the flatbed or multifunction printer/scanners I'm used to using. As a test, I scanned my 8 page, double sided, 2012 Federal Tax return, and I took all of 20 seconds!  I've had a couple more paper jams, but these were probably because I didn't riffle the documents before I put then in the hopper.
Differences: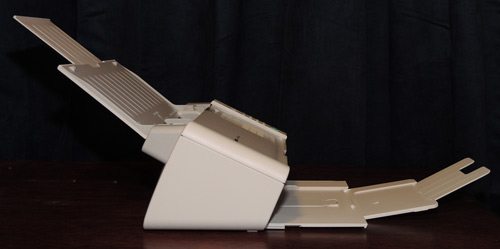 Dave: Other than Panasonic using different colored pieces of plastic and the KV-S1015C having a slightly lower page throughput speed and a few additional apps, the two units are nearly identical.
Bill: The addition of the PageManager and BizCard software is unique to the KV-S1015C.

Conclusions: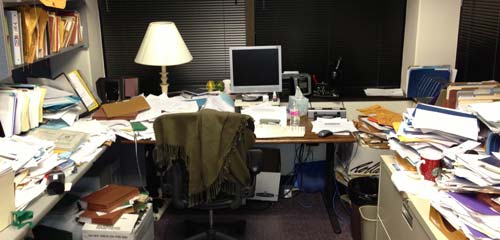 Dave: While this is not my office, I have been meaning to get a document scanner for years to electronically file a bunch of stuff, and other than lack of Mac drivers, the KV-series document scanners have definitely impressed me. Its compact footprint and strong features make it an excellent choice for small or home offices. In today's electronic world, no one should have to live in this type of paperwork insanity, and the KV-series could definitely help those who would like to transform their paper files into electronic ones.
Bill: I'm impressed by the scanner too. I've been using it on a daily basis to get the piles of paper off my desk and file cabinets. At $599 and $499 list, some readers may think the price is high, but to keep the purchase in perspective, these scanners are not meant for the casual user. For small and medium office use with the software provided, both units are value for the money.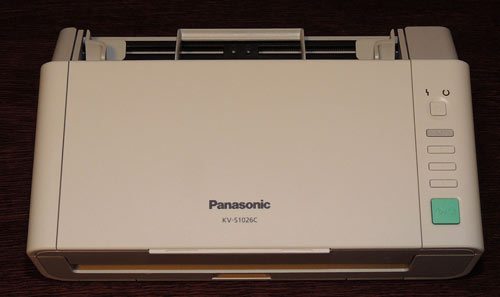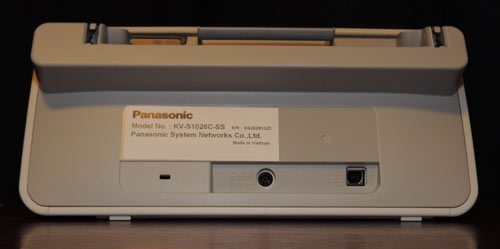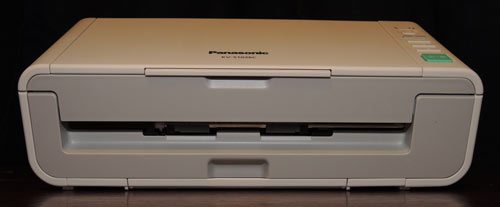 Product Information
Price:
KV-S1015C ($499) & KV-S1026C ($599)
Manufacturer:
Panasonic
Requirements:
Pros:

- Small form-factor
- Relatively fast throughput with duplexing
- Programmable tasking buttons

Cons:

- Currently no Mac support
- Somewhat expensive