We use affiliate links. If you buy something through the links on this page, we may earn a commission at no cost to you. Learn more.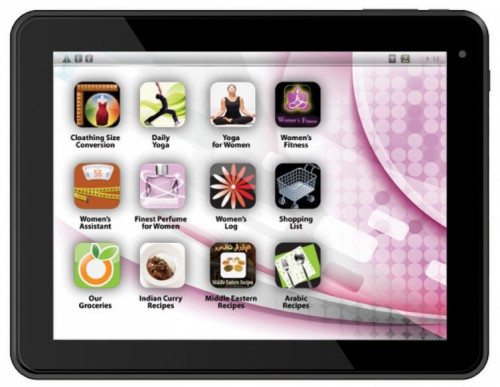 Have you seen the all the news items about the ePad Femme from Eurostar Group?  (Scroll down to their February 14, 2013 entry for the announcement.)  All the news sites have articles about it.  You can't swing a string of pearls without hitting one.  It's a tablet designed just for women, and even June Cleaver would have found it inadequate.  If you'll inspect the image (click it for a bigger view), you'll notice there are four apps for fitness and weight, one for clothing sizes, one for perfume, three for recipes, and two for shopping.  There's also something called "Women's Log", which I'd guess is a journal file so we can document our hopes and dreams of what we will find in the grocery store tomorrow.  Little ladies shouldn't – and perhaps can't – understand more than that, at least in the eyes of whoever put this thing together.
Come on!  If you're going to design something for women, at least think about what they may need and want.  Some might want a recipe app, but I think one might suffice.  Some want fitness apps, but they probably won't represent 40% of all the apps they have loaded up.  What about a calendar?  I'm sure a lot of women at least keep the family calendar to make sure everyone is where they are supposed to be.  What about a reading app, or a magazine app, or a cheap gasoline finder app, or a GPS or maps app, or email, or a web browser?  What about letting us decide for ourselves what we want on our tablet?  It sounds like every tablet on the market could meet these needs, except for the ePad Femme.
To answer my own question I asked when I first started writing for The Gadgeteer – no, gadgets aren't just for guys.  Some of us may want a slightly prettier case to carry them in, but that's a matter of style, not function.
Women don't need special, dumbed-down versions of tech gear. Women are capable of flying commercial airplanes, serving in the military, performing life-saving surgeries, working as chemists, biologists, and physicists delving into the mysteries of the universe and life… We're able to grasp the concept of computers, tablets, and smartphones.  Heck, that's small potatoes for us – and not the kind you'll find in the grocery app.