We use affiliate links. If you buy something through the links on this page, we may earn a commission at no cost to you. Learn more.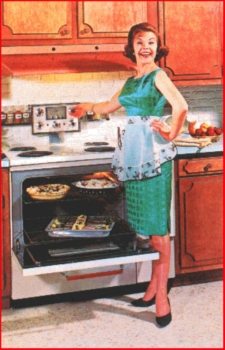 I've been searching around for some interesting items to do news postings for The Gadgeteer, and I came across something intriguing.  I had searched Google for "gadget gifts " and had found one web site that had a thirteen-page list of "gadget guru gifts for guys."  Male gadget gurus, at least in the opinion of Gifts.com, might enjoy iPod accessories, Flip video cameras, weather stations, picture-taking binoculars, and many other electronic goodies.  There were a few non-tech items, like a coin bank for grown-ups – but even that looked like a computer keyboard key.
Things took a different turn when I decided to search Gifts.com for "gadget gifts for women".  This time I got a 26-page list of gift ideas.  Sounds great, right?  I expected to find most of the same gadgets on the men's list, minus a few things like the hot dog rotisserie for the grill, perhaps.  The other thirteen pages I thought would have cases in more feminine colors, maybe some organizing wallets, even perhaps one of those metal hangers that keeps your purse off the floor at restaurants.  The people at Gifts.com saw things differently.
The gadget gifts for women included some nice cases for laptops and gadgets, as I expected.  It had several gadget-type toys for kids – I guess only women buy toys for their kids, or perhaps only they are expected to play with their kids?  They even had a book about gadgets for guys – that was recommended as a Father's Day gift for your husband or dad.  Not a lot of electronics on that list – unless you count the digital timer for your kitchen.  (I know I don't count that!)
Most of the gadget gifts for women consisted of kitchen items:  a tri-blade peeler, a knife block, trivets, a wooden cutting board branded with the family name, and even a set of melamine measuring cups!  Okay, I might allow them to call these things kitchen gadgets, but why are they only suggested for women?  Men cook, too.
Things I do not allow to use the gadget name, but were on the gadget list for women, include:  perfume, boots, oven mitts, and lovely "girls' night out" t-shirts emblazoned with "You Can't Afford Me" and "Boy Scouting".   Come on!  Unless the perfume comes in some sort of air-brushing gun with an air compressor, how could anyone call it a gadget?
When I was a kid, things were considered to be either for girls or for boys.  My father wouldn't let me have a little race car set when I was twelve because it was a boys' toy.  He would make me stand and hand him tools while he worked on our cars, but he wouldn't explain what he was doing.  My sisters and I were expected to help keep the house clean, but we apparently weren't capable of using tools to change a spark plug.  But isn't that nurture, not nature?  Was I the only girl who wanted "boys' things?"
When I got a job, I had money to buy my own gadgets.  I started out with stereo and television equipment.  I moved on to computers, PDAs, iPods, ebook readers …  But never a set of melamine measuring cups.
I don't have a deep technical knowledge of electronic gadgetry, but I know what I like and I know how to use those things.  Eventually even my father came around.  He once refused to let his nephew – who owned a television repair business – hook up the new television my sisters and I bought him as a gift.  He told his nephew "Janet's going to hook it up.  She knows how to hook up my satellite and my stereo to my TV."  I truly was proud to hear him say that.
Have things changed at all since I was a girl?  I know my fourteen-year-old daughter, Rachel,  is being raised differently than I was.  She's never heard "no, that's not for girls."  Rachel loves her gadgets.  She likes the look and feel of the electronics, and she doesn't want them covered up with cases.  She got her first PDA (a hand-me-down) when she was in kindergarten, and it was loaded up with ebooks and games.  She can't live without her iPod and her laptop.  The few times she's been grounded, the punishment is to take away her electronics.  She IS a bit of a Luddite when it comes to books.  She owns a Sony ebook reader, but she prefers paper books.  I will admit she doesn't know how to work on cars – neither her Dad nor I can teach her how.
Are people like Julie, Rachel, and me really so different?  Do most women really not like gadgets, or do manufacturers and retailers just have the wrong idea?  Julie pointed out to me that there are more things designed for women now, like pink cases and laptop bags.  She did stress that electronics designed for women, like the Vivienne Tam netbook, are rare.  But making something pink doesn't necessarily make it appeal to women – it just guarantees it won't appeal to men!  As far as bags go, I would prefer a bag that has lots of storage space for my laptop, my phone, my iPod, my Sony reader, a ton of cables and chargers for my phone, my Bluetooth earbud, and everything else I've mentioned – but not be the size of a truck.  I want the same electronic devices and computers that men want – but would a nice color kill them?  Something other than black, silver, or pink?
What do you think?  Do you find that people in your circle follow the traditional gender roles?  When it comes to gadgets, are men really from Mars and women from the kitchen?