We use affiliate links. If you buy something through the links on this page, we may earn a commission at no cost to you. Learn more.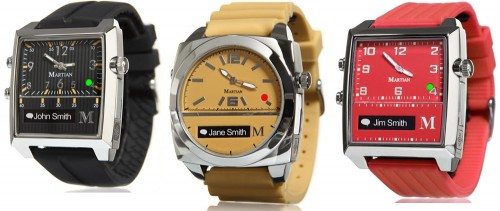 Martian Voice Command Watches started life as a Kickstarter project; they were successfully funded and are now shipping watches to their supporters and taking pre-orders from the public.  Martian Watches are available in three styles, but they all do similar functions.  They connect to your smart phone (Android or Apple) via Bluetooth to perform most any function a Bluetooth headset can do – and then some.  The watches have speakers and noise-cancelling microphones, so you can take calls without touching your phone, listen to or send text messages, see caller ID, and perform other functions using your phone's voice command functions.  There's a Martian Leash function to notify you when you've walked off without your phone.  You can even listen to music through the watch's speaker.  Alerts use vibration, sound, and LEDs to notify you of incoming calls and messages; you can accept or decline a call with a button press or even decline a call with a wrist shake.  Check the feature page to see what features the Martian Watch has for your Android phone, iPhone, iPod touch, or even iPad.  A free app is required to access some features.
Three models are available for pre-order.  The Passport Watch (left) and the Victory Watch (center) are available for $299; the G2G Watch (right) is available for $249.  Each style is available in a variety of band and watch face colors.  The watches are expected to ship by March 2013.