We use affiliate links. If you buy something through the links on this page, we may earn a commission at no cost to you. Learn more.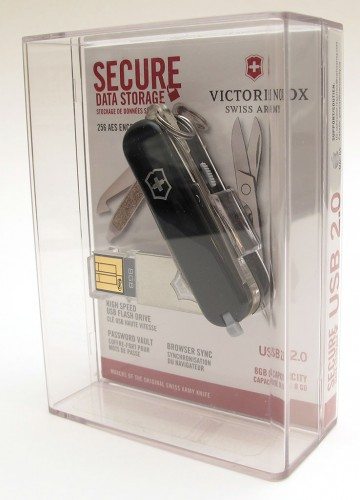 The Victorinox Swiss Army Jetsetter USB Flash Drive combines a few "tools" with a removable USB flash drive which is available in 8, 16 and 32GB capacities. Will it become your new favorite EDC tool for home and office? Let's see.
Note: Images can be clicked to view a larger size.
Technical Specs
USB 2.0
What's in the Package?
Victorinox Swiss Army Jetsetter Flash Drive

The Jetsetter USB Flash Drive is an exclusive Apple store product that features a detachable shock-resistant and water-resistant flash drive, several tools and is pre-loaded with security software specific to Mac devices.
At first glance you might mistake it for a standard Swiss Army knife. It has the same type of plastic handles with the Victorinox Swiss Army logo in silver.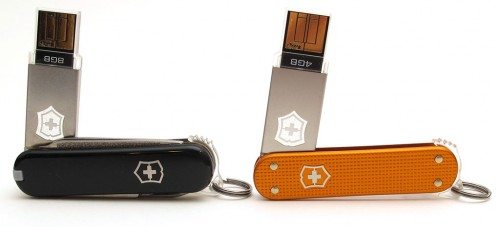 I reviewed another Victorinox Swiss Army flash drive a couple years go. It had aluminum handles and no tools. The lack of tools was kind of a bummer, so I was excited to try the Jetsetter.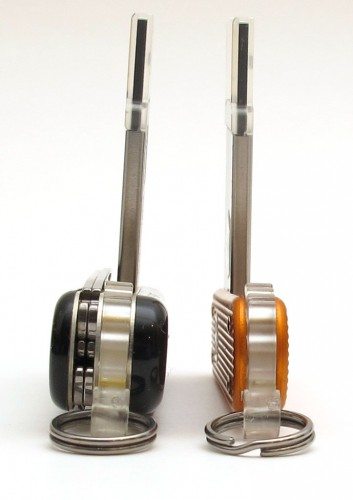 I hoped it might be able to replace the pocket knife and the other flash drive that I carry every day. Unfortunately disappointment set in as soon as I opened the "blades".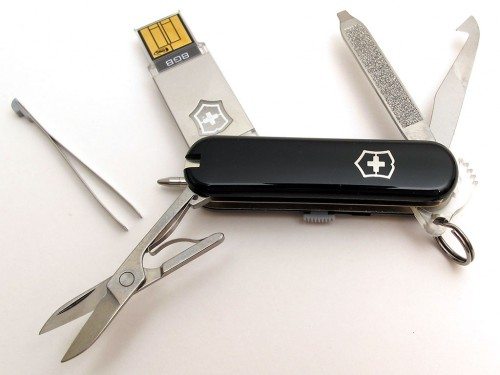 The set of tools differ depending on the flash drive capacity. I was sent the 8GB version which is Black and includes: scissors, nail file with screwdriver tip, removable tweezers, tiny split key ring, ballpoint pen with Blue ink and clamshell package opener.
I found that in order to extend the nail file that you first have to extend the clamshell package opener because the file does not have a groove on the edge to help you open it.
The 16 GB is available in Red and includes scissors, bottle opener, magnetic Phillips screwdriver, wire stripper, tweezers, tiny split key ring and a ballpoint pen with Blue ink.
The 32 GB version is available in Silver Tech and includes scissors, bottle opener with magnetic Phillips head screwdriver and wire stripper, ballpoint pen with Blue ink, LED mini light, tweezers, and tiny split key ring.

If you're like me, you're wondering about a knife blade. The only tool with a sharp edge is the hook shaped clamshell package opener… The bright side is that the Jetsetter has a flight-friendly, TSA-compliant design because the package opener blade and scissors are shorter than the longest allowable length. That said, I have a feeling if they see this tool when you empty your pockets during check-in, that they will hassle you about it anyway.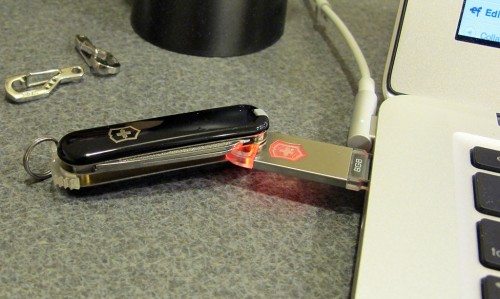 The flash drive is supposed to be detachable, but for the life of me, I'm not able to remove the one I have been testing. The other flash drive I reviewed (Orange one pictured above) wasn't difficult to remove. I was afraid I'd break the plastic hook that holds it in the case, so I gave up after a few minutes of wrestling with it.
When the drive is inserted in a USB port, the plastic base and logo glow/blink in Red.

The Jetsetter comes pre-loaded with security software that lets you easily encrypt important files and safely store frequently used usernames and passwords. It also offers a private web browsing feature that keeps your bookmarks, temporary files, browsing history, and cookies off the computer you're using.
My normal practice is to delete this software the first time I plug the drive into a computer. But since I was reviewing this flash drive, I figured I'd give it a quick test.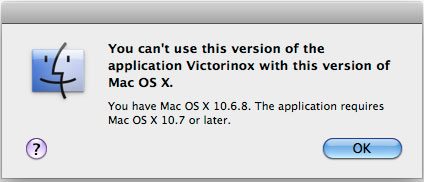 Oops! The included app isn't compatible with Snow Leopard on my Macbook Air… Since this is an Apple exclusive product, there isn't a Windows version either… Oh well, so much for testing the included software… How many of you out there actually use the software that comes bundled on flash drives?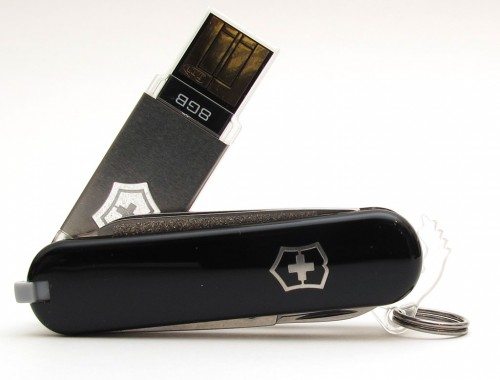 Copying files back and forth from the Jetsetter to a computer works just like every other flash drive on the market, so there are no surprises there. There isn't anything about this flash drive other than the included tools that make it better or worse than other drives. To me the tools are kind of boring. The only one I might end up using would be the ballboint pen. I'd MUCH rather have a knife blade instead of scissors and the nail file… If you're a fan of of Victorinox Swiss Army products, the Jetsetter makes an ok addition to a collection. In end, I'll stick with my little Spyderco Lady Bug pocket knife and the PNY Hook flash drive on my keychain.
Product Information
Price:
$39.95 (8GB), $49.99 (16GB) $99.99 (32GB)
Manufacturer:
Victorinox Swiss Army
Retailer:
Apple
Pros:

TSA friendly
Includes a ballpoint pen

Cons:

Included software only for OSX v10.7 or later
No knife blade
Can't open nail file without opening clamshell opener first.