We use affiliate links. If you buy something through the links on this page, we may earn a commission at no cost to you. Learn more.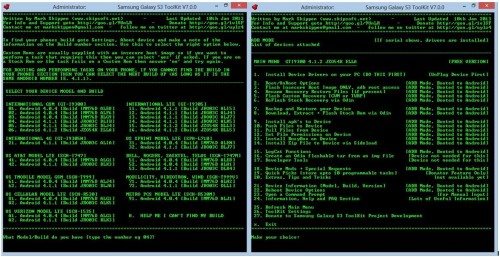 Got a Nexus 7 or a Samsung Galaxy S3? Read about all the advantages of rooting your device, but feel overwhelmed with all the information out there, and you're scared you might brick your device?  XDA Developers member Mark Skippen has you covered with his toolkits for both the Nexus 7 and Samsung Galaxy S3 .
There are prettier graphical interfaces out there, but perhaps I'm showing my age as I prefer the text-based, green screen one. 😉
These utilities will do everything for you from downloading the latest and correct drivers to your PC, to rooting, to downloading a Recovery Utility, and so much more. It's only about 4 steps to root, and all supporting files or utilities are downloaded dynamically and run from within the toolkit. Full instructions are displayed if you need to press phone button combinations or put files in certain fields.
And the nice thing is, it will also restore your device to stock and unroot it if you ever need to do it.