We use affiliate links. If you buy something through the links on this page, we may earn a commission at no cost to you. Learn more.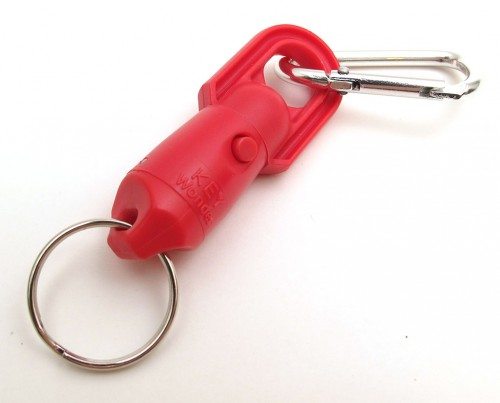 Are you always misplacing your keys? The KEYWonder Automatic Key Holder is an easy way to secure your keys to your belt loop, purse strap, backpack, etc. without having to deal with latches or snaps that can pinch your fingers and take time to fasten / unfasten.
Note: Images can be clicked to view a larger size.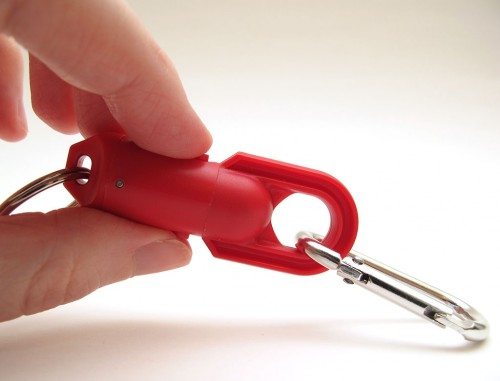 The KEYWonder is a 1 inch wide x 2.5 inch long key holder that is made of strong polycarbonate plastic and is available in Black, Red, Pink and Purple. As you can see, I was sent the Red version which reminds me of those rescue floats that lifeguards use.
One end of the KEYWonder has a small carabiner and the opposite end has a split ring.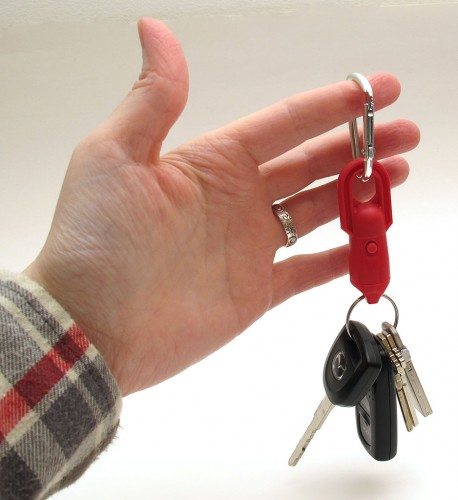 The idea is to attach your keys to the split ring and then clip the carabiner on your belt loop or bag. When you need to use your keys you can release the keyholder section of the KEYWonder by pressing the two buttons on the lower section and pulling the two pieces apart.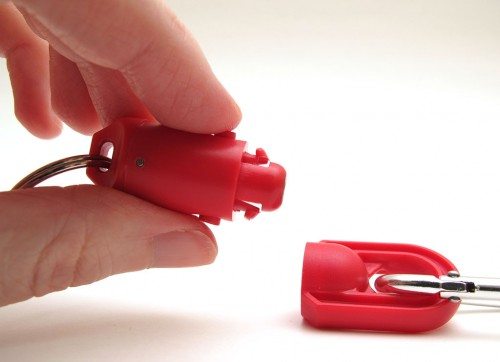 I figured this would be where the KEYWonder would be more trouble than its worth. I thought it would probably require too much effort to separate the sections. I was actually surprised by how easy it is. Just a slight pinch is all that is needed in order for you to be able to remove the top section.

Reattaching the sections is even easier because both sections contain a neodymium (rare earth) magnet. You only need to bring the pieces together and they will automatically self-align and snap into place. Once attached, they will stay that way until you press the two buttons and pull the sections apart again. I tried to pull the sections apart without pressing the buttons and failed, so I don't think there's any worry that your keys will accidentally fall off. Also the two sections can rotate independent of each other.
Although I wish it was a bit smaller and made of metal instead of plastic, the KEYWonder is a simple accessory that is easy to use, rugged enough to withstand normal abuse and relatively inexpensive. If you happen to be the type of person who loses their keys on a regular basis, this key holder might help solve that problem.
Product Information
Price:
$9.99
Manufacturer:
KEYWonder
Pros:

Easy to detach
Easy to reattach

Cons: